How to Become a Mexican Resident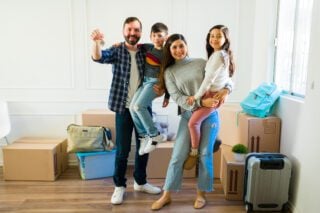 Expats in Mexico are lucky. They don't have to make visa runs out of the country to restart the countdown clock on a tourist visa because it's relatively simple to obtain a temporary or permanent resident visa. After moving to Mexico, foreigners with these visas can do everything from setting up a bank account to accessing public healthcare. Renting an apartment or buying a house is also easy in Mexico, especially if you can communicate with a Spanish-speaking agent or broker. Take some time to find the perfect home base and you'll find that your move to Mexico is the start of a wonderful new experience.
What Are the Requirements to Live in Mexico?
People from places including Europe, North America, Japan, Malaysia, Singapore, South Korea, Australia and New Zealand can stay in Mexico for up to 180 days with a "Visitante" short-term visitor visa. However, to stay in Mexico for a longer period of time you'd be best off with either a temporary or permanent resident visa. Both of these visas allow you to enter and leave the country as often as you want.
The temporary resident visa:
Lets you stay in Mexico for up to four years, as long as you pay a fee and visit an immigration office to renew your visa.
Is popular with digital nomads who intend to work remotely while enjoying life in Mexico.
You can switch from a temporary to a permanent resident visa after four years.
The permanent resident visa:
Does not have to be renewed, unlike a temporary visa.
Is not an official "retiree visa," but most retirees can meet the financial and consular requirements for this visa.
This is a great visa for people who know they want to permanently live in Mexico.

Compare multiple quotes and coverage options
Work with an insurance expert at no additional cost
Find the best plan for your needs and budget
How to Move to Mexico With a Temporary Resident Visa
You should apply for a "Residente Temporal," or temporary resident visa, before heading to Mexico. You'll need 6 to 12 months of bank statements to demonstrate that you have sufficient savings and/or a reliable income to cover living expenses. The amount you'll need is based on Mexico's minimum daily wage (MDW). This was 207.44 pesos a day in 2023.
In general, you'll have to demonstrate you either have savings that equal at least 5,000 times Mexico City's MDW or your monthly income that equals at least 300 days of Mexico's MDW. If other family members are traveling with you, you'll need an additional 100x the MDW per person.
Confusingly, some consulates ask visa applicants to prove that their financial accounts contain more funds than the officially specified amounts, or to provide proof of employment. In the end, it's the consulate's decision about who they give a visa to, so don't argue with them. You can check with the consulate about its requirements before your appointment to avoid surprises.
If you're approved, you can now move to Mexico! Make sure to get a "canje" stamp in your passport when you arrive. This notes that your immigration status will change. After arrival, you have 30 days to visit a local "Instituto Nacional de Migración" (immigration office), where you'll receive a temporary resident permit. Your initial temporary residency permit will be valid for one year, but after your first year in Mexico you can renew this for up to an additional three years.
Also Read: Best Places to Live in Mexico for Expats
Immigrate to Mexico With a Permanent Resident Visa
If you want to get a "Residente Permanente," or permanent resident visa, without getting a temporary resident visa first, you should apply from your home country. Assemble 6 to 12 months of bank statements that show you have sufficient savings and/or monthly income to support yourself and any family in Mexico. For this visa, your savings should equal at least 20,000 times Mexico City's MDW. Your monthly income from sources such as Social Security or a pension should be at least 500 times Mexico's MDW. You'll still need to demonstrate an additional 100x the MDW per person for other family members.
It's usually easy for retirees to get this type of visa. In fact, some consulates only grant this visa to people who are of retirement age or to people who can prove they're already retired. If you're not retired, and you don't have close family in Mexico, you'll probably have to apply for temporary residency before you can get permanent residency.
Make an appointment at the Mexican consulate that's closest to you and bring your application and financial documents. Once the consulate has granted you a permanent resident visa, you can move to Mexico. Upon arrival, you should ask for a "canje" stamp in your passport, which makes it possible for you to change your immigration status.
After you arrive, you'll have 30 days to go to your local immigration office and get your permanent residency permit. Once that's completed, you don't have to renew this permit ever again. However, you should tell the immigration office about things like changing your address or getting married.
Expats in Mexico Can Move From Temporary to Permanent Residency
Maybe you'd like to stay in Mexico for good, but you could only get a temporary resident visa when you visited your local Mexican consulate. Fortunately, once you've been a temporary resident for four years, it's much simpler to obtain permanent residency.
All you have to do is visit your local immigration office in Mexico and fill out an application. There is a fee to switch from temporary to permanent residency status. However, you won't have to share the same financial information that consulates ask to see. Just make sure to apply for permanent residency before your temporary residency permit expires!
Get our monthly newsletter filled with tips and information for people living, moving, and traveling outside of their home country.* *By submitting your email, you agree to receive monthly updates for expats, digital nomads, retirees, and more.
How Expats Living in Mexico Can Get Citizenship
Once you've held permanent residency for five years, you can apply for Mexican citizenship. Mexico permits citizens to hold dual citizenship, so applying for citizenship there doesn't require you to give up citizenship in your home country. However, once you've become a naturalized Mexican citizen, be aware that Mexico can take away this citizenship if you spend five years or more living outside the country.
Before submitting your application, make sure you've been in Mexico for 18 months over the last two years. You must pass a criminal background check to get Mexican citizenship. Unless you're over the age of 60, you'll be tested on Mexico's history and culture. You also need to be at least conversationally fluent in Spanish.
5 Tips for Immigrating to Mexico
Visit a few different cities, towns and even villages before deciding where you'll call home. And try to stop by over a few seasons. A town that's wonderful in January might be too humid for you in July. Or a village that's charming in the off-season can be overrun with tourists and snowbirds the rest of the year.
Mexican culture has its own rhythms. Embrace the fact that these might be different from your home country. Try not to let differences in attitudes toward things like punctuality and bureaucracy upset you or make you regret moving to Mexico.
There are many immigrant communities in Mexico. When choosing where to live in Mexico, you might find it easier to settle down in a place that's popular with other foreigners, at least when you first arrive.
Learn Spanish. Whether you're shopping in the market, eating dinner or seeing a doctor, your life will be much easier if you speak the local language.
You don't have to handle all of the paperwork for your temporary or permanent resident visa on your own. There are law firms and other experts that can guide you through the process.
Mexico Real Estate for Expats
Most new immigrants start off as renters in the Mexican real estate market. Even if you have a permanent resident permit and you want to become a homeowner, renting lets you get to know a place before buying a house. You might find that the city you'd picked out as perfect on paper isn't a good fit when you get there. It's easier to pack up and try a new location when you're renting.
Don't limit yourself to digital listings for prospective rentals. Talking to agents and brokers is a great way to find rental units. And remember, you'll find more people to work with if you speak Spanish or have a translator.
In much of Mexico, it's relatively easy for immigrant to buy property. But in certain parts of the country, including parts of the coast or along the border, you need to establish a "fideicomiso," a type of trust, to purchase property. The bank that holds the trust has control of the title, but otherwise you'll be able to build on and change the property as any owner would.
Where Do Most Expats Live in Mexico?
Puerto Vallarta, on the Pacific Coast, has a big expat community. People here have a number of ocean activities to enjoy, plus the convenience of an international airport. Foreigners have also settled in villages around beautiful Lake Chapala, the country's biggest lake. San Miguel de Allende and its cooler climate is a favorite among retirees, who enjoy walking through the town's historic center. And many work and live in Mexico City, the country's capital and biggest city.
Choosing to live in a community that's popular with foreigners comes with multiple benefits. For one, you might find it easier to socialize with your fellow expats. In addition, there are usually excellent private medical facilities with English-speaking staff in these areas.
However, some people find that living among expatriates can cut them off from the local culture. If you decided to move to Mexico because you want to experience authentic Mexican life, you might prefer to avoid places with lots of expats.
Can You Get Residency in Mexico if You Buy a House?
If you own Mexican real estate that's worth at least 40,000 times Mexico's MDW, you should qualify for temporary residency in Mexico. However, remember that your Mexican consulate will make the final decision about granting a temporary resident visa.
Moving Companies to Mexico
Living in Mexico as an immigrant doesn't mean you have to sell or give away all your beloved belongings. Instead, consider using a trusted international relocation company. These companies can securely transport your things to Mexico, no matter where you're moving from. If you have any items that you'd hate to leave behind but you can't fit inside your suitcase, why not get a free quote?

Free Quotes for an International Move
Get quotes from up to 5 moving companies

Save up to 40% on your moving costs

Find the best rates all at once!
What is Life Like in Mexico for the Average Person?
When moving from abroad to a new country, it's natural to wonder what your new life will be like. Will you be able to get medical care? How much money should you plan to spend? Do you have to pay taxes? What can you do to stay safe? Getting answers to these questions should help ease any worries as you prepare to move to Mexico.
Average Cost of Living in Mexico
The average income in Mexico is lower than in other parts of North America or in Europe. If you have money coming in from foreign sources, such as a pension or work as a digital nomad, you should find life in Mexico to be very affordable.
Public transportation is a common expense: a one-way ride will cost around $0.50. Mexican electricity rates are calculated on a minimum use threshold, with rates rising if you go above this threshold. This means that if you're the type of person to turn up the air conditioning, you might end up paying a lot for this privilege. Because tap water usually isn't drinkable in Mexico, you'll need to purchase bottled water.
Rent is the biggest expense for most people in Mexico. Though costs will vary by location, rent for a one-bedroom apartment will generally be between $400 and $800 monthly. Locations like Mexico City or Puerto Vallarta are more expensive. Overall, a couple can live comfortably in Mexico on $30,000 a year.
Related: The Cost of Living in Mexico
Banking and Finances for Expats
If you have legal residency in Mexico, either as a temporary or permanent resident, it's easy to open a bank account. You will have to visit the bank in person. Bring your temporary or permanent residency card, as well as your passport. You'll also need a utility bill or rental agreement to serve as your proof of address.
The last step in opening your account is to make the opening deposit. Rest assured that you can safely deposit more than the minimum. Your funds are insured by the "Instituto para la Protección al Ahorro Bancario," or Bank Savings Protection Institute.
Even without a Mexican bank account, you should be able to access your home country's account via ATMs across the country. Yet keep in mind that ATMs may limit withdrawals.
Taxes in Mexico for Expats
Property taxes are usually less than $200 per year in Mexico. All Mexican residents have to pay taxes on income, whether it's generated in or outside Mexico. However, if you pay foreign taxes on income from a foreign source, such as a pension or overseas digital job, you should receive a credit from the "Servicio de Administración Tributaria," Mexico's Tax Administration Service. This credit will be applied to any taxes you owe to Mexico.
Education in Mexico
Public schools are free for all children in Mexico. Yet some of these schools, particularly those in rural areas, may lack adequate resources for their students. Older students may also struggle with lessons that are only taught in Spanish.
Many people therefore choose to send their children to private schools. International schools are a popular private school option. These schools follow internationally recognized curricula, and some offer lessons in English. Before choosing a school, ask your fellow expats for recommendations. You should also visit the school with your kid(s).
If you're an expat in Mexico who doesn't want to use public or private school, there is another option: homeschooling, which is legal in Mexico. You can find online programs and guides about how to homeschool children.
Healthcare in Mexico for Expats
People with temporary or permanent residency in Mexico are eligible to participate in the country's national healthcare system. This provides access to affordable prescription drugs and public hospitals. However, health insurance in Mexico for expats can be complicated, so many expatriates to Mexico choose to enroll in international health insurance.
An international insurance plan will cover your stay and treatment in high-quality private hospitals with English-speaking providers. This can help you avoid wait times at often overcrowded public facilities. Many international plans will also cover you when you travel outside of Mexico.
Read More: Mexico's Healthcare System
Is Mexico a Safe Place to Live?
There are unsafe parts of Mexico, but there are also places where people feel secure as they go about their daily lives. For example, residents of Ajijic, a town near Lake Chapala, have few worries about safety. On the other hand, criminal cartel activity has been growing in the state of Jalisco.
Keep yourself and your family safe by checking travel warnings before your move to Mexico. Once you're in the country, try not to rent an apartment or house before you've visited the area during the day and at night.
What Are the Pros and Cons of Living in Mexico?
Mexico has a reputation as a beautiful, warm destination with wonderful food. Those things are true, but there's a lot more to the country, both good and bad.
Good Things About Life in Mexico
Relocate to Mexico and you can experience climates that range from warm tropical beaches to cooler mountain towns.
You'll find fresh, affordable produce at markets.
Mexican food culture is amazing. Restaurants serve up a variety of delicious dishes, and you can get an entire meal for just $5 to $10.
Friendly attitudes. You should find it easy to get to know both locals and people in Mexico's expat communities.
The country has wonderful healthcare facilities and providers — there's a reason it's a top destination for medical tourists!
Disadvantages of Living in Mexico
Safety is a concern for many people in Mexico, with certain areas experiencing cartel violence and kidnappings.
You can't drink the tap water.
Mexico has been the site of disastrous earthquakes and hurricanes.
Some Mexicans have expressed resentment towards foreigners who move to Mexico.
One of the bad things about living in Mexico is that you can regularly lose power. After storms, power can go out for hours.
Is It a Good Idea to Move to Mexico?
Whether you're relocating to Mexico for a few years to experience Mexican customs, or you're interested in making a permanent move, you now know that living in Mexico has pros and cons. The country offers residents delicious food, excellent healthcare and a welcoming culture. Yet you also might experience hurricanes and some dangerous areas. However, your move will be even more successful now that you know more about what to expect!

Compare multiple quotes and coverage options
Work with an insurance expert at no additional cost
Find the best plan for your needs and budget
Related Articles: