How to Move to Russia: An Expat's Guide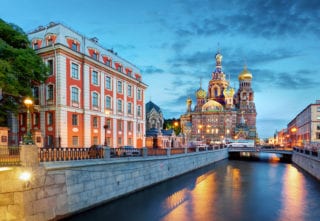 To many, Russia seems like an exciting country to visit. A little mysterious, yet powerful and colorful at the same time. Home to one of the world's greatest art and history museums, enticing architecture and various wildlife and nature's gems, such as tundras, mountains, and lakes, the biggest country in the world might pose a challenge when moving to.
Russian Language, Culture and Customs
Before moving abroad to Russia, it would be beneficial if you already have at least a basic knowledge of the Russian language. English is not as widely used in Russia, be it by a grocery store staff or train ticket office. People living in Russia are called Slavs, or Slavic People, and the main religion is Christianity – particularly Russian Orthodoxy (approx 70% of the population).
The Russian Federation is considered a superpower – a country that has the potential to exercise its political influence on a global scale. It offers free University education to its citizens, as well as free, universal healthcare. The Russian economy is ranked the 11th largest in the world. Due to the country's large natural reserves, Russia is also one of the world's biggest oil and natural gas exporters.
Russian people are very welcoming and warm to their guests and to foreigners. However, it takes time to make friends with them, and smiles and closeness come with time. Russian culture is very family-oriented, and respecting family ties and elders is practiced. While in Russia, it is advisable to restrain from making any stereotypical jokes, as it is considered offensive, nor discussing Russian history or politics, at least until you are welcomed into such a topic. Russia has a long history of exceptional writers, painters, musicians, ballet dancers, and sportsmen. These are all reasons for pride for the Russian people.
Moving to Russia and Understanding the Immigration Rules
Now that you set your mind on moving to Russia, you probably need to figure out what type of visa you can come to the country. If you are just visiting, you need to apply for an entry visa, which is usually issued for 90 days, in advance, in the Russian consulate or embassy in your place of origin or your current residence. Russia does not accept visas on arrival from any country.
If you plan to work, you also need a work permit issued by the Federal Migration Service in Russia, and you need to follow more rules regarding settling and registering your visa once you arrive. Your new employer will help you with this task. On top of the work permit, foreign citizens wanting to live in Russia are required to apply for a Russian residence permit. The Russian Government issues two types of residence permits for foreign citizens: temporary residence permits and permanent residence permits.
The easiest way for foreigners to move to Russia is to look for English teaching jobs, translating, editing, and publishing, but also there is also a demand for business development and Marketing international talent in Russia.
Cost of Living in Russia
Russia, the biggest country in the world, has a very diverse range of costs of living, highly dependent on the region and city we are discussing. For the purpose of this article, we will take Moscow, the country's capital and business center, as an example.
Cost of Living in Moscow
Moscow, of course, will see higher rent and eating-out prices than some smaller cities in Russia. However, as a typical expat destination in Russia, we decided to be a good point of reference. Renting an apartment in Moscow can cost you on average:
Apartment (1-bedroom) in City Center – $915.48 USD
Apartment (1-bedroom) Outside of Center – $497.15 USD
Apartment (3-bedrooms) in City Center – $1,883.87 USD
Apartment (3-bedrooms) Outside of Centre – $908.55 USD
Add approximately $116 USD for utility bills (electricity, water, heating, garbage fees) calculated monthly for a 915sf apartment.
You can expect the typical prices in the supermarket:
1 gallon of milk: $3.60 USD
bread: $0.56 USD
12 eggs: $1.36 USD
bottle of mid-range wine: $6.79 USD
Salaries in Moscow
Despite the high costs of living in Russia, many expats who move to Russia take senior management positions. Their expat packages often come with accommodation, private health insurance, a company car, or even with a driver, schooling allowances for children.
However, suppose you are not in a senior management position. In that case, you will probably fall within the average salary range in Moscow, which is between 31,300 RUB ($425 USD) per month (minimum salary) to 552,000 RUB ($7,945 USD) per month (maximum average salary, actual maximum is higher). That makes the median salary in Moscow 114,000 RUB ($1,540 USD)per month.
Income tax in Russia for non-permanent citizens is set at 30%, and 13% on an annual basis for permanent citizens (those who spend more than 183 days a year in the Russian Federation), so that's something to keep in mind when accepting or to negotiate a salary in Russia. Russia's double taxation agreements with almost 80 countries make it easier for certain nationals to claim tax credits back in their home country. For more information,
Understanding the Russian Healthcare System as an Expat
Healthcare in Russia is provided by the state through the Federal Compulsory Medical Insurance Fund, also called OMC, which is funded through taxes. Unfortunately, not all vital medical treatments are covered through the OMC. Therefore, many Russian citizens, especially expatriates living in Russia, get coverage via a private medical insurance plan.
Russia guarantees free medical care to all citizens. However, only emergency services are provided for free to foreign citizens in Russia. In addition, OMC applies only to treatments at a specific hospital; if a person covered only by OMC becomes ill while traveling, even within Russia, he or she will not be covered by OMC and will have to pay in full for medical services, except in emergency cases that require calling an ambulance.
Be sure to get international health insurance before making your move to Russia.

Compare multiple quotes and coverage options
Work with an insurance expert at no additional cost
Find the best plan for your needs and budget
Related: