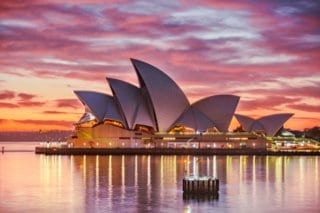 Moving to Australia: An Expat's Guide
Thinking about moving to Australia from the USA, the UK, or another country but don't know where to start? Maybe you've visited the land down under… or maybe you've just read about it and seen the beauty of it online.
Either way, life in Australia is unique. Australia is an amazing country with a diverse culture and rich resources. The cost of living is higher than in other countries, but the relaxed lifestyle and natural wonders are worth it.
If you want to move to Australia, there are certain steps you need to take. You don't just pack a bag, fly there, and plan on staying. You need to immigrate to Australia formally. This starts with having a good reason for living in Australia, such as work or study. You must apply for and obtain an Australian visa to support your reason. And understanding the cost of living and the culture will help you decide if Australia is a great place to live.
Here's how to immigrate to Australia. Keep reading to learn the most important things you need to know to plan a move to Australia.
1.   Migration Agents Can Help
Moving to a new country can be overwhelming, especially when requirements change all the time. That's why, if you are serious about moving to Australia, we suggest connecting with a migration agent.
Migration agents are up to date on the latest requirements to immigrate to Australia. They can give you the best advice for your own situation and needs. They're experts in immigration, so you'll have fewer headaches and delays as they guide you through visa applications and an international move. They don't have the ability to speed up your visa application process or guarantee approval, but they will make the process much easier.
2. Look for Employment in Australia
If you are moving to Australia for an extended period of time, you have to give the Australian government a good reason to let you do so.
The best reason? Line up a job from Australia's Priority Migration Skilled Occupation List. This list shows that Australia is open to healthcare professionals, engineers, social workers, chefs, IT specialists, and more. Check this list every month: new occupations are added often. Even when travel restrictions are in place, people with these jobs waiting are allowed to enter Australia.
You must be under 45 years of age for many work visas to Australia. But if you get a job from the Skilled Occupation List, you may get an exemption to an age limit.
With an opportunity secured, you can move on to the next step, applying for your visa.
3. Apply For an Australian Visa
Finding the right visa will answer the question, "Can I move to Australia?" There are a wide variety of visa options available for Australia. As we mentioned above, it's important to identify your job opportunities first so that you know which visa to apply for.
If you've found a potential employer or secured a job, ask your hiring manager or new boss to nominate you for a work visa. There are over 20 work-related visas available through the Australian government. Identifying the one that's right for you is key.
In times when travel to Australia is open, you can also consider Australia's general skilled migration program. Read the skilled occupation list from the Department of Immigration to see if you qualify for one of these visas. If you have family in Australia, this can give you additional visa options. You can also consider spending time in Australia for training or advanced study. Each of these has its own visa category, though they come with limitations around employment and what you can do after your studies.
If you're planning to immigrate to Australia, managing your finances is a critical part of the process, and Xe Money Transfer is here to make it seamless. Xe lets you send money to Australia swiftly and securely, ensuring your funds arrive exactly when and where you need them. Enjoy competitive exchange rates that maximize your home currency's value when converted to Australian dollars.
4. Purchase Health Insurance for Living in Australia
It's official – people moving to Australia on working and student visas are encouraged or required to sign up for private health insurance for Australia. Australia has an excellent public healthcare system that receives government funding. But access to this is very focused on Australian citizens and permanent residents. As an immigrant, expatriate, or as someone on a work visa, you may not qualify.
A global medical plan will ensure that you have support and resources, no matter where you are in Australia or how long you stay. You will have access to the best facilities, whether they are private or public, to maximize your treatment options.
Australian Health Insurance for Expats and Foreigners
Best Health Insurance for US Expats in Australia
5. Get Quotes for and Hire an International Moving Company
Moving all your favorite belongings abroad can be difficult. You may get some moving support as part of your job offer to come to Australia. If it's offered, accept!
Hiring an international moving company is a huge timesaver. They can do everything, including secure packing, insurance, and tracking your belongings. There are many companies out there and the cost will vary depending on various factors. We have partnered with Sirelo to help you find an international moving company, get price estimates, and choose the best one for your situation.
6. Find a Home in Australia
If you've secured employment and applied for your visa, you already know where you will live when you immigrate. But finding and affording a home is one of the challenging parts of moving to Australia.
The cost of living in Australia is higher than in most other countries. If you plan to live in the major cities of Sydney or Melbourne, you can expect to pay even more. Review rents and real estate prices online. Rent is usually paid weekly, not monthly, and you may need to provide some appliances for a rental. To make the right decision, stay in a homestay or AirBnB in the area where you would like to live. When you are pleased with your area, look for a place to rent or buy.
Shipping your belongings with an international moving company gives you additional peace of mind as you find your new residence. Because international shipping takes six weeks to three months, you can provide your new home address to the shipping company when you have it.
Compared to the United States, taxes are also higher in Australia, although people from other nations may find tax rates to be similar. There is a required superannuation (retirement fund) contribution from your paycheck. So prepare for that when you negotiate your salary and benefits. If you decide to leave Australia, you can take your superannuation contributions with you.
7. Adjust to Australian Culture
If you already speak the English language and are familiar with Western culture, you should be able to assimilate quickly when moving to Australia. Many Australians live for the outdoors – beaches, sailing, hiking, and camping. And some prefer the vivid hustle and culture of the big cities. Find the activities you love and you'll soon make friends. If you have children, you'll also find it easy to meet new people. Many Australians are very family-focused.
Australians enjoy freedoms that many immigrants will appreciate. In Australia, you'll have freedom of speech and religion, and all Australians are free and equal under the eyes of the law. As an expat, you are expected to uphold all government laws, contribute to the public good, and maintain a peaceful presence.
For a complete description of the Australian culture and its values (as defined by the Australian government), click here.
8. Apply for Australian Permanent Residency or Citizenship
If you move to Australia from the USA or another country and want to stay long-term or permanently, there are ways to apply for permanent residency. With a permanent residency visa, you can live, work, and study in Australia without any restrictions. You are still a citizen of your country of origin.
Many people who get a permanent residency visa intend to apply for citizenship in Australia. If you're certain that you want to live long-term and retire in Australia, applying for citizenship is the final step of immigrating to Australia. People making this decision often consider their age and retirement funds. As with getting visas, it's usually easier for people under 45 to make the transition to Australian citizenship. You'll have to meet some residency requirements, take a test, verify your identity, and sit for an immigration interview.
"Should I move to Australia?" Now that you know how to immigrate to Australia, you can decide. And you know what support you can get from international moving companies. Good luck on your adventure!
Global Health Insurance for Foreigners in Australia
Related: