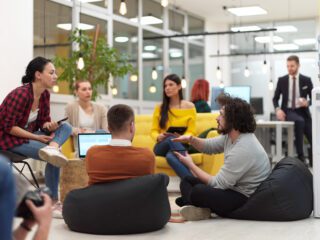 Coworking spaces are increasingly popular. Today you can find different kinds of workspace sharing locations in every corner of the globe. There are big offices that are open 24/7 and smaller spaces where you can get to know the others working around you. If you want to work abroad, it doesn't matter where you want to go or what kind of work you do—you'll be able to find a wonderful shared workspace.
What Is Co-Sharing and Co-Working?
Co-working, or coworking, is when people work alongside one another in a specific location without all being employed by the same company. Co-sharing office space is basically the same thing as coworking.
Who Uses Coworking Spaces?
Anyone who doesn't need to go to a company office can join a coworking space. They're particularly popular among the self-employed, freelancers, remote workers and digital nomads.
Get our monthly newsletter filled with tips and information for people living, moving, and traveling outside of their home country.* *By submitting your email, you agree to receive monthly updates for expats, digital nomads, retirees, and more.
What Is a Co-Sharing Office Space?
The most common kind of shared workspace is a co-shared office space. These locations are often set up with private offices, conference rooms, cubicles, tables and individual desks. But almost anywhere can be used for workspace sharing. You can even find co-working spaces on farms and in old factories.
Who Runs Shared Workspaces?
Some companies own and operate multiple coworking offices. There are also smaller organizations that have set up a shared workspace in just one location. In addition, sometimes businesses with extra office space choose to rent an office or desk out to individuals who don't work for them.
The people at a coworking location pay the organization that runs the shared workspace a fee for access. In return, the company or group that manages the coworking space handles things like WiFi, electricity and perhaps communal beverages and snacks.
What Is the Difference Between Hot Desking and Coworking?
Hot desking means you don't have your own specific desk or office. If you hot desk inside a coworking space, you'll work wherever space is available. Other people will use this office or table before and after you. You could end up working in a different area every time you go to your community workspace. In busy coworking spaces, you might not be able to reserve or find a desk at popular times.
Coworking means joining any kind of shared office space. You might have your own office or desk, but you can also hot desk in coworking spaces.
Also Read: The 9 Best Work From Anywhere Jobs for Travelers and Expats
What to Consider When Choosing a Coworking Space
Because there are different kinds of coworking spaces, think about what matters most to find the right one during your time abroad. Some things are important to everyone, but other factors will vary with your preferences.
When making your decision, don't be swayed by amenities you won't use. If you don't drink coffee, it doesn't matter how good their house blend is! Lastly, ask if you can work there for a day or two before making a longer commitment. Experiencing a potential community workspace will let you judge if it's the right fit for you.
Secure, Fast WiFi: For most workers, WiFi that's secure and speedy will be a top priority. Remote workers and global nomads need dependable WiFi to keep in touch with clients and employers.
Location: Try to find a coworking space that's a reasonable commute from where you'll be living. A safe location is also important.
Hours: Some coworking spaces are open around the clock. This means you can always communicate with people in different time zones—but these places may have higher fees due to their extended hours.
Workspace Setup: If you'd prefer to have your own fixed space to work in, stay away from coworking spaces where hot desking is the norm. Need to hold private meetings? Look for a shared workspace that has conference rooms or soundproof booths. In addition, remember that you'll be spending a lot of time there, so make sure you like the décor and lighting.
Equipment and Amenities: Think about what will help you get work done. If you'll be making lots of photocopies, you'll want to have a copier in the office. If package deliveries and pickups are important for your job, check if a potential co-sharing workspace offers these services.
Communal Areas: What kind of atmosphere would you like in a coworking space? Some coworking spaces have communal areas where people can gather for gaming breaks or after-work drinks. But perhaps you'd prefer to go to a shared office space where everyone just focuses on their own tasks because it will help you get your work done faster.
Why Coworking Is Better Than Working From Home
One of the advantages of coworking spaces is the ability to separate your work and personal lives. As an expatriate, you likely selected your destination because you wanted to experience life there. You have to work to pay the bills, but once you leave your co-shared office space you can focus on things like visiting local bars, surfing the waves or heading to the theater.
Another benefit of coworking spaces is the community they provide. Working solely at home can be isolating. Getting your work done in a shared office means you'll be surrounded by other people. You can get feedback from each other, go to lunch together and hang out after work. Some co-sharing workspaces focus on specific types of work, so you can meet people in your field. Whoever you're co-sharing an office with, expatriates will appreciate the opportunity to meet new people.
Also Read: Living Abroad While Working From Home
Co-Sharing Workspace Must-Haves
It's a good idea to pack light when you're traveling abroad. But as you get your bags ready, think about including these items. These must-haves will make your workspace more secure and more comfortable.
Laptop Lock
You're not going to want, or be able, to keep your laptop with you throughout the workday. So play it safe and get a lock for your laptop. With a lock, you can go out to lunch or use the restroom without any worries about where your computer will be when you get back.
As a digital nomad, your laptop is too important to risk losing. And you don't want to go through the hassle of getting a replacement while you're living abroad. So make sure to get a lock that's compatible with your computer. For example, some locking cables don't work on MacBooks.
Noise-canceling Headphones and/or Earbuds
A lot of people come and go in any community workspace. Being able to meet and interact with new people is one of the benefits of coworking spaces! Yet even if you thrive amidst the bustle of a shared office, you'll probably want to block outside noise at some point.
Noise-canceling headphones and noise-canceling earbuds both do a wonderful job of creating a quieter environment so you can focus on a pressing deadline or complex work issue. Another benefit of these headphones or earbuds is that you can use them as a headset to take calls. The noise-canceling will help you concentrate on your conversations.
Ergonomic Accessories
Shared workspaces provide office basics, like tables, desks and chairs. It's usually your responsibility to handle any equipment beyond that. And you should invest in workspace accessories that can keep you comfortable and help you avoid injuries.
Even if you don't have a fixed desk or office, you can find ergonomic accessories that are easy to travel with. If you'll be working on a laptop for hours a day, use a laptop stand to position the screen at eye level. Placing an external keyboard and mouse (or wireless trackpad) about as high as your elbows will make using a computer in your coworking space much easier on your body.

Compare multiple quotes and coverage options
Work with an insurance expert at no additional cost
Find the best plan for your needs and budget
Bag or Case for Cables and Chargers
Sharing office space generally means you'll need to carry your work equipment to and from the office every day. Plan ahead and travel abroad with a bag or case that can hold all of your chargers, cables, backup batteries and more.
Some items, such as roll-up tech cases, are designed with loops and compartments to store tech equipment. And if you pack this bag ahead of time each night, you'll lower the chances of forgetting an item you need to get your work done.
Your Own Drinks and Snacks
Many coworking spaces have coffee, other beverages and snacks available. But you can't count on a shared workspace to have your favorite food or drink in stock. This is especially true if your preferred breaktime beverage or snack is from your home country and you're working abroad. So make space in your suitcase and pack your favorite tea, coffee, cookies or other snacks. Not only will it make your breaks more fun, you'll have the opportunity to enjoy a taste of home while experiencing life abroad.
Related: