Moving To Panama: How Expats Can Prepare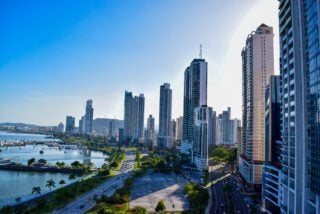 Panama is a popular destination for expats who want to live overseas, especially retirees. The tropical climate, favorable tax laws and lower cost of living make it easy to see why. And, conveniently for Americans in Panama, Panama uses the United States Dollar for their currency! If moving to Panama is something you're thinking about, there are some things you should know to help you prepare.
Visiting Panama
Citizens of the United States, Canada, Australia, Great Britain, the European Union, and other select countries do not need a visa to enter Panama for tourism. Tourists from the U.S. and Canada can stay in the country for a maximum of 180 days while most other tourists can stay a maximum of 90 days.
To enter the country, your passport must be valid for three months beyond the date of entry. If you plan to stay for more than three months, your passport will need to be valid for six months beyond the date of entry. You will need to show you have at least $500 USD to pay for your stay in Panama. This can be in the form of cash, bank/credit card statements, or traveler's cheques.
You also need to provide proof of when you will leave Panama — the customs agents are notoriously strict about this and you can be denied entry or blocked from boarding without it. Immigration officials can also deny entry to anyone with a criminal record.
Legal Requirements to Move to Panama
Working in Panama
If you plan to move to Panama long term, you will need to apply for a work visa. The application process generally takes 1-3 months. These visas are good for 12 months and can be renewed for as long as you are employed. Your company will need to be authorized to hire immigrants and you must apply for the visa through a Panamanian immigration lawyer.
Get our monthly newsletter filled with tips and information for people living, moving, and traveling outside of their home country.* *By submitting your email, you agree to receive monthly updates for expats, digital nomads, retirees, and more.
Retiring in Panama
Panama's government strongly encourages foreign nationals to retire there. The Panamanian pensionado visa is considered to be one of the best retirement programs in the world.
The visa offers impressive incentives such as:
25% discounts on utility bills and airline tickets
10-20% discounts on medical bills, examinations, and medications
50% discounts on cultural events
1% reduction on home mortgages for primary residences
Import tax exemption for household goods
To qualify, you must provide proof of a monthly minimum income of $1,000. This can come from government programs such as social security or pension plans or from private corporations.
Is Panama a Safe Place to Live?
If you are moving to Panama, you can rest assured that it's one of the safest countries in Central America and the Caribbean. Globally, the country is ranked as the 61st most peaceful. In comparison, the United Kingdom is ranked 34th while the United States holds the 129th place.
However, petty crime is common in Panama and travelers should use increased caution when in the country. Stay aware of your surroundings and be vigilant with your valuables. The Darién and Mosquito Gulf regions have higher levels of criminal activity than the rest of the country. Due to drug and human trafficking, it's a good idea to avoid these areas completely.
The country is also home to earthquakes, tsunamis, hurricanes, and volcanic activity. Get to know where shelters are located and have an evacuation plan for different weather emergencies. You can register with the Global Disaster Alert and Coordination System to receive alerts for when severe weather is expected.
What is the Safest Place to Live in Panama?
The areas where tourists and foreigners live in Panama tend to be safe with low incidences of violent crimes. These immigrant communities in Panama include Panama City, Boquete, Coronado, Bocas del Toro, Chitre, David, Volcan and Penonome.
Colón is one of the few cities that has a reputation for being more dangerous than other tourist areas. Even so, the majority of these more violent crimes are between rival gang members.
Work Permits in Panama
Panama has strict labor regulations and jobs in Panama for expatriates are not easy to find because many foreigners are restricted from certain industries. Most Panamanian companies are not allowed to have more than 10% of their workforce be foreigners, although there are some exceptions for highly-skilled workers.
A foreigner's best bet for looking for work in Panama is through an international company located in one of the country's Free Trade and Export Processing Zones. In-demand jobs in Panama include construction, technology, banking, tourism, and maritime as well as nonprofit work.
How Much Does it Cost to Live in Panama?
The cost of living in Panama depends on where you choose to live and what your lifestyle is like. Bigger cities will be more expensive than smaller, more rural towns. On average, the country is 35-40% cheaper than the United States or United Kingdom. If you live like a local and limit big splurges, you'll find the country to be relatively inexpensive.
You can take the subway for less than a dollar, have dinner for $8 and see a new international film release for $6. With these prices, many immigrants find they can live in Panama using their social security payments alone. Numbeo estimates the average monthly costs for a single person living in Panama to be around $745 without rent. Most expats report they can live comfortably in the bigger cities on a budget of $2,000 per month.
Healthcare in Panama for Expats
Panama has good healthcare, with the capital in particular being recognized across Central America for its excellent hospitals.
The healthcare system in Panama is two-tiered, with both private and public facilities available. If you are living and working in Panama, you will be entitled to the public medical coverage through your social security payments. If not, you have the option to use the public system and simply pay out of pocket. Without insurance, an average doctor's office normally costs less than $50, with some foreigners saying they've paid as low as $15.
While smaller towns and villages tend to only offer basic facilities, there are medical hubs around the country in areas such as Panama City, David, and Chitré. So, you'll never need to travel far for more advanced treatments. Even though public healthcare costs are affordable, most foreigners tend to buy an international health insurance plan and use the private system. This offers patients shorter wait times, more advanced medical equipment and a greater range of specialists.
Also Read: The Panama Healthcare System
Health Insurance for US Expats in Panama
Global Medical Coverage in Panama
Education in Panama
Education in Panama is free and compulsory from primary school through the first three years of secondary school. Students can then choose to attend another three years of public high school. These schools also tend to be free, though in some areas there may be entrance or book fees.
The public system is ranked 80th globally by The Education Index, part of the United Nations' Human Development Index (HDI). The rating considers both access to education and its quality.
Many immigrants moving to Panama choose to send their children to private schools. There are international schools that offer classes in both English and Spanish for foreigners. These schools are mostly located in the capital and cost between $6,660 to $8,140 annually.
Higher Education in Panama
After secondary school, students can go on to receive technical training certificates or a bachelor's degree from universities across the country. There are a growing number of higher education institutions available in the country and tuition is free at public universities — even for foreigners!
Most undergraduate studies take four years, though some science, engineering or health science focuses may take 1-2 years longer. Post-graduate degrees average 1-2 years of study to complete. It's even possible to get a U.S. degree while living in Panama. Some U.S. universities, like Florida State University and Illinois State University, have branches in Panama.
Setting Up Banking and Finances
Once you have residency, opening up a bank account in Panama is fairly straightforward. There are two state-owned banks and many international banks, such as HSBC or Citibank, to choose from. Different banks have different requirements for the documents you will need to open an account. Most banks will want the following:
A valid passport or Panamanian I.D. card, called a "cedula"
A second photo I.D.
One or two recent bank reference letters from your home country
Proof of a source of your funds, such as your tax returns
Proof of a connection to Panama, such as a utility bill or a copy of your lease
An application form that may need a local reference or personal recommendation from someone in Panama
An initial deposit that can vary between $50 and $200
There is often an employee who can help walk you through the process in English. But it's not guaranteed and if your Spanish isn't great, you might want to bring someone to assist you with all the forms.
Bank branches and ATMs are widely available throughout the country. You can also use online banking services, with many banks offering free bill payments. You'll find that bank fees tend to be cheaper than in the United States or Europe.
Keep in mind that the process to open a bank account in Panama is not quick. After applying, the approval process usually takes a couple of weeks. Another point to consider is that agencies like FDIC or European Deposit Insurance Scheme do not insure your deposits. That being said, banks in Panama are known to be safe and are closely regulated as of 2016.
Can I Collect Social Security While Living in Panama?
Yes, you can collect social security while living in Panama. For Americans living in Panama, transferring money to your Panama bank account is relatively easy. Panama is part of the international SWIFT wire transfer system. However, international transfers normally have fees at each end, anywhere from $25 to $50.
Luckily, once you have permanent residency in Panama and have opened an account with a Panamanian bank, you can request at the U.S. Embassy to have your social security check deposited directly into your Panamanian bank.
Panama Real Estate for Expats
It is legal for expats to buy property in Panama in their personal names. It is a good idea to work with a licensed real estate agent, especially one who specializes in expats. You can expect the following steps when buying property in Panama:
Find a property that interests you
Negotiate price and terms of sale
Title search to confirm owner and clean title
Enter into a purchase agreement, which includes an inspection
Sign final close on the sale
Transfer of the title and funds
Register your home with the Public Registry
Panamanian banks will offer mortgages to foreigners for a maximum loan term of 25 years, though it is a tedious process to apply for one. Those 75 or older are not eligible for a mortgage. Most mortgages carry an interest rate between 6% to 8%.
You will need to pay property taxes on any place valued at more than $30,000. Properties valued over $75,000 have an annual property tax cap set at 2.1%. The government will also charge a title transfer tax. This tax is 2% of whichever is higher between the asking price or the property value. A short- and long-term capital gains tax is also applied.
Is Panama a Good Place to Live?
Living in Panama as an immigrant, it's easy to see why the country attracts large numbers of foreigners. It's an extremely diverse country with something to offer everyone, from beaches to cosmopolitan cities to rainforests. Pair that with a low cost of living and a tropical climate, you can see why Panama is a place many expats choose to call home.
Related: