Mental Health Matters: Your Healthy Plan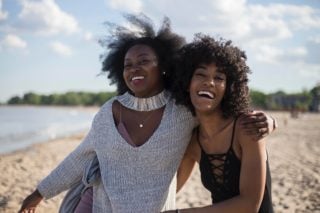 On a memorable travel day, you feel every emotion. Surprise, excitement, joy, suspense, trepidation, relief, exhaustion. It makes for an exhilarating ride, but it's one that can compound the challenges already presented by mental health concerns. Whether you are contemplating a short trip for vacation or a long term overseas relocation, it's just as important to plan for your mental health as anything else in travel. Here are some tips to help you have a healthy and unforgettable trip.
Connect with Mental Health Professionals Before You Go
Discuss your plans with your healthcare team. They can offer practical tips and encouraging advice that will reassure you. They might even be able to walk you through the process of connecting with a reputable online therapist. Now's the time to also talk to your pharmacist about safely bringing your medication overseas. And chat with your insurance provider about a plan that covers all your health needs.
Connect before you go. Reach out and make an appointment with a local counselor. They'll be a valuable resource for the duration of your time abroad. Feeling settled and oriented in a new city can take a while, and you don't want this important "to-do" item to slide.
And it's not just healthcare professionals you can connect with prior to your trip. Seek out support groups and community organizations. Most host social events and activities that are the perfect way to meet locals, get to know a destination better and maintain networks of support and encouragement.
Seek Out Healthy Spaces
Stay in a positive space – literally. Your friend or family's guest room is free, but it may come at a cost. Everyone needs some space, especially if politics is a frequent topic of discussion. Break up your visit with a solo overnight visit to another destination. And don't hesitate to give yourself a break from your usual accommodations. After nights in a crowded hostel or busy shared home, a private hotel room is both a welcome oasis of calm. Conversely, a visit to a lively inn with a communal table banishes the loneliness of business hotels.
Keep some flexibility within your budget. If you feel the need to attend a private mediation or yoga class, have an unexpected need for a private room, or have to take taxis for a last-minute medical appointment, you'll want to be able to spend without worry.
Traveling light is often the way to go, but keep some space in your bag for some reassuring items from home. Pictures of family, a silly stuffed animal, or a comforting blanket can help recreate a relaxing environment to help you enjoy maximum rest.
March – or Walk – to a Healthy, Meditative Beat
Take care of your physical health. Exercise, even gentle walking, is a great way to discover a new destination. Nutrient-packed fruits and vegetables will fuel your body and warm your heart when you pick them up at a local market or learn about them in a regional cooking class.
Make technology work for you. There's a great selection of options that can help with guided meditation, monitoring sleep, and scheduling medication. They're great for keeping calm and on track no matter what time zone you're in.
Stay grounded and keep in touch with friends. Social media is perfect for keeping up with your casual friends, but for those closest to you, you'll want a more personal touch. Skype, Zoom, FaceTime or Google Meet are great for face-to-face conversations. For the ultimate souvenir, send long, handwritten letters.
The new connections and perspectives you gain from travel can greatly enhance your life and your health. Here's to having every trip be as healthy and happy as possible!
Stress and Your Health
Stress is a natural part of life that comes with traveling and having a family and job. If you are working abroad as an expat with your family, you more than likely are in need of a breather more often than not. While stress may seem like a temporary hindrance, it can have serious consequences if not kept under control.
A few common side effects of stress, according to the Mayo Clinic include:
Headaches
Muscle tension
Chest pain
Fatigue
Upset stomach
Sleep problems
Anxiety
Irritability
Over or under eating
Drug abuse
Social withdrawal
When it comes to stress, it's important to evaluate what type of stress you are experiencing. Is it acute stress from a short-term situation like being late to an event? Or is it chronic stress, which can be more long-term and harmful to your health? While acute stress may not always be predictable, chronic stress can be managed with the right strategies. The first step is to pinpoint the stressor, then find ways to keep it under control.
Your health as an expat should be a top priority while abroad. If high levels of stress are not taken care of, serious health effects such as a heart attack can occur. Before it gets to this point, take a few moments to think about and gauge your stress levels- then pick a few healthy ways to help keep your stress under control and your body at its best. Here are just a few ways to relieve stress in a healthy way:
Meditation
Reading
Yoga
Cooking
Tai Chi
Exercise
Gardening
Painting
Knitting
Volunteering
Preventing stress from getting out of control is the best way to keep your job and health as an expat at its best. If you're not sure if stress is affecting your health, make sure your international health insurance plan includes wellness and make a visit to your doctor for a check-up.
Also Read: