The Safest Places to Live Abroad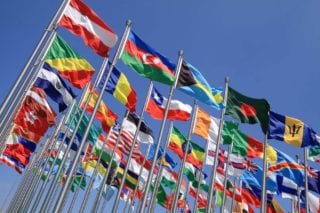 Whether you're planning to live alone, with a spouse, or with children, it's important to find a safe place to live abroad.
It's easy to be swept away by the beauty of a tropical nation or the low cost of living in a certain city, but safety should be a top concern for any expat thinking about moving abroad.
To help you make your decision, keep reading to learn about the safest countries in the world (and the most dangerous). For this list, we not only factored in crime, but we also looked at healthcare, which plays a vital role in anyone's health and well-being.
What Are the Safest Countries in the World to Live In
Australia Is Safe and Beautiful
Not only is Australia one of the safest countries for foreigners, but there is also a diverse group of people and lifestyles. You can settle down with views of a beautiful beach, live in a big city, or live a slower pace of life in a small town. Read our guide to the best places to live in Australia for more information.
The country has high healthcare standards, and while it has a high cost of living, it has higher salaries as well.
Related: Living in Australia as an Expat
Life in Malaysia
As with any country or city, you have to be cognizant of your surroundings at all times. But with a large expat community, many foreigners choose to retire in Malaysia.
In addition to its relatively low crime rate, Malaysia also has an excellent healthcare system, a friendly atmosphere, and a warm climate.
With its low cost of living, it's a great option for retirees. In addition, the Malaysian government makes it quite easy for foreign citizens to obtain a 10-year visa. Plus, English is widely spoken throughout the country, making it easy for nomads to assimilate into the culture.
Portugal, One of Europe's Safest Countries
Portugal is one of the safest European countries, and it's well known for being welcoming to foreign citizens from around the globe.
Health insurance in Europe is effective and affordable, and Portugal has a culture similar to that of the US, so it's easy to assimilate and settle in. Located along the Iberian Peninsula, it's also one of the cheapest places to live in Europe.
Why Canada is So Safe
Canada is famous for being one of the world's most peaceful countries. In fact, the biggest issues Canadians face are petty theft and dangerous driving conditions. After all, Canadian winters are cold, and ice and snow are common.
And while safety is a huge appeal, there are also many job opportunities in Canada and the Canadian healthcare system is excellent. With an area of over 3.8 million square miles, you can choose to live in a cosmopolitan city or in a small, remote town.
Read: Best Places to Live in Canada and Health Insurance in Canada
Denmark, Another Safe Country in Europe
Denmark continually makes lists as one the safest countries in the world. The country is home to a low crime rate and an inclusive community.
In addition to having a high quality of life, Denmark also has a strong work-life balance. It has a higher cost of living, but it's considered one of the best countries for expats to work in.
The capital city of Copenhagen is a favorite among U.S. citizens, western Europeans, and other foreigners from around the world.
Singapore, Safe and Secure
You'll find very little violent crime in the island nation of Singapore. With great job opportunities and a strong economy, there's no shortage of reasons to move to Singapore.
This prosperous nation has high-quality childcare and quality education, making it ideal for families. In addition, many people report having a high yearly income and personal disposable income. High-end shopping, exciting nightlife, and modern luxuries make it an exciting place to live.
New Zealand
With low crime rates and welcoming culture, international citizens feel safe in New Zealand. Of course, as with any country in the world, you need to be cautious when you're in big cities and be aware of your surroundings at all times.
There's a great healthcare system in New Zealand, and the locals put a huge emphasis on living a healthy lifestyle. In terms of overall safety, the country does have to endure several earthquakes each year.
Planning a Move and Need Health Insurance?

Compare multiple quotes and coverage options
Work with an insurance expert at no additional cost
Find the best plan for your needs and budget
Other Safe Countries to Consider Living In
Almost every country has areas and regions that are deemed safe or unsafe. But in terms of overall safety, the Global Peace Index ranks the following as the world's safest countries from 2008 to 2018:
Iceland
New Zealand
Austria
Portugal
Denmark
Canada
Czech Republic
Singapore
Japan
Ireland
Slovenia
Switzerland
Australia
Sweden
Finland
The Global Peace Index calculates its list based upon three things:
The level of safety and security in each society.
The level of militarization.
The extent of domestic and international threats.
It's interesting to note that neither the United States nor any of the major European nations made it into the top 15. So if you're thinking about moving from America or Europe, there's a good chance your new destination will be safer than where you are now.
List of Unsafe/Dangerous Countries
Wondering what countries to avoid? Out of 163 countries ranked, the Global Peace Index calls these the most unsafe places in the world:
Syria
Afghanistan
South Sudan
Iraq
Somalia
Yemen
Libya
The Democratic Republic of the Congo
The Central African Republic
Russia
Sudan
Ukraine
Pakistan
Choosing a Safe Place to Live
As a foreign citizen, you have to pay attention to your surroundings at all times, especially when you're new to a city.
Do your research before you go and don't fall victim to renting a home or an apartment in the cheapest neighborhood. Monthly rental costs go hand in hand with safety and security, and as the old saying goes, you get what you pay for.
Keep in mind, even if you move to one of the safest countries in the world, it is still important to be mindful of your surroundings. Anywhere in the world can be safe, as long as you're vigilant.
Related: