The Safest Places to Live Abroad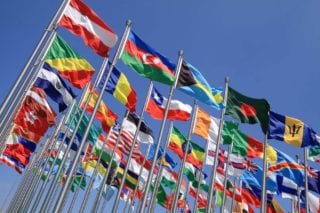 Before heading abroad, don't forget to plan for your safety as you travel! Living in one of the world's safest countries will not only make your day-to-day life overseas more secure, but it could also be less stressful. You might even find a place where you'll feel safer than you did at home. To help you make your decision, keep reading to learn about the safest countries in the world (and the most dangerous). 
By taking crime rates and access to healthcare into account, we've assembled a list of some of the safest countries in the world. As you consider which location to pick as the safest country in the world for you, remember that security doesn't require sacrificing natural beauty or the glamor of city life — safe places still offer every opportunity for adventure. Read on to learn about some of the safest countries in the world, as well as several of the most dangerous for you to avoid.
What Are the Safest Countries in the World to Live In?
Australia: Safe, Beautiful and Secure
There's no doubt Australia is one of the safest countries for foreigners. Sydney is a very low-risk city that has taken proactive steps regarding everything from personal safety to digital security. Melbourne has also been highly rated for its levels of safety. In addition, the country has smaller towns and open spaces that are enticing, and safe, to explore. While its spiders and snakes may be legendary, most residents actually don't encounter them.
Australia is home to a diverse group of people and lifestyles. It is considered safe for women as well as gay and lesbian residents. However, transgender rights differ by state. It also has an excellent healthcare system. Australia's healthcare was rated as 32nd most efficient in the world by the World Health Organization.
If Australia sounds attractive to you, read our guide to the best places to live in Australia for more information, then learn how to immigrate to Australia.
Related: Living in Australia as an Expat
Japan: Safety in Cities and Beyond
Japan has a robust and accessible healthcare system and a very low crime rate. Plus the country makes it difficult for potential criminals to access weapons. And if you've ever wondered, "What is the safest country in the world for women?", the answer could be Japan. SafetyDetectives, a group of cybersecurity experts and privacy researchers, found that between 2010 and 2020, Japan had the lowest number of crimes reported against women.
Inside Japan, Tokyo is not just an exciting city, it's one of the safest places to live and visit. Tokyo's public transportation is secure and easy to use, and the city is pedestrian-friendly. Outside of Tokyo, and other cities like Kyoto and Osaka, it's also safe to visit Japan's lovely natural attractions. One word of caution: watch out for earthquakes, as Japan is located close to four tectonic plates. But if you did sustain an injury, you can be assured you'll be well cared for. Japan's healthcare system is one of the best in the world.
Ready to pack your bags? Learn more about moving to Japan and the best places to live in Japan.
Portugal: Culture, Lower Cost of Living, and Safety
Portugal is one of the safest countries in Europe. Foreign citizens from around the globe have found that Portugal provides culture, the beauty of the Iberian Peninsula, delicious food, and a lower cost of living than in other parts of Europe. Plus health insurance in Europe is effective and affordable, and the healthcare system in Portugal is good and steadily improving. It also has a pleasant climate that many expats enjoy. 
Portugal has a diverse population and is welcoming to people of color, with anti-racism laws that outlaw discrimination in housing and business. In addition, it's an exceptionally safe country for LGBTQ+ travelers. Female visitors and residents experience low levels of harassment in Portugal; catcalling has even been outlawed. 
Why Canada is So Safe
Whether you choose to spend your time in a cosmopolitan city like Montréal or Toronto, or you find a setting like Banff National Park more your speed, you're likely to be safe in Canada. Canada has anti-discrimination legislation that makes it one of the safest countries for members of the LGBTQ+ community. And with a diverse population, people of color also feel secure.
There are many job opportunities in Canada, plus the Canadian healthcare system is excellent. However, you should appreciate chilly conditions if you're going to spend an extended period of time in Canada. Canadian winters are notoriously cold, and ice and snow are part of the experience.
Read: Best Places to Live in Canada and Health Insurance in Canada
Denmark: A Safe Country in Europe
Denmark has consistently been held up as one the safest places in the world. The country not only boasts a low crime rate but it has also been ranked as one of the world's happiest places. And though it may have a higher cost of living, it's still considered one of the best countries for expats to work in. The capital city of Copenhagen, which is easy to explore via walking and cycling, is one of the world's safest cities. One reason for Copenhagen's high standing in safety is its ability to respond to environmental crises.
Women appreciate Denmark's commitment to gender equality and the absence of experiences like being catcalled by strangers. LGBTQ+ visitors to Denmark should also feel welcome. However, the number of racist hate crimes has increased steadily from 2017 to 2020.
Denmark's healthcare system is frequently ranked as one of the best in the world. If you're a cyclist, you'll be especially glad to know that bicycles have the right of way in most cities. 
Singapore: Safety, With Restrictions
This island nation has an extremely low crime rate and a thriving economy, two of several reasons to move to Singapore. Singaporeans also benefit from high-end shopping choices, exciting nightlife options, and a range of modern luxuries. It's expensive to live there, but many jobs offer high salaries. But be careful to avoid spitting or smoking in public places; these and other infractions could result in a fine or worse. These laws help Singapore maintain its famous cleanliness.
Singapore's healthcare system is known worldwide for its quality. It regularly ranks as one of the top 10 healthcare systems in the world and is often in the top 5. This quality is one reason that Singapore's citizens have the longest life expectancy of anyone in the world.
Singapore is a multicultural country with four official languages (English, Malay, Mandarin, and Tamil). The majority of the population consists of ethnic Chinese, ethnic Malays, and ethnic Indians, and these residents practice multiple religions. However, it remains legal to discriminate against LGBTQ+ people in Singapore. Same-sex marriage and adoption are not permitted. While Singapore is generally extremely safe, members of the LGBTQ+ community may find other countries more welcoming.
New Zealand: Safety for All
Low crime rates mean locals and international citizens alike feel safe in New Zealand. The country is considered among the best for the safety of female visitors, though naturally the usual precautions, such as maintaining awareness of your surroundings, should be taken. Plus New Zealand is one of the safest places in the world for LGBTQ+ people.
New Zealand may also be the safest country in the world for people who don't care for snakes. The country has no land snakes, though the waters around it occasionally host yellow-bellied sea snakes and kraits. In addition, New Zealand's natural beauty is unparalleled. One downside is that earthquakes are not uncommon, but if one should strike, you'll have access to the outstanding healthcare system in New Zealand.
Planning a Move and Need Health Insurance?

Compare multiple quotes and coverage options
Work with an insurance expert at no additional cost
Find the best plan for your needs and budget
Other Safe Countries to Consider Living In
The Global Peace Index uses data from the Institute for Economics and Peace to calculate the world's safest countries. The determination relies on three factors: the level of safety and security in each society; the extent to which a society is militarized; and whether there are domestic and international threats. Here are the rankings for 2021:
Iceland
Denmark
Slovenia
Austria
Czech Republic
Singapore
Finland
Norway
15 Unsafe and Dangerous Countries
Out of the 163 countries that were ranked, the Global Peace Index deemed these the most unsafe in the world:
Afghanistan
Yemen
Syria
South Sudan
Iraq
Somalia
Democratic Republic of the Congo
Libya
Central African Republic
Sudan
Venezuela
North Korea
Pakistan
Turkey
How to Safely Live Abroad
Don't forget that even the very safest places are not risk-free. Do your research before signing a rental agreement or agreeing to work a late shift all on your own. And don't let yourself start feeling so secure that you take unnecessary risks, such as deciding to head home alone while drunk.
As a foreign citizen, it may be difficult to communicate with the police if you're the victim of a crime. If this should happen to you, you can contact your home country's embassy or consulate for support.
Of course, no location can guarantee your safety. However, by selecting one of these safe countries to live in, you're making a smart choice that will give you and your loved ones extra peace of mind. Smart planning like this will help your adventure abroad get off to a wonderful start!
Related: