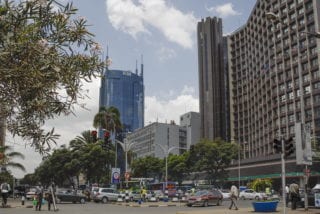 An Expat's Guide To Moving to Kenya
For many expats, Kenya has it all. With a combination of mountains, shorelines, and cities, the country would be irresistible even if it wasn't home to some of the best wildlife on earth. Kenya is a medium-sized country with a large population. More than 51 million people live there. It's also home to dozens of different ethnic communities, each of which has its own language and customs. For expats moving to Kenya, there is a lot to figure out before they make the leap to their new country. Sorting out visa requirements, opening a bank account, and finding a job, are some of the important considerations for anyone relocating to Kenya.
Visa Requirements in Kenya
Anyone staying in Kenya for more than three months can only do so with a work and residence permit obtained before arriving in the country.
Class D work visas are the most common kind of visas for expats looking to move to Kenya. Class D covers intra-company transfers and humanitarian workers.  As well, all specific employment by a specific employer falls under the category of Class D. The typical approval time for a Class D visa is 2-4 months so be sure to apply early. You can also expect to pay 10,000 Kenyan Shilling.
Other common visa types include Class I work visas (formerly known as class E), which apply to foreign missionaries. Class K visas apply to independently wealthy foreigners who are able to prove sufficient income.
Read: Work Visas in Kenya
Learning the Language
It's not necessary to know Swahili in order to live and work in Kenya. English is the country's second language, especially in cities. However, taking Swahili lessons will go a long way towards cementing friendships, bonding with colleagues, and traveling with ease in rural areas.
Finding A Job When Moving to Kenya
Kenya's leading industries include tourism, banking, and IT. Kenya is also the most significant hub in East Africa for finance and communication. Expats are working in these fields and many more, including infrastructure, agriculture, energy, education, aid management, grant management, and wildlife management.
The majority of expats come to Kenya by being sponsored by a company. It's extremely challenging to face the immigration-related bureaucracy on your own.
Understanding the Cost of Living
The most significant expense in any expat's budget is accommodations. While the cost of living in Kenya isn't particularly high, accommodations and imported consumer goods are expensive.
On average, expats can expect to spend at least a third of their budget on housing. Many expats in Nairobi find it well worth spending extra to live close to their workplace, given the city's notorious traffic. Following accommodations, tuition fees for international schools are usually the second largest expense for expats in Kenya. Utilities for water, electricity, fuel, phone services, and the internet also add up.
By contrast, local produce and services such as tailoring and carpentry are usually quite affordable.
Finding A Place To Live
The majority of expats moving to Kenya do so to settle in a major city like Nairobi or Mombasa. Both cities contain stark inequality, with gleaming suburbs sharing space with despondent slums.
Expats favor neighborhoods on the outskirts of Nairobi, including Lavington, Kitisuru, Karen, Runda, Gigiri, Muthaiga, Spring Valley, and Lang'ata. Before signing a lease, you should ask if your costs include security. Most expats choose housing that comes with either a sophisticated alarm system or with onsite overnight security guards known as askari. Other common services to inquire about our water storage tanks, backup generators in case of power shortages, and air conditioning. The temperature regularly creeps up to 40 degrees Celsius in the cities. Air conditioning definitely matters!
Understanding Kenya's Healthcare System
Healthcare in Kenya is provided by a mix of public, private, and charitable clinics, hospitals, and services. The first point of contact for patients is usually a dispensary. Dispensaries are managed by registered nurses. They provide outpatient services for simple concerns like skin conditions, the common cold, and even uncomplicated cases of malaria.
For cases beyond the scope of the dispensaries, the health center is the next stop. Health centers are medium-sized units that cater to a population of about 80,000 people. They're staffed by administrators, nurses, and other medical personnel such as nutritionists, pharmacists, and laboratory technicians. Doctors rarely work at health centers. Instead, they work in country and district hospitals in Kenya where more specialized care is offered.
Public healthcare in Kenya is average at best and the majority of expats and foreign residents opt to visit private facilities. Private hospitals and clinics offer faster waiting times and more comfortable, private accommodations.
Finding Schools and Socializing in Kenya
It's always stressful to find the right school for your child and it's no different for expats in Kenya. Kenya's education system is based on the 8-4-4 model. The students go through a compulsory basic education for the first 8 years, then through secondary education for the next 4, and then through 4 years of undergraduate school.
Nairobi's Westlands and Karen neighborhoods are well known for their good schools, many of which follow the British, German, and French education systems. As well, the International School of Kenya and the Rosslyn Academy (both in Westlands) teach children according to American and Canadian curriculums.
For adult connections, many expats in Kenya join a country club. In general, social organizations like this are more affordable than they are in other countries and are a popular way to connect with other foreigners. Others form new connections by volunteering with one of the many international non-governmental organizations set up in Kenya.
Using Credit Cards or Cash in Kenya
Kenya's official currency is the Kenyan Shilling. As well, currency from the United States and Great Britain – and to a lesser extent South Africa and the European Union – is often accepted at tourist-oriented restaurants and services. However, long-term visitors and new residents are best off to exchange their foreign funds at a bank, where they'll find the best available rates.
While ATMs are widespread and credit cards are accepted at all major businesses (and many small ones too), cash is still king in Kenya. It allows for quick and easy transactions at tiny businesses, like roadside food stalls. Cash also gives residents the most flexibility because credit card terminals are notorious for their inconsistent service.
Visa is the most commonly accepted credit card, followed closely by Mastercard. American Express is accepted primarily by international chains and tourist-oriented services. Discover Card is all but unknown.
Setting Up A Bank Account When You Move to Kenya
Most major banks in Kenya offer financial services to non-citizens. Depending on the bank, you may be required to prove your home address, that you have a Kenyan mobile phone number, or that you hold a "KRA" PIN. The KRA proves you're registered to pay your taxes. In some cases, the services of an 'introducer' might be required in order to open a bank account. An introducer is someone who already has a bank account with the branch and is willing to vouch for your good character.
Opening a bank account in Kenya is usually a multi-step process. You first visit your local branch to make an appointment. Then you return to your appointment with the required supporting paperwork. Assuming all goes well, you'll return a final time to collect your new bank card and set a PIN for use at the ATM. International brands such as Barclays and Standard Chartered have a strong presence in Kenya. The process of opening a local bank account might go more smoothly if you are already a customer of the bank in your home country.
Related: