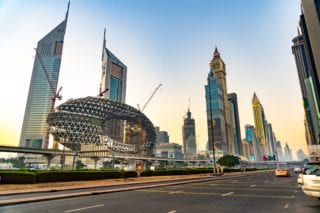 What to Expect When Moving to Dubai
Dubai is fast becoming a hot spot for tourists and expats. This high-energy destination is all about the hustle. Cranes dot the skyline and Dubai's unofficial motto seems to be 'higher, bigger, better – and flashier". Expats are attracted to Dubai's high quality of life, warm weather, booming economy, and status as an income tax-free haven. Whether you're seeking your fortune or just looking for a dynamic base to live and work, moving to Dubai as an expat has a lot to offer.
Figuring Out the Legal Requirements to Move
If you're arriving in the United Arab Emirates from the UK, the UK, Canada, or most of western Europe, you can usually obtain a visa upon arrival. You'll have to bring along notarized copies of all important documents, including marriage licenses, bank statements, and diplomas, or certificates of qualification.
For those entering the UAE without a job offer, a long-term multiple-visit visa is your best option. This visa allows you to stay in the country for 90 days with the option to renew. Those who already have a job lined up typically employers take care of all the paperwork and visa applications on your behalf.
Finding a Place When Moving to Dubai
For some lucky expats, their employment contract has a provision that provides for accommodations. For everyone else, it's time to start a housing search. While many apartments come pre-furnished, there is still plenty of choice for those who prefer to start with a blank slate and furnish things themselves. However, payment terms aren't so easy. Most landlords require six to twelve months' rent upfront. Some companies will advance the cost of rent to their employees and then deduct monthly repayments from their wages. If you agree to this arrangement, make sure you read the fine print and know if there are any fees.
A real estate agent that specializes in helping expats relocate can help navigate the logistics for you. However, it's still important to get a personal recommendation from a friend or colleague. Unfortunately, not all real estate agents operate with the philosophy that the renter's needs must come first.
Popular neighborhoods for expats in Dubai include Dubai Marina, Deira, Arabian Ranches, Jumeirah, Al Wasl, Al Safa, and Umm Suqeim.
Understanding Dubai's Healthcare System
The United Arab Emirates, and by extension Dubai, has a mixed public and private healthcare system. Employers in Dubai must provide health insurance for their employees. Those who are sponsoring resident dependents are likewise required to have appropriate insurance coverage.
Dubai's public hospitals offer high-quality free or low-cost care to residents. In order to receive this care, you'll have to have a health card. These are available from the Department of Health and Medical Services.
Although public healthcare is excellent in Dubai, most expats opt to use private global health insurance, such as Cigna Healthguard. Cigna Healthguard are plans specifically designed for local nationals and expats living in the UAE. Being treated in a private facility means shorter wait times and more comfortable facilities.

Compare multiple quotes and coverage options
Work with an insurance expert at no additional cost
Find the best plan for your needs and budget
Tips on Driving
Driving in Dubai is a hair-raising experience. Locals love using their horns, and they're downright passionate about driving fast. Limos, flashy SUVs, and outrageous sports cars share the road with taxis which have seen far better, safer days. Believe it or not, tailgating is legal in Dubai but telling someone what you think of them (in other words, flipping the middle finger…) is definitely not. If you're caught, your momentary flash of temper could result in jail time according to Dubai laws. Despite the chaotic traffic and apparent lack of rules, the police are always watching via ever-present traffic cameras. If you're so unlucky to be fined, don't be tardy in paying up or your vehicle may just be impounded. If this all sounds like it's too much, Dubai has an efficient, inexpensive public transportation network.
Work and Money
In general, the cost of living in Dubai is high. While it is more affordable than major cities such as London and New York, it's far from a frugal destination. Dubai is also a destination with a strong focus on conspicuous consumption. It's a place to see and be seen, where expensive designer brand names are evident in everything from shoes to cars to sunglasses.
There's no legal minimum wage in Dubai. For those employed as laborers or in positions of unskilled or semi-skilled labor, especially in the manufacturing industry, there are few forms of protection or financial security. On the other side of the scale, there are many extremely high-paying jobs in Dubai when industries are booming and certain skills are in demand. In short, employers are free to pay whatever wages they want. This creates opportunities for some and exploitation for others.
Read: Cost of Living in Dubai
Understanding Gender Roles
In many regards, Dubai is more liberal and modern when it comes to gender roles than many other parts of the UAE. It is a hugely popular destination for solo female travelers. The city is very safe and crime rates are very low. At travel-specific destinations like hotels,  there are relaxed liquor laws and dress codes. However, expat women who live in Dubai full-time face more restrictions as they're not exactly living the hotel life. Women's behavior in public is carefully scrutinized, and dressing modestly is important.
Read Also: Dubai Laws for Expats to Consider
Consuming Alcohol While Living in Dubai
Consuming alcohol is severely restricted in Dubai. In order to consume liquor in your own home, you must obtain a liquor license. You can only get one of these licenses if you get signed approval from your boss. You must additionally provide proof of your salary to the authorities. Your salary level determines how much alcohol you're allowed to buy. Finally, you must submit several passport photos for proof of identity. From there, you must pay the liquor license fee and pay a 30% tax on every purchase you make. The process is anything but easy or private! Some residents work around this by picking up some alcohol at the airport duty-free store when they fly in the country.
Using the Internet
It's not easy to connect to the internet without restrictions in Dubai. The government blocks all websites that it deems offensive to its religious, moral, and cultural values. The list of banned pages includes multiple Wikipedia pages, VOIP sites including Skype, gambling sites, political sites, religious criticism, and anything considered even remotely risque.
In theory, you can circumvent government censorship by using a VPN (a virtual private network). However, in recent years the government has managed to block the majority of VPN websites. Choose a VPN with anti-censorship measures, like obfuscated servers, SSL encryption, or anything that gives your VPN a stealth mode.
Setting Up Banking and Finances
With more than 45 local banks to choose from, opening a bank account in Dubai is easy. You must be a resident to open a checking account but there are options for non-residents to open savings accounts. To open an account, you'll need to bring a copy of your passport, your work permit, and a letter from your employer confirming your salary.
Related: