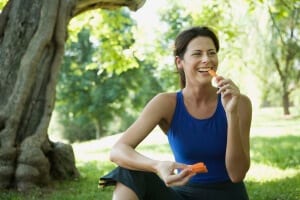 It's more important than ever to stay healthy while traveling. If you've been wondering how to keep healthy while traveling, there are a few key rules that you will want to abide by. You can also make some key preparations for if you get sick, so you can identify the problem and recover more quickly.
How to Stay Healthy While Traveling
Bring necessary medication with you: Different countries can have different medications available, meaning you may not have access to certain medicines you depend on while abroad. One important item to make note of when learning how to keep healthy while traveling is to make sure you bring enough medication for the entire duration of your visit plus an extra supply in the event that your trip is unexpectedly delayed.
Maintain your workout routine: You may get caught up in the excitement of viewing sites that you thought you would only be able to dream about seeing, but make sure your body is receiving enough physical activity during your journey. If you participate in a lot of walking or bike tours, this will not be hard to obtain. However, if your journey mainly consists of car, plane and train rides, you might need to schedule in a few workout sessions.
Know what you are consuming: Trying new foods is part of the excitement of experiencing a new culture. However, it can sometimes lead to quick and not-so-healthy choices. It's important to know what your diet includes and to keep track of what you are eating while traveling to ensure you are getting the balanced diet you need.
Be aware of disease warnings: The World Health Organization (WHO) reports on important disease outbreak news. Make sure you check these reports frequently to ensure you will not be visiting an area with an outbreak and know how to handle the situation if you are.
Purchase international travel insurance: Of course preventing illnesses and injury is most ideal when traveling, but sometimes the unexpected happens. In these instances, you will want to make sure you have proper international travel insurance so you can receive the care that you need.
Get plenty of rest: Between traveling through the night, uncomfortable guest beds and trying to fit in every site you want to see, traveling can often lead to a lack of sleep. Make it a goal to get a full eight hours of sleep each night. If eight hours of sleep is not always possible, try to nap when safety and time allow.
The most important tip for how to keep healthy while traveling is to listen to your body and respond accordingly. If you are pushing yourself to the limits or not giving your body what it needs, it will more often than not let you know. Make sure you don't ignore these warnings so you can enjoy your trip and return home healthy.
How to Prepare for Getting Sick While Abroad
It is important for individuals who travel to be prepared for illnesses associated with travel and know how to spot an illness coming on. The Centers for Disease Control and Prevention (CDC) suggests keeping an eye out for the following symptoms while traveling to ensure you stay healthy during your journey:
A fever of 100 degrees Fahrenheit (38 Celsius) or above
A skin rash
Shortness of breath or difficulty breathing
A severe cough that lingers
Spontaneous confusion
Bleeding or bruising that occurs without impact
Diarrhea
Vomiting other than that due to motion sickness
Anyone traveling with one or more of these symptoms is considered an ill traveler and should contact their doctor. If you can't contact your doctor easily, your international travel insurance should offer a helpline that you can call. They will even be able to refer you to a local doctor and may be able to translate for you if you don't speak the language.
Watch Out for Blood Clots After a Long Flight
Blood clots (DVT) are another common condition that travelers should be aware of and prepared for. Those who often fly, especially on flights longer than 8 hours may have an increased risk for blood clots. Individuals who are pregnant, smoke, taking birth control pills or hormone replacement therapy pills, have had DVT in the past, recent surgery or a blood-clotting problem may also have an increased risk according to the CDC. Know what your risk is before you travel and discuss with your doctor what you can do to help prevent this condition. Here are a few tips to help you avoid getting blood clots during a long journey:
Drink plenty of water and stay hydrated
Wear loose clothes
Walk and stretch periodically throughout the trip
Ask your doctor if wearing special stocking that help encourage blood flow are right for you
Know Before You Go
As a traveler, you will want to be prepared for any illness relevant to your host country. To do this, it is a good idea to research any current disease outbreaks in your destination country and follow any specific warnings or guidelines given to help prevent you from contracting the illness.
Before your trip, also check your travel health insurance plan and ensure they will cover health expenses acquired while abroad. If your current plan will not provide overseas health insurance, find a plan that will cover you while on your journey so you can be prepared for the unexpected.
Also Read: