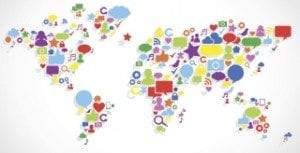 Cheapest Countries to Live in Around the World
In InterNations most recent Expat Insider Survey, countries including Bulgaria, Mexico, and Vietnam came out tops in the 'cost of living' rankings. While these destinations are desirable for their low cost of living, what else makes them great for international citizens living abroad? Could it be Bulgaria's buzzing nightlife scene, Mexico's refreshingly slow pace of living, or Vietnam's luscious landscapes that international citizens and retirees find attractive? Let's find out which countries are the cheapest countries to live in.
What Makes Bulgaria Affordable
With sweeping, golden sand beaches and awe-inspiring mountain ranges, Bulgaria is as beautiful as it is affordable. In fact, Sofia, the country's capital is around 62% cheaper to live in than the cost of living in London – with housing and transport being less than half the price of London's.
Cost of Living in Bulgaria
With almost every expat (97%) in the InterNations Index voting that the cost of living is affordable, it's no wonder why Bulgaria took the top spot. To put it into perspective, the average rent prices in London are approximately 434% higher than in Sofia, Bulgaria's capital – a substantial difference.
Like every country, the cost of accommodation in Bulgaria varies from area to area. For example, the houses which line the coast of the Black Sea and the mountainous regions of Borovets, Pamporovo, and Bansko are considered to be the most in-demand. Real estate in these areas can be slightly more expensive, but not by a lot in any measure. In fact, rent prices in Bansko are still lower than they are in Sofia. So no matter where you choose to live in Bulgaria, you're sure to find affordable housing whether you're buying or renting.
Expats moving there should also benefit from a greater disposable income, with more than 73% of expats in Bulgaria stating that their disposable income is more than enough to cover everything they need.
Transport Cost in Bulgaria
The price of transport is somewhat reflected in the quality of the service. For example, even though the majority of cities and towns in Bulgaria offer cheap yet efficient public bus services, these tend to be overcrowded. There are, however, private transport options like shuttle buses available, and while these can be a little more expensive, they are usually more reliable and comfortable.
Lifestyle And Living Expenses in Bulgaria
Expats looking for a more relaxed approach to life are sure to be attracted to Bulgaria's slow pace of living and endearing focus on enjoying family-time, companions, and surroundings. Bulgaria's nightlife, however, offers a real contrast when compared to the country's laidback attitude – with parties often lasting until sunrise. From classy piano bars, live music venues, and elegant lounges to lively clubs and vibrant discotheques, Bulgaria's nightlife is a hit with everybody – young and old.
Also Read: Tips and Advice for Moving Abroad
Healthcare In Bulgaria
Bulgarian healthcare is universal and state-funded through the National Health Insurance Fund (NHIF), making it affordable and accessible to all. The quality of the country's public healthcare services is generally good, however, the country has faced many issues with a lack of funding which has led to a lack of resources for treatment and closure of some health institutions. There are, however, plenty of private healthcare services available throughout the country where you'll find the quality of care much higher.
To access the country's medical services, you'll need a Bulgarian National Health Insurance Card which you'll have to present every time you see a doctor or dentist. To obtain one of these, you'll need to be registered with the NHIF. Once you're registered, you then pay the same patient contributions as a permanent resident of Bulgaria.
Life in Mexico is Affordable
While Mexico's cost of living is slightly higher than it is in Bulgaria, it is much more affordable to live in Mexico than in other countries like the UK and the US. Other than a low cost of living, Mexico is home to friendly and welcoming locals, which explains why the country is rated so highly for integration and social life in HSBC's Expat Explorer Survey.
Cost of Living
There are many reasons why expats choose to move, whether it's because of career opportunities or purely to start anew, but for expats in Mexico, the cost of living seems to be the main motivation. In fact, in InterNations Index, 82% of expats considered it a potential benefit before moving, with 40% mentioning financial reasons as a motivation for relocating to Mexico (more than double the global average of 16%).
The basic cost of living in Mexico is lower than that of the US, Canada, and the UK. Again, the cost of living can vary depending on where you live. Areas popular with tourists and beach locations such as Riviera Maya, Puerto Vallarta, and Los Cabos, can be slightly more expensive, especially when it comes to real estate, dining out, and shopping. With that said, given the incredible locations, there are plenty of opportunities to invest in affordable real estate and find a place to call home.
Transport Costs in Mexico
Most of Mexico's major cities offer transport, from microbuses to local buses, and rail-based metro systems, great for those commuting to and from work. With that said, public transport, in general, is not great outside of Mexico City, so if you want to move around you may have to rely on taxis or Uber.
One thing expats may notice when moving to Mexico is that people don't tend to walk much when they're going about their everyday lives. This is mostly because the condition of footpaths can vary greatly, whether you're in a major city or rural location.
Lifestyle Costs in Mexico
Similar to Bulgaria, people living in Mexico enjoy a slower pace of living. If you're moving from Western Europe where life is often lived in a fast-paced, urgent manner, it can take a little while to adapt. But once you start taking the time to slow down and appreciate the little moments in life, you're sure to enjoy the new, relaxed pace.
Each year, Mexico hosts an abundance of spectacular festivals and events, including the most famous Day of the Dead. This incredible, spiritual festival honors those who have died and commemorates the lives of the dead by welcoming their spirits back to the earth. The Day of the Dead is an annual tradition that takes place across the entire country.
Cost of Mexican Healthcare
Mexico's healthcare system is complicated, to say the least but to put it simply, the country is made up of a combination of private, public, and employer-funded healthcare schemes. Mexico's healthcare is universal and offers free or heavily subsidized health care for all Mexican nationals.
While this is a good thing, Mexico's public healthcare system is often unreliable which is why many Mexican citizens, as well as expats, opt for private international health insurance. This way, they are able to access the country's private services and facilities where they'll receive a much higher quality of health care.
Related:
Living in Vietnam is Affordable
Also known as 'The Land of the Rising Dragon', Vietnam is home to luscious landscapes, dynamic cities, and a beautiful culture – not to mention a low cost of living.
Cost of Living in Vietnam
With more than 91% of expats rating the cost of living favorably, and more than half (52%) are very satisfied – it's easy to see why Vietnam is held in high regard when it comes to the cost of living. When it comes to disposable income, 93% of expats believe that their income is more than enough to cover all living expenses in Vietnam, compared to a global average of just 78%. Expats moving here then should find that they are able to live very well in Vietnam for an affordable price.
Major cities, like Hanoi and Ho Chi Minh City, offer world-class food and shopping – all for an affordable price. While expats may not be able to find all the staples they are used to from home, western clothing and cosmetics are often available at a reasonable cost. You'll also find that real estate, in particular, can be bought for much cheaper, than in other Asian destinations like Singapore, Thailand, and Malaysia, for example.
Low prices don't mean poor quality either. Like Bulgaria and Mexico, you should benefit from the high quality of living and a generous disposable income while living in Vietnam.
Transport Costs in Vietnam
When you think of Vietnamese transportation, an image of busy streets and people whizzing around on scooters may enter your mind – and if so, you'd be correct. However, there are plenty of public transportation services available in Vietnam including bus services, taxis, and the famous Reunification Express Train.
Motorbike taxis, locally known as Xe Om are a popular and cheap way to get around. You can find these almost anywhere, and they are great if you aren't carrying any heavy items or luggage. But make sure you negotiate the price beforehand so you're not faced with outrageous prices at the end of your journey.
Lifestyle Expenses in Vietnam
The lifestyle in Vietnam varies greatly from region to region but there are some aspects of living here that remain unchanged. The closeness and value for the family are an integral part of Vietnam's life and culture. In fact, it's not uncommon to find extended families with two or three generations living under the same roof.
In urban areas like Ho Chi Minh City and Hanoi, you're sure to experience the loud and vibrant hustle and bustle of city life. If you choose to reside in a more rural area, you'll find the way of life a pleasant polar opposite to city living.
Rural living in Vietnam means beautiful patchwork-like paddies, majestic mountain ranges, and a laid-back yet hard-working way of life. In fact, 80% of Vietnam's population lives in the country's rural areas, and many make a living through agricultural work. So while Vietnam's cities may offer more opportunities work-wise, the country's rural areas should definitely not be dismissed.
Healthcare Costs in Vietnam
While the Vietnamese government has been continually working to develop a universal healthcare plan which will cover all residents with basic medical care, this has still not been achieved. At present, most Vietnamese citizens have to pay out-of-pocket fees for medical services at both public and private hospitals.
Many expats and Vietnamese citizens alike opt for private hospitals due to poorly equipped public hospitals and the low standard of care received. English-speaking doctors are few and far between when it comes to using public hospitals, however, you will find that the majority of doctors working in private hospitals speak English and you'll receive a much higher quality of health care.
Also Read: The Best Places to Retire in the World
Other Affordable or Cheap Countries to Live In
Some of the other cheap countries to live in include Thailand, Columbia, Ecuador, and many others. Although costs are a major consideration for all, there are many other factors that should go into your decision. Do your research in advance and talk with others who have already made the move. There are a number of expat forums on Facebook, LinkedIn, and other social media sites that are a great place to start.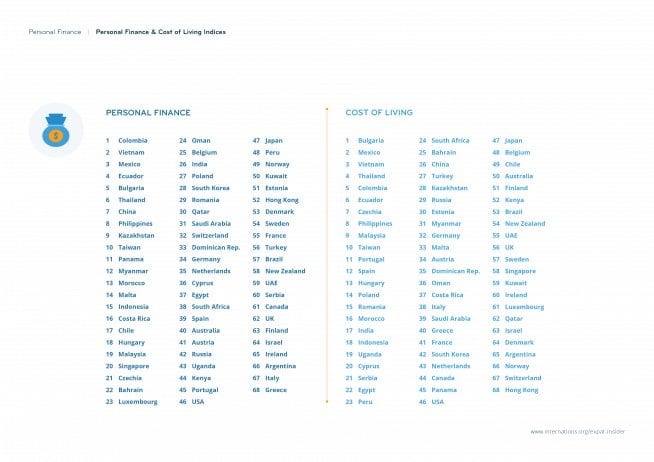 Source: InterNations
Pros and Cons of Living in One of the Cheapest Countries in the World
Whether it's Vietnam, Mexico, Bulgaria, or another country, it's only natural to note that there are both pros and cons to life in some of the world's cheapest destinations. You may have to sacrifice some of the things you take for granted in your home country. Infrastructure may be poor. The education system may be sub-standard. There may not be a Starbucks at every corner… If you are planning to relocate to any of these cheap countries, be sure to enjoy the low cost of living while experiencing a high quality of life, whichever you choose to call home.
Related: