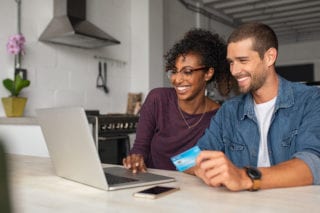 What Are the Best International Credit Cards for Expatriates?
Most people living abroad can agree that credit and debit cards drastically simplify our lives, and rewards points on credit cards only serve to sweeten the deal. For expatriates, credit and debit cards can be your best friend or worst enemy. Credit and debit cards can save you from poor conversion rates on foreign currency, or cost you an arm and a leg in exchange fees.
To ensure that you are fully prepared for your move abroad, we've compiled a list of some of the most commonly asked expat credit and debit card questions to ensure that you make the most of your credit and debit cards while living abroad.
Will I be able to survive in most countries with credit and debit cards?
What are the best credit cards to use while living abroad?
What is the typical processing fee for credit and debit cards?
What do I need to do before using my credit or debit card abroad?
What if my card doesn't have the chip?
Will My Card Be Accepted in Most Countries?
Acceptance of credit or debit cards will depend on the country you travel to. Especially among developing countries, you may find that the most common form of payment is cash. Even in developed countries, while acceptance of credit and debit cards is higher, many remote areas and small vendors have a cash-only policy.
Before moving, be sure that you have confirmed the type of payment accepted in your destination country. You may find that some countries do not have ATMs or if they do, they may not accept international cards. Even if credit and debit cards are widely used, it is always a good idea to keep cash on hand. Doing the research in advance will help you plan how much cash you should bring and determine if you will be making multiple trips to the ATM.
What Are the Best Credit Cards to Use While Living Abroad?
The "best" credit card will obviously vary depending on your exact needs. However, we've compiled a brief list of the some of our top recommended expat credit cards:
Capital One Venture Rewards Credit Card
No foreign transaction fees
$400 in travel credit if you spend $3,000 in the first 90 days
$59 annual fee after the first year
2 points for every dollar that you spend
Bank of America Travel Rewards Credit Card
No foreign transaction fees
No annual fees
$200 in travel credits if you make $1,000 worth of purchases in the first 90 days
1.5 points for every dollar you spend
No foreign transaction fees
$625 in travel credits if you spend $4,000 in the first 90 days
$95 annual fee after the first year
2 points for every dollar spent on restaurants and travel
For a much more detailed list of the best credit cards for living abroad, come explore the following articles:
What Is the Typical Processing Fee for International Credit and Debit Cards?
Processing fees can vary drastically from one card to the next. However, certain companies will charge a much higher processing fee than others. Capital One and Discover are notorious for not charging foreign transaction fees, while other companies like TD Bank and Wells Fargo have been known to charge up to 3% in foreign processing fees. This number can vary from one card to another, and many of these banks will waive all foreign transaction fees for certain cards, so do your research on the processing fees of your provider before your move.
In some cases it may be better for you to open a local bank account with a local ATM or credit card. Then you can transfer money to the new local account. There are a few ways to make these transfers. Depending on the amount a wire transfer may be among the best ways to move money internationally.
Before moving, explore our moving abroad checklist.
What Do I Need to Do Before Using My Credit or Debit Card Abroad?
Before moving overseas, you have a few things to take care of:
Request Your Credit Card's PIN Number
First, contact your credit card company to request your credit card PIN number. In the U.S, signing for credit card purchases is sufficient to authorize the payment. However, in much of Europe, credit card processing machines will require your PIN number in order to authorize purchases.
Inform Your Bank of Your Move
Banks and credit card companies are becoming increasingly wary of fraud, and are quick to freeze your credit or debit card if they suspect that someone else is using your card. One of the major red flags that they look for will be international purchases, so be sure to contact them before moving abroad and ask them to add your host country to their records. While frozen credit cards can be fixed within an hour of contacting the bank, you certainly don't want to find yourself unable to pay your restaurant bill because of a frozen credit card!
Check Foreign Transaction Fees On Your Card
Before moving abroad, look up the foreign transaction fees on any credit or debit cards that you plan on using. We suggest that all expatriates open an account with a bank or credit card company that offer minimal foreign transaction fees, but as outlined above, some companies are worse than others. In addition, certain banks will charge a flat rate on ATM withdrawals with your debit card, while others will charge a percentage of the transaction. Understanding which your bank charges could make a large difference in foreign transaction fees.
What If My Credit Card Doesn't Have the Chip?
If you've spent any time in Europe recently, you may have noticed that, instead of swiping their credit cards when making a purchase, Europeans will insert their cards directly into the credit card processing machine. The reason for this is that European cards now include "the chip"–a security feature used to minimize credit card fraud. While the chip feature is being included on new U.S credit cards, this is still far from the norm. Fortunately, European credit card processing machines will still accept most credit and debit cards that don't have the chip.
If you are planning on using your credit or debit card overseas, it is also a good idea to ask the following questions:
What are your ATM and point-of-sales fees associated with your credit card or debit card?
How does your card determine the exchange rate? Do they add an additional surcharge?
Is your credit card/debit card widely accepted in the country you will be traveling to?
Are there any specific local banks that have no or lower fees?
We recommend bringing one credit card and one debit card from different banks in case a problem occurs when you arrive overseas. You may want to consider putting both cards in different locations so that in case of theft, you will still have a card to rely on. Don't forget, to avoid any problems, call your bank prior to departure to let them know that you will be using your credit or debit card overseas!
We hope you found this helpful! Come explore some of our other expatriate advice, and like us on Facebook to be the first to receive our expert insights.
Related: