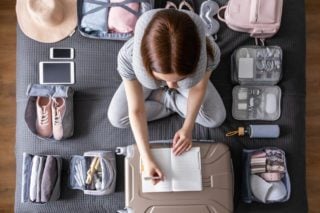 Are you preparing to embark on a new life abroad? You must be excited about your upcoming adventure. Yet amidst the excitement, don't forget the important things to pack for moving abroad. Of course, it's not easy to decide how to pack for an international move, but the right packing choices will help your entire journey proceed much more smoothly. A move abroad will require a bit more thought because you'll be calling your new country home for an extended period of time.
You want to bring important and necessary items but not get so weighed down that those excess baggage fees and shipping costs eat up your budget. Consider that during your stay, you will have time to purchase any larger items or daily products like toiletries. Your packing list should include essentials and items that will make your new environment feel like home.
Prioritize your individual needs and don't forget that you can ship larger items. If you know that there are items from your current home you want to have overseas, don't hesitate to bring or ship those items over.
If you use your tablet to fulfill art commissions, definitely bring it with you! If you're an avid hiker, bring your trusty hiking boots. But if you're planning to start hiking after reaching your destination, consider getting your boots there. Many of the items that you'll need will be available in your new country. Learning where to go shopping while abroad is part of the adventure!
For a Step by Step Guide to Moving Abroad, download the free 20-page checklist.* *By submitting your email, you agree to receive monthly updates for expats, digital nomads, retirees, and more.
International Packing Checklist for Expatriates Moving Abroad
The following list goes over different categories of what to pack when relocating abroad. Hopefully, your stress levels will decrease as you realize that packing for your trip isn't an insurmountable task. This list comprises what you really need for a long-term trip or international relocation — as well as a few items you don't have to bring.
For your convenience, this list has seven subsections:
Important Documents
Medicines and Medical Equipment
Electronics
Clothing
Toiletries
Items That Feel Like Home
What Not to Pack
Important Documents
Pack the following documentation and you'll have the necessary paperwork for everything from proving your identity for a visa to making an insurance claim. When flying, keep original documents in your carry-on baggage in case your checked bags go astray.
In addition, you should make copies of particularly important documents, such as your passport and birth certificate. Store these in a separate location from the originals. A photocopy of your passport and birth certificate will help you obtain a replacement if your passport is lost or stolen. Remember that you can keep digital copies of your documents and print them as needed in your new country.
Important documents to pack when moving abroad:
Passports
Birth certificates
Marriage license
Tax information
Visa information
A copy of your college transcript
Immunization records
Medical records
Copies of all prescriptions
Pet health records
Travel insurance paperwork
Credit cards
International driver's license
Medicines and Medical Aids
It makes sense to bring a supply of prescription medication on your journey, as it may take time to find a local doctor who can write you a new prescription. However, before stocking up, check if your medications, both prescription and over-the-counter, are permitted in your destination country and in any countries, you might transit through.
Some medicines are illegal in certain countries so check local regulations before adding your m medications to your moving abroad packing list.ƒYou don't want to have trouble accessing your medications in your new country. The most important thing to remember is to check if your prescriptions are legal in your new country. A bit of research beforehand could save you a big issue upon arrival.
Getting sick abroad is a tough pill to swallow, but over-the-counter medications like ibuprofen or decongestions can typically be found at a pharmacy abroad, so leave those behind and consider picking them up after arrival.
Medicines and medical aids to consider for your move abroad: 
Prescription medications
Allergy medication or daily vitamins
Glasses and contact lenses
Dramamine if you suffer from motion sickness
Earplugs and an eye mask
Remember to check that any medications you are bringing with you are approved and permitted by your new country of residence.
Also Read: Checklist for Traveling With Prescription Medications Overseas
Tech Gear
Electronics like cell phones and laptops are among the most important things to pack for moving abroad, especially if you'll be working abroad. An adapter is arguably the most essential electronic to have in your arsenal.
These gadgets and tools have enabled digital nomads to work from just about anywhere on the globe. Electronics can also be a source of entertainment and a way to connect with friends and family back home. Go over this list to make sure you have what you need for your trip to be successful!
Moving abroad packing list:
Laptop
Cell phone
External power source like a portable charger
Waterproof case for a phone
Chargers for all electronics
Adapter plugs
Headphones
Kindle or other eReader
Camera
Tablet
Portable speaker
Smartwatch
External hard drive
Portable batteries
Insurance and/or warranty information for all your electronics
Clothing
When thinking about what to pack when relocating abroad, consider the climate and if your new country has four seasons. If it's tropical year-round, leave your favorite winter coat behind. Keep your itinerary in mind as you pack. If you're a digital nomad who works online, you may want to bring a nice button-down shirt for on-camera meetings, but you probably don't need a suit. If you plan to spend a lot of time at the beach, bring more than one bathing suit.
If you're struggling to make room in your luggage, packing cubes are a great way to save space and stay organized. Smaller items, such as socks, underwear, and bras, can be placed in corners and inside shoes. Your clothing list will vary not only based on the climate but also should be based on if you're staying in an urban or rural area. If you're staying in a big city, there will certainly be clothing stores where you can purchase any items you didn't pack.
Clothing list for your move abroad: 
Breathable tops
Bathing suits
Windbreaker
Activewear
Comfortable sleeping clothes
Down or down-alternative jacket
Bras
Underwear
Comfortable socks
Favorite outfits appropriate for the climate
Toiletries
Toiletries are important but they're also readily available for purchase in your new country. Wherever your destination is, it likely has basic toiletries available for purchase. Unless you require specialty products or a specific brand of hair care, consider purchasing your toiletries after your arrival abroad.
A move abroad will require the same bathroom products that you use on a regular basis. Remember, this is your new home so find the closest store to get regularly needed toiletries.
Toiletries to bring or buy abroad: 
Deodorant
Toothbrush
Toothpaste
Floss
Sunscreen
Razors
Shaving cream
Tweezers
Nail clippers
Lip balm
Skin care lotions
]Makeup and applicators
Menstruation supplies
Items That Feel Like Home
Yes, you want to pack light for your move. However, when thinking about what to pack when moving overseas, remember that some items can make your first months abroad much more enjoyable, and certain items that have meaning will help you feel more at home in your new country. A move abroad is a big change, so bringing your grandmother's quilt or anything that holds value can be a game-changer in helping you adjust to your new home.
Also, consider any hobbies that you enjoy at home. Are you an avid sewer? Your sewing machine may be an item you want to ship to your new home. Or perhaps you're a music lover and want to bring your guitar or record player. If you're an American expat moving abroad, USPS provides options to ship large objects to multiple countries but it can get pretty costly. Some expats use shipping containers to send larger items like furniture to meet them abroad.
Consider shipping or packing the following items that can make you feel more at home: 
Favorite blankets or pieces of furniture
Important photos or art pieces
Favorite jewelry
Area rugs or home decor
Favorite books or records
Hobby items like sewing machines or crochet set
Notebook or journal
How to Ship Your Belongings Abroad
Start by requesting a quote from Sirelo, the premier provider of international moving services.

Free Quotes for an International Move
Get quotes from up to 5 moving companies

Save up to 40% on your moving costs

Find the best rates all at once!
What Not to Pack For Your Move Abroad
Pots and pans — unless you're a chef and need special equipment, you can replace these once you're settled in at your destination
Televisions, microwaves, and other home electronics – you will be able to buy ones abroad that are compatible with the local electrical system
Will and testament — instead of traveling with this document, leave a copy with your attorney or a trusted person back home
Things you think you *might* need — if there's an article of clothing or a piece of equipment that you've never used in your current location, do yourself a favor and don't pack it!
It's Time to Start Packing
Packing for an international move can be overwhelming, but with this moving abroad packing list, you're well-prepared for the task ahead. Now get ready to start packing! Give yourself time and check the list to make sure you have everything you need. And don't forget that you're packing so you can go on a once-in-a-lifetime journey that you'll never forget!
Consider Adding Expat Insurance to Your List
As you're packing your bags for your new adventure abroad, consider the benefits of expat insurance. One thing you can't anticipate is a medical emergency abroad, but having global health insurance gives you a lifeline and protection from a medical bill that could cut your trip short. Get more information from our expert insurance brokers to help compare expat insurance.

Compare multiple quotes and coverage options
Work with an insurance expert at no additional cost
Find the best plan for your needs and budget
Also Read: