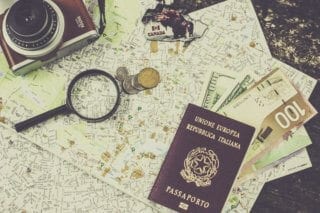 Schengen Visa Information for Travelers
If you chat with 'old-time' travelers, they'll likely reminisce about the pre-European Union days of traveling around Europe. They were collecting multiple passport stamps for each border they crossed and every new country they entered. It sounds delightfully old-fashioned and charming, but the truth is that the establishment of open, pan-European borders has changed travel for the better. And the European Schengen Visa gives travelers tremendous flexibility – even if it means far fewer passport stamps!
What Is the Schengen Area
The Schengen Area, or Schengen Zone as it's sometimes called, is an area comprising 26 European states. These states have officially abolished all formal border controls between one another. Passport and visa checks are unnecessary to travel between member states. These 26 countries function as a single jurisdiction for the purposes of international travel. They have one common passport policy and one common visa policy.
The Schengen Area is also considered one of the finest achievements of the European Union. It's easy to take for granted just how easy it is to travel between European countries. For its time, it was a remarkable social, political, and economic feat.
Schengen Agreement
Believe it or not, there actually is a town in Europe named "Schengen".  And, yes, it is indeed within the Schengen Area! The town of Schengen, Luxembourg, was the site of the 1985 Schengen Agreement. This agreement was signed by 5 members of the European Economic Community. It evolved in 1990 to the Schengen Convention. It was this convention that proposed the abolition of internal European border controls. However, the modern Schengen Agreement was not born until March 1995. As well, it wasn't incorporated into European Union law until the Amsterdam Treaty of 1997, finally coming into effect in 1999. It took a lot of time but today residents and visitors alike enjoy easy, efficient, and streamlined travel.
Most people think of the Schengen Agreement as simply a travel tool. However, the agreement also contains a number of rights and benefits for the judicial system. For instance, the Schengen Agreement provides for increased police cooperation, like rights of cross-border surveillance and being able to continue police chases across borders. The Schengen Information System allows for participating countries to exchange data on certain categories of people, goods, and lost property.
What is the Schengen Visa
From the point of view of visitors, the Schengen Visa is synonymous with one thing: Travel! A tourist Schengen visa permits third-country nationals to enter the Schengen Area for a maximum of 90 days within a 180 day period. The Schengen visa is the most common visa for travel to Europe. It enables its holder to enter, freely travel within, and leave the Schengen zone from any of the Schengen member countries. There are no border controls within the Schengen Zone.
How Do I Apply for a Schengen Visa?
Travelers from more than 50 countries can enter the Schengen Area without a visa. This includes citizens of Canada, the United States, most of the remaining countries in the continent of Europe, most countries in South America, and most Asia-Pacific countries including Australia and New Zealand.
Those who are not among the countries which automatically qualify for entry to the Schengen Area must apply for a visitors' visa. The process is very similar to visa applications for any other jurisdiction. There is also a shortlist of countries whose citizens not only have to apply for a Schengen Area visa if they wish to visit, but they also must have a rare Airport Transit Schengen Visa if they're just passing through. If passport holders from Afghanistan, Bangladesh, Congo (DRC), Eritrea, Ethiopia, Ghana, Iran, Iraq, Nigeria, Pakistan, Somalia, and Sri Lanka wish to change planes in the Schengen zone, they must have a transit visa to do so.
How long Is a Schengen Visa Valid for?
The visitors' Schengen visa permits international travelers entry into the Schengen Area countries for a maximum of 90 days. All travel must be completed within a maximum of 180 days. In some cases, for frequent travelers to the region, you may apply for and be granted a multiple entry visa. This will allow you to travel back and forth to Europe without having to reapply each time. However, the maximum length of each trip must remain less than 90 days.
Schengen Visa Insurance Requirements
Travel to the Schengen area for a trip of more than three months requires travel insurance that meets a minimum level of coverage. This requirement is for all travelers to Europe, regardless if you are traveling for pleasure or business, in a group, or on your own. The Schengen travel insurance plan must be valid throughout the territory of the member states and should cover the entire period of stay. Many of the Schengen area countries will require a visa letter (see below) from your insurance company with proof that you meet the coverage requirements. The letter will need to have your complete name (matching your passport) and your date of birth. Check with your embassy or consulate about any other specific health insurance minimums because they can vary. Typically, the insurance requirements include:
A minimum medical insurance requirement is EUR 30,000 – approximately USD 50,000.
Coverage must be valid within the Schengen region and for the full duration of travel.
Insurance must include any expenses that might arise in connection with repatriation for medical reasons, urgent medical attention, and emergency hospital treatment or death.
For most travelers, the visa and Schengen area visa travel insurance won't be necessary. Often, travelers will go for less than three months. Even though insurance isn't a requirement to enter the country, it is still a wise investment.
How Big Is The Schengen Area
The Schengen Area is huge. It represents a population of over 400 million people. In terms of area, it is some 1,664,911 square miles. An incredible 1.7 million of those people actually cross national borders in their daily work commute! That includes a large number of expats who work in Europe. Between residents and visitors, there are approximately 1.3 billion border crossings each year. When you consider the time, money, and other resources which would be involved in even a cursory passport check for 1.3 billion crossings, it's easy to see why it made sound economic and social sense to start operating as one giant jurisdiction.
Who Are The Schengen Countries
Austria, Belgium, the Czech Republic, Denmark, Estonia, Finland, France, Germany, Greece, Hungary, Iceland, Italy, Latvia, Liechtenstein, Lithuania, Luxembourg, Malta, the Netherlands, Norway, Poland, Portugal, Slovakia, Slovenia, Spain, Sweden, and Switzerland make up the 26 Schengen countries.
There are also non-European Union countries that are members of the Schengen Agreement. Four European Free Trade Association states, Iceland, Liechtenstein, Norway, and Switzerland, have all signed agreements. As well, three European microstates – Monaco, San Marino, and Vatican City – are considered to be enclaves or semi-enclaves within the existing European Union and Schengen Agreement countries. As such, they are de facto a part of the Schengen Area automatically.
Future Members
Of the 28 member states of the European Union, 22 are members of the Schengen Area. Of the six who aren't currently members, Bulgaria, Croatia, Cyprus, and Romania are under a legal obligation to join the Area in the future. A special financial plan, known as the External Borders Fund, supports member states that face additional financial challenges due to their geographic location or patterns of traffic flow. However, the remaining two countries, Ireland and the United Kingdom maintain an option to opt-out and aren't expected to join anytime in the near future.
At present, there are virtually no land borders between Schengen Area members. Those which exist along the borders of Bulgaria, Croatia, and Romania will be removed in the future. As well, there are border control stations at the island of Gilbraltar and at the Channel Tunnel between England and France – this border's future is presently uncertain, given the "Brexit" political climate in the United Kingdom.
Schengen Area Exclusions
Nearly all territories of the Schengen Member States are exempt from the Schengen Agreement. For instance, French overseas territories such as Guadeloupe, Martinique, and Reunion are technically part of the European Union. However, they are not part of the Schengen Area. Other French territories, including French Polynesia, New Caledonia, and Saint-Pierre, and Miquelon, are neither part of the European Union nor the Schengen Area. The same applies to Danish territories such as the Faroe Islands and Greenland. They too are neither part of the European Union nor the Schengen area. However, many visitors arriving from the Schengen Area will likely note a lack of border controls. These countries rely on airlines to complete document checks.
Schengen Area Travel Tips
The Schengen agreement is really designed with travelers in mind. Those who are in Europe as part of university programs or work agreements fall under different legislation and rules. It's important that travelers get their passports stamped when they first enter the Schengen Area. This allows accurate calculations of their visit. As well, Schengen Area travelers should also get exit and entry stamps if they leave the area and then return. Under the terms of the agreement, you can stay for 90 days out of 180. If your 90-day visit is not a continuous one and you're frequently flying in and out, you'll need to be able to accurately document and date your travel times.
The European Commission's Migration and Home Affairs web page provides more information and a calculator to help you to find the number of visa-free permitted travel days you have left in the Schengen area. It takes into account your previous stays and is very helpful for anyone traveling a lot.
Related: