Thailand: Where Are the Safest Places for Expats and Retirees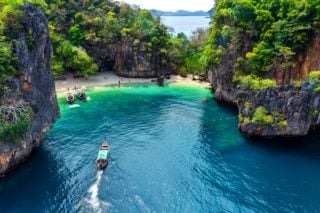 Thailand is one of the most popular destinations for expats and retirees. It comes as no surprise that finding the safest places to live in Thailand is at the top of their to-do list. As Thailand is famously friendly and known as the "land of a thousand smiles", there are a number of fantastic destinations to choose from.
Safety, of course, is a concept that is open to interpretation. Large cities have more hospitals, clinics, and doctors – but a greater amount of crime. Rural areas have fewer pickpockets, traffic accidents, and congestion. However, they're also less likely to have potable water. As such, when you're thinking of safe places to live in Thailand, consider the term broadly.
How Safe Is Thailand In General?
There is no denying that are serious safety problems in Thailand. These include human trafficking, drug trafficking, corruption, and violence against women. However, Thailand is ranked as one of the safest countries in Southeast Asia and violent crimes against visitors are rare.
The majority of crimes experienced by tourists, expats, and retirees are crimes of financial opportunity. These crimes include pickpocketing. Thieves have been known to slice open bags with razors and stealthily reach in and lift belongings in a matter of seconds. This frequently occurs in congested areas like markets, popular tourist attractions, and busy train stations. Thieves also often operate on the long-distance bus and train routes. They take advantage of sleepy travelers and bags left unattended in storage compartments.
Fraud is another common crime. This includes credit card cons and rental agreement scams. For instance, people report being charged for damages that did not occur when they rented their jet ski or motorcycle. Unfortunately, local authorities are rarely helpful in resolving these situations. Police corruption is rampant.
A large proportion of safety concerns is related to the consumption of alcohol. In popular bars, drinks can be spiked in order to facilitate assaults or robberies. Alcohol can also be used to lower inhibitions to encourage romantic connections with "bar girls", pay for overpriced drinks, or distract guests in order to lift their identification.
In terms of health and wellbeing, the healthcare system in Thailand, especially Bangkok, is very good. However, facilities are very limited in rural areas. Motorcycle and scooter accidents are one of the most common reasons visitors need medical attention. If you're planning to use them as your primary form of transportation, invest in a high-quality bike, use a helmet, and consider taking private lessons to improve your skills. Also, visitors to Thailand should know that the water is not potable.
Places To Avoid
Casual travelers should avoid the southernmost parts of Thailand. This includes Yala, Pattani, Songkhla, Narathiwat, and the Sungai Kolok crossing into Malaysia. These areas have experienced frequent and ongoing violence.
Safest Places To Live in Thailand
Chiang Mai
Thailand's second-largest city, Chiang Mai is surrounded by nature. Foreigners love this city and there is a huge international community with more than 40,000 international citizens calling Chiang Mai home. The city has excellent healthcare facilities, community resources, and a low rate of violent crime. It was part of TripAdvisor's "25 Best Destinations in the World" in 2014. It owes this honor to its mix of museums, restaurants, shopping, nightlife, and overall high quality of life.
There is one serious safety concern in Chiang Mai. Air pollution and smog are serious problems here. It's particularly bad from February to late April, known as "burning season". One of the contributing factors is that local farmers use fire to clear the ground for new crops. As such, the air can feel very sooty. Many expatriates and locals take the opportunity to travel more during this time.
Chiang Rai
Just 100 miles from Chiang Mai, Chiang Rai is a semi-rural small city retreat. It's extremely affordable and is surrounded by mountains, forests, and waterfalls. Residents have easy access to all the big city amenities that Chiang Mai has to offer. It's the perfect destination for expatriates who feel a bit overwhelmed by Chiang Mai's size and congestion and prefer a more quiet destination – without compromising on their well-being.
Another bonus? Crime rates, including petty crime like pickpocketing and scams, are low. Plus, Chiang Rai's position near the mountains means that the city is naturally cooler than many of its neighbors.
Koh Samui
This gorgeous island has great connections with Bangkok and the rest of the country but it feels removed from the hustle and bustle of the mainland. Koh Samui is laid back, family-friendly destination with a surprisingly strong infrastructure. There's a good selection of hospitals, pharmacies, and doctor offices. There's also a strong emphasis on the quality of living and outdoor pursuits, including cave exploration, yoga, and snorkeling, are all popular. However, on average, the rates of drug use and drug-related crime are higher in Koh Samui than in areas like Chiang Rai.
Krabi
Often described as one of the safest places to live in Thailand, Krabi is a peaceful, secluded small town with beautiful beaches on the southwest coast of Thailand. The cost of living and crime rate is low and the number of amenities like cafes is high. The sense of community in Krabi is strong. It feels like everyone knows each other in the expat community, which is just a few thousand strong during the high season.
Hua Hin
A lot of international citizens describe Hua Hin as having all the best things in Bangkok with none of the bad. Over a hundred years ago, Hua Hin was a small fishing village. In the 1920s, Thailand's royal family built a vacation home there. Today, Hua Hin still feels a bit like a mix of the two. It's like a genteel seaside fishing town that manages to comfortably cater to the elite without losing its down-to-earth charm.
This town is two and a half hours from Bangkok and locals have easy access to that city's hospitals, health facilities, infrastructure, and resources. In fact, a satellite campus of the respected Bangkok Hospital recently opened in Hua Hin. Residents all enjoy all of this at a fraction of Bangkok's crime rate, air pollution, and traffic congestion.
Bangkok
In many ways, you could say that Bangkok is one of the least safe places to live in Thailand. Between the number of pickpockets and traffic accidents, there's plenty of reasons why you wouldn't want to live here.
However, there's also a lot about Bangkok that makes it a safe place to visit and live. There is a large, friendly, and diverse community of expats, digital nomads, and backpackers. In general, Bangkok is very accepting of all kinds of sexual orientations and gender identification. There is a large number of resources for women and families, along with hospitals, clinics, and health care specialists. And the affordable transit system, the high number of museums and art galleries, exceptional culinary scene, and even access to English bookstore makes it a destination that balances affordability with a high quality of life.
Related: