Expat's Guide to Safe Neighborhoods in Paris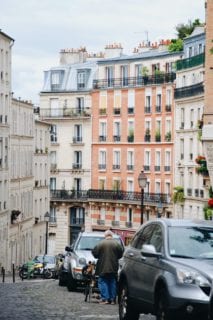 If you're going to move to Paris, you want to find the safest place to live in Paris. That said, the first thing you need to know is that the city is divided into twenty neighborhoods called arrondissements. The first arrondissement starts in the city center at the Louve. From there districts two-through-twenty spiral outward. But the snail shell-like pattern of the arrondissements isn't the only way neighborhoods are organized in Paris.
The Left Bank (rive gauche) and Right Bank (rive droite) further divide the city. This refers to the left (south) and right (north) banks of the Seine River. If you follow the traditional stereotypes, the Left Bank is bohemian and the Right Bank is bourgeois. However, as any Parisian will tell you, prospective residents shouldn't put too much stock in that!
As a general rule, the smallest and most expensive properties are in central Paris, in the first few arrondissements. Expats looking for larger properties, bigger gardens, or a small price point often need to search in the outer arrondissements. Thankfully, real estate advertisements are organized by arrondissement. If you see the letter "e" written after a number, know that it is the French equivalent of writing 'th' after a numeral in English. Thus, an apartment advertised as 4e means it's located as the 4th Arrondissement.
How Safe Is It to Live in Paris
For one of the largest cities in Europe and one of the most touristed cities in the world, Paris is quite safe. Virtually all neighborhoods are considered safe. There is a very low risk of violent crime. The most common kind of crime is petty financial crime, like pickpocketing and minor scams. This is especially concentrated around tourist hot spots. You'll also find petty crime around the major train stations like Gare du Nord, which is a bit shady late at night.
Top 7 Safest Places to Live In Paris
Le Marais (4e Arrondissement) is Affordable and Safe
Much of the 4e Arrondissement remains unchanged for centuries. It's one of Paris' oldest and most authentic neighborhoods. For instance, it's one of the few spots in Paris that escaped Napoleon's redevelopment plan. As such, the streets weren't widened nor the buildings knocked down to prevent revolutionary barricades. It's here in the 4e that you'll find narrow streets, old fashioned architecture, plus a humming nightlife, dynamic sidewalk cafe scene, and pretty little parks. One of Paris' oldest covered markets is here in Le Marais. Plus, the aged buildings readily make for small studio apartments, an affordable option for solo expats.
Latin Quarter (5e Arrondissement) is a Walkable Neighborhood
Paris' oldest neighborhood, the 5e Arrondissement gives expats the dream-like Paris experience they always wanted. That casual, artsy, relaxed student vibe that the 5e is famous for can be found in spades thanks to the Sorbonne, whose roots as a university date to 1257. Due to all the students in the 5e, there are ample inexpensive eateries, quirky shops, and great transportation links. The markets of rue Mouffetard offer easy shopping as well. But, as you can imagine, this venerable neighborhood doesn't exactly offer ample parking options. Savvy residents forgo cars in favor of easy walking along the compact streets.
Saint-Germain-des-Prés (6e Arrondissement) Has Great Parks
For tourists, Saint-Germain-des-Prés is a legendary destination. It's home to literary mega-sites like the Café de Flore and the Deux Magots. For residents, the cool cafe culture is just one of many perks of living in the 6e. The architecture is amazing, as is the green space including the spectacular Jardin du Luxembourg. Coffee shops, restaurants, pastry shops, night clubs, galleries, theatres, and design shops abound. However, while there's still a bit of an existentialist vibe in the 6e, it comes at a cost. According to a recent cost of living in Paris report, this is now one of the most expensive residential neighborhoods in Paris.
Tour Eiffel (7e Arrondissement) is Safe and Family-Friendly
In many ways, the 7e Arrondissement might be considered one of Paris' most crime-ridden neighborhoods. It's all thanks to the Eiffel Tower, which draws pickpockets like moths to a flame! Their misdeeds skew the crime statistics for the rest of the neighborhood which is not only safe but very family-friendly as well. The atmosphere is refined, luxurious, and quiet. Additionally, the area is filled with parks, services, and amenities, as well as the multilingual Montessori School of Paris.
Élysée (8e Arrondissement) is Quiet and Family-Friendly
Even people who have never been to Paris know all about the 8e's most famous street – which also happens to be the most famous in Paris. The Avenue des Champs-Élysées is home to everyone who matters in fashion. But the 8e is much more than its most famous street. The side streets, in particular, are quiet and leafy. Pretty, family-friendly gardens abound. Bars, shops, and restaurants are just around the corner and the 8e has a fun, vibrant, jet-set vibe. Like many Paris neighborhoods, parking is a pricey problem here. The proximity of the Arc de Triomphe 12 lane traffic circle makes driving a problem too.
Observatoire and Vaugirard (14e Arrondissement and 15e Arrondissement) Has Good Schools
Arguably the coziest area of Paris, the 14e and the 15e are known for having a Breton flair. This is thanks to the position of the Montparnasse station, smack in the middle of the two arrondissements. This station is traditionally where trains from Brittany arrive. Some of those new arrivals clearly never left the area and you can find nods to their culture in the food (cider and savory crepes are everywhere) and in the community. This is a family-oriented area, with good schools, gorgeous parks, lots of shops (including chain stores and independent businesses), and a very quiet vibe. Parking is less of a fiasco here than many other areas of Paris. Monthly paid spots are usually more affordable and accessible. Plus, the area is a mix of old and new buildings, some of which have underground parking.
Passy (16e Arrondissement) is Popular with Americans
American expats, in particular, who are planning to live in Paris will love the 16e Arrondissement. It's home to a large American community. As well, the International School of Paris and the Eurecole language school call the area home. The neighborhood is calm, quiet, and relaxed. Overall, the vibe is rather scholarly in nature, fitting for the number of schools and universities in the area, as well as its popularity with academics. The 16e is filled with gorgeous architecture and fantastic green space. However, it doesn't have the best nightlife in the city. Additionally, parking is problematic. If you find a regular spot, expect to pay handsomely for it. However, given the nightmarish traffic at the nearby Arc de Triomphe, having a car probably isn't worth the hassle.
Parisian Neighborhoods to Avoid Living in as an Expat
There is no one arrondissement to avoid in Paris. Often, a dodgy street might be just a block or two away from a popular residential area and considered not safe. Certain metro stations, including Les Halles, Chatelet, Gare du Nord, Stalingrad, and Jaures, are known for not being safe at night. However, this doesn't mean they need to be avoided at all costs. Rather, passengers and pedestrians should take extra care with their bags. In addition to this, they should stick to well-lit areas where possible, and avoid lingering around the stations.
There are some rough areas toward the southern boundaries where the 18e meets the 9e. If you're contemplating a move to this part of Paris, visit the area (safely!) at different times of day and night to get a feel for things. In years past, the area around the nearby Moulin Rouge was known to be seedy and sometimes considered unsafe. However, that's (mostly) an outdated reputation. In particular, the Moulin Rouge is such a popular tourist attraction now that the real danger is from the ever-present but non-violent pickpockets. However, darkened side lanes should still be avoided. Stick with the busy tourist streets.
Another area with a mixed reputation is the 19e and 20e Arrondissements in eastern Paris. Expats who live there love the area's diversity and down-to-earth, working-class roots. The area also gets high marks for cheap eateries, lower rents, and easy access to parking and Paris' ring road. On the downside, there's a strong case to be made that the city neglects these arrondissements. There's less public art, well-groomed parks, and cultural institutions in the 19e and 20e than other neighborhoods. Crime rates are higher here as well. For those who don't know the area well could have trouble distinguishing between what's lively versus rowdy.