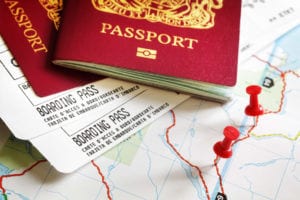 Obtaining a visa for international travel can take weeks at the best. If you are a US citizen looking to travel outside the US without having to go through the hassle of obtaining a visa, you have multiple options available. Last year American citizens and nationals were able to travel without a visa to 166 countries around the world (typically for travel up to 90 days). Some areas allow individuals to enter visa-free, while other countries simply issue a visa upon arrival.
A few countries that allow US citizens to experience international travel without a visa for a temporary stay include South Africa, Morocco, Western Sahara, Canada, Mexico, New Zealand, Japan, Peru, Ecuador, and Colombia along with most of Europe.
Of course, a valid US passport will still be needed to enter countries that do not require a visa to be obtained beforehand. Individuals in need of obtaining a passport should allow for 4-6 weeks from the time of the application for the routine processing of this document. An expedited service is also available which speeds the process along with an estimated 2-3 week door-to-door time estimate. The first time, adult passport applicants can expect to pay around $165 for a passport book and card.
If you are a non-US citizen wanting to travel without a visa to the US for 90 days or less, individuals from a few countries (currently 37) are able to participate in the US visa waiver program (VWP) in certain instances. Travel for the purpose of study, employment, work as foreign press or media, and permanent residence are not valid instances to participate in the VWP. However, eligible individuals from the following countries are able to participate in this program:
Andorra, Australia, Austria, Belgium, Brunei, Czech Republic, Denmark, Estonia, Finland, France, Germany, Greece, Hungary, Iceland, Ireland, Italy, Japan, Latvia, Liechtenstein, Lithuania, Luxembourg, Malta, Monaco, the Netherlands, New Zealand, Norway, Portugal, San Marino, Singapore, Slovakia, Slovenia, South Korea, Spain, Sweden, Switzerland, Taiwan, United Kingdom.
If you are not from one of the above countries but would like to visit the US- even if it means obtaining a visa, make sure you know the wait time for US visa processing for individuals from your home country and have the necessary documents readily available including birth certificate, international insurance, and a valid visa photo.
Related: