In a Country Known for Safety, These Are the Safest Cities to Live in Spain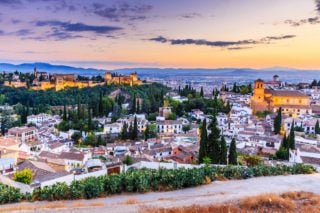 Spain has a diverse historical heritage, a fun tapas culture, and a low cost of living. While crime rates have risen since the pandemic, Spain is still a very safe country to live in. According to the Global Peace Index of 2022, Spain is ranked as the 29th most peaceful country in the world – 100 places higher than the United States! Below you can find the safest places to live in Spain.
Keep in mind these cities may differ from the best places to live in Spain. The best cities take a wide variety of metrics into consideration: leisure activities, cost of living and safety, etc. Here, we are focused solely on the safest places in Spain.
How We Identified The Safest Cities in Spain
To decide which locations to assess, we looked at the top communities where expats choose to live in Spain. We used Mercer's Cost of Living, Numbeo, and International Citizens' list of Best Places to Live and Cost of Living pages for Spain in order to compile our long list of cities.
In order to determine the safest places in Spain among these cities, we looked at crime statistics from the Spanish Ministry of Interior's Sistema Estadístico de Criminalidad (Portal of Crime Statistics, 2021 and first half of 2022) and the Anuario Estadistico (Annual Statistics, 2021) as well as additional crowd-sourced numbers from Numbeo. Lastly, we took into consideration the population of each city in regard to the total number of crimes.
Also Read: Health Insurance in Spain for Foreigners

Compare multiple quotes and coverage options
Work with an insurance expert at no additional cost
Find the best plan for your needs and budget
The 5 Safest Places to Live in Spain
Spain is overall a safe country. The most common crimes tend to be nonviolent and center around pickpockets, tourism scams, and vandalism. As anywhere, if you use common sense and are aware of your surroundings, you shouldn't run into many problems. The Andalusian region, with its beautiful beaches and relaxed lifestyle, is considered a particularly safe place to reside, taking three of the top five slots for safest cities to live in Spain.
5. Seville (Sevilla)
The capital of Andalusia takes the spot as the fifth safest city for expats to live in Spain. It is the third most visited city in Spain, behind Madrid and Barcelona. The city boasts three UNESCO world heritage sites: The Cathedral, Alcázar and Archivo de Indias. Additionally, the city is the birthplace of the mesmerizing Flamenco dance. From the mosaiced monuments to salmorejo soup and Flamenco guitar music, Sevilla is a great place to explore. Even wandering alone at night is not considered to be a risky activity as long as you use some common sense.
4. Majorca (Mallorca)
Making up a part of Spain's Balearic Islands, Mallorca is the fourth safest place to live in Spain. This Mediterranean island is a top tourist destination known for year-round good weather, beaches, and nightlife. That being said, there are plenty of opportunities to escape the crowds if you move past the major resort areas. Beyond the various blue hues of the Mediterranean, there are also plenty of green parks to be found for hiking and nature lovers. Rest assured, you can explore these more remote areas without feeling that danger is lurking nearby.
3. Málaga
Another Andalusian favorite, Málaga is a port city located on Spain's Costa del Sol. The city is one of the region's most visited beach towns and the third safest city in Andalusia. The city is famous as the birthplace of artist Pablo Picasso and is home to the Picasso Museum, among many others, including the popular Automobile and Fashion Museum. Málaga also makes a great location for day trips to explore the many idyllic Spanish villages located along the Costa del Sol.
2. Murcia
Taking the number two spot for the safest places to live in Spain is Murcia, a university town in southeastern Spain. A hidden gem, the city is the capital of a small region by the same name. Murcia is located on the Mediterranean and has popular urban beaches along with hidden coves to discover. The city also has a rich history that dates back to Roman times and is well known for its gastronomy, being a major producer of fresh fruits and vegetables for Europe.
1. Granada
The number one safest city for expats to live in is the Andalucian city of Granada. It's home to the famous UNESCO world heritage site the Alhambra, an Islamic fortress that towers over the city. Granada additionally has two more UNESCO sites: the Generalife gardens located next to the Alhambra and the Albayzín, the old Arab quarter of the city. Granada is a beautiful blend of Andalusian and Moorish architecture. Don't hesitate to wander the city discovering their famous tapas culture, day or night!
Other Safe Places to Live in Spain
With low crime rates being the norm, you would be remiss to overlook the major cities when considering safe places to live in Spain. Madrid, Barcelona, and Valencia are all fantastic cities with their own vibrant cultures that are only slightly over the national average for crime statistics in 2021. While they didn't make the cut for the top five safest places to live in Spain, they are all still safer than New York, Paris, or London.
Related: