Going Beyond London, Paris and Rome for Foreigners in 2023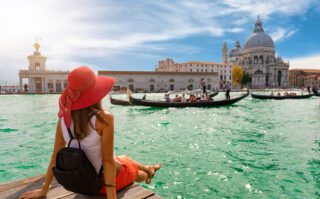 If you're considering a move to Europe, you already know that places like London, Paris and Rome have become overcrowded and overpriced. Still, you'll want to move to places that have a solid immigrant population, the right amenities for you, and a cost of living that works for your budget. We've gathered our list of the 15 best cities in Europe using these and many other factors, so you can make the best choice.
Which Country Is Best for Living in Europe?
When choosing a country in Europe to live as an expat, there are a lot of things to keep in mind. The dominant language of a country matters more in some places than others. What type of work you do also is a big factor. You'll also want to look at climate, as Europe covers an area with mild, Mediterranean climates and icy, brutal winters. And naturally, some of your choice will come down to where the opportunity is: who is willing to give you a visa?
One good way to choose a country to immigrate to is to start by looking at the cities that other expats are choosing to make home. You might be surprised by some of the choices, and by what countries are missing (no cities in either France or Italy are on this list).
Get our monthly newsletter filled with tips and information for people living, moving, and traveling outside of their home country.* *By submitting your email, you agree to receive monthly updates for expats, digital nomads, retirees, and more.
How We Identified The Best Cities in Europe to Live
Starting from a longer list of desirable cities, we looked at the cost of living, healthcare systems, and safety of each place, using multiple sources. We also researched job opportunities for foreigners. After narrowing the list, we looked at amenities like history and culture. We saw how many museums and UNESCO World Heritage Sites a place had. And we combed Statista and other sites to see how much green space each inhabitant of a city has access to.
Finally, we reviewed a number of other quality of life aspects. Holidu and Asher Fergusson helped us find out which cities were the most and least friendly for LGBTQ+ people. We used Wisevoter and Preply to determine the best places to send your kids to school. We took the average hours of sun per year into account, and found out which cities offer the highest internet speed for digital nomads.
With all of this data taken together, we ranked the best European cities to live for foreigners in 2023.
The 15 Best Places to Live in Europe
While the far west of Europe and Scandinavia took top marks in our rankings, there are also some surprise showings from Central and Eastern Europe.
15: Riga, Latvia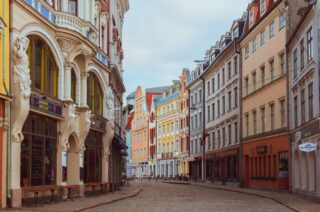 Latvia might not be the first place you think of when considering the best places to live in Europe. (You might even have trouble finding it on a map!) But the capital city, Riga, is an increasingly popular place for expats to settle. For one thing, it has one of the lowest costs of living of the 15 cities on our list. It also offers one of the highest amounts of green space for its residents. The city's colorful architecture — with medieval and Art Nouveau buildings side-by-side — make walking a pleasure, and Riga has a fairly high walkability score. The nearby countryside is also glorious to visit, with beautiful rivers, lakes and waterfalls. Situated in the heart of the Baltics, Riga's weather can tend to extremes. It came in tenth for hours of sun per year. But the biting, snowy winters make Latvia a popular ice-hockey destination.
Since its 1991 independence, Latvia has joined the EU and become a player on the international scene. It is still off the beaten path, though, and you'll do better in Riga if you learn Latvian or Russian. The city landed last on our list because of lower rankings for safety, schools and healthcare. But safety in Riga has improved a great deal. If you go for international schools and international insurance, you'll make up the difference with a low cost of living and a peaceful life.
14: Edinburgh, United Kingdom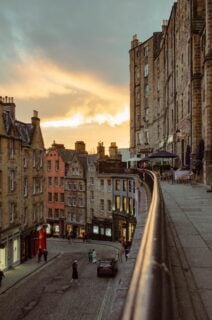 Edinburgh, Scotland's hip capital, took the top spot in our survey of Best Cities to Live in the U.K., so it's no surprise to see it on our list for all Europe. Perched on the Firth of Forth, where two rivers meet the North Sea, this city is rich with cultural hotspots and educational opportunities. The entire old and new cities of Edinburgh form a UNESCO World Heritage Site, but the whole region offers much to explore. Healthcare and schools were the metrics where Edinburgh scored best, which makes Edinburgh a great place to settle with a family. For U.S. expats, it also helps that English is one of the primary languages of the U.K., though Scots English can be a challenge!
Low hours of sun kept Edinburgh from the tops of the rankings here: of the cities we surveyed, Edinburgh is the cloudiest! But if you don't mind the famously gloomy U.K. weather, Edinburgh is a wonderful place to settle as a foreigner. Like other more northern climes, the Scottish value the outdoor life — and have a lot of fun indoors, too! In summer, don't miss the enormous Edinburgh Fringe Festival. In winter, settle into the city's famous pubs, hit the Christmas market, celebrate the new year at Hogmanay, or attend a Burns Night for whisky and poetry.
Health Insurance Option for European Citizens
Health Insurance Option for US Citizens
13: Split, Croatia

Croatia has gotten increasing press in the past few years as a European tourist destination without the hefty price tag. While war tore the region apart for years, things have been peaceful since 1996, and its sunny countryside, always beautiful, has now become a major draw. Split is the centerpiece of Croatia's astonishing coastline on the Adriatic Sea, just across from central Italy. While it's not the highest-performing city for jobs or schools, it does have the lowest cost of living of any city on our list, making it a great place for retirees or digital nomads.
Where Split does excel is in hours of sun and historical sites. For a cost of living index that stands at about half the U.S. average, you can enjoy a laid-back Mediterranean climate in a city steeped in history.
12: Stuttgart, Germany
Germany has long been a hotspot for expatriates. In fact, it has the highest number of foreign residents of any European country. However, Berlin, Hamburg and Frankfurt have all become very expensive places for foreigners to live. Enter Stuttgart, a lesser-known but charming city in Germany's southwest. Best known as the birthplace of the automobile, this longtime industrial city houses both the Mercedes-Benz and Porsche headquarters. While green spaces have not been a priority in this city in the past, recent initiatives are making it a more beautiful place to live. Stuttgart's "green corridors" provide tree-lined walks in many parts of the city, but also funnel cooler mountain air into the low-lying manufacturing hub, combating climate change.
Like other German cities, though, Stuttgart is best suited for expats looking for work. Besides the automobile sector, the city has the highest density of research, scientific and academic organizations of anywhere in Germany, and the highest investment in research and development as well. Many international companies make their home here too, making Stuttgart a good place to find a job in these sectors. Internet speed also ranked highly, so if you're looking to be a remote worker or digital nomad in Germany, Stuttgart could be for you.
Also Read: Becoming an Expat in Germany
11. Basel, Switzerland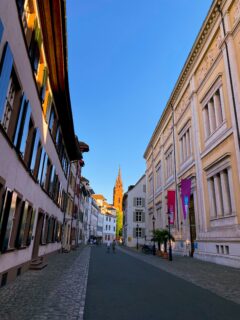 While less well-known than gracious Geneva or cosmopolitan Zurich, Basel ranked in Expat Insider's top ten places for 2022. Forbes also ranked it in its top 20 for digital nomads and foreigners. While it's the most expensive city on our list, Basel offers high salaries to those who can secure jobs there. Switzerland also offers excellent healthcare, and Basel is the safest place on our list to live.
Known as Switzerland's cultural capital, Basel houses many museums, as well as the country's oldest university, founded in 1460. For centuries, Basel has been a safe haven for scholars and political refugees from other European nations, including the philosopher Erasmus and the psychologist Carl Jung. Basel also offers the unique Swiss aesthetic and way of life to foreigners settling there. Its medieval city core sits on the Rhine River, and its streets are mostly given over to foot traffic. While the green space per person is pretty low, Basels' green roofs initiative is adding to the city's beauty while increasing its sustainability. Switzerland is a country of extraordinary natural beauty, including the famous Alps. But Basel also sits near the borders of both France and Germany, offering easy access to both.
10. Copenhagen, Denmark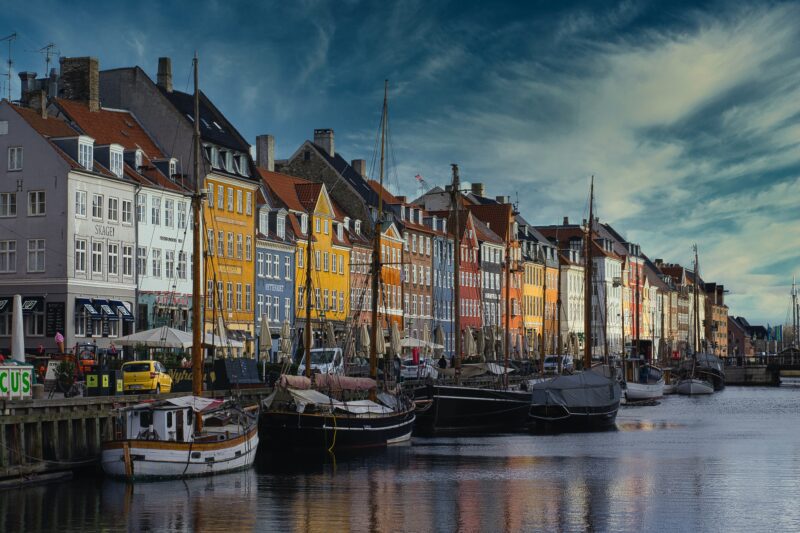 Denmark's capital Copenhagen has become one of the most popular European cities, with many expatriate enclaves. Its reputation for happy citizens and the popularity of the "hygge" concept of coziness make it a place where overworked English speakers want to settle. As such, though, Copenhagen is very expensive, with the second-highest cost of living on our list. Still, the friendly people, deeply rooted culture and quality of life keep drawing foreigners to its shores.
Copenhagen ranked especially highly in walkability, cultural attractions and LGBTQ+ friendliness, where it scored highest of any on our list. The city is also set up wonderfully for cyclists, and the transit system is top notch. Because of its sheltered position on a small bay across from southern Sweden, Copenhagen's climate is milder than the Scandinavian countries further north. Yet its connection by a bridge to Malmö, Sweden, completed in 2000, has helped Copenhagen blossom into an international hub of commerce, finance, education and government.
9. Oslo, Norway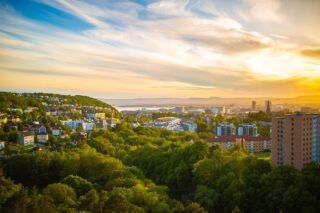 Further north into Scandinavia is the vibrant capital city of Norway, Oslo. Like the other northern European cities on this list, Oslo has a high cost of living. But its job opportunities, good healthcare, and great walkability and green spaces make Oslo one of the best places to live in Europe. Many immigrants have come to live in Oslo since 2000, to the point where its population is close to 25% foreigners. This also means the expat population is high, so it's a good place to find community.
While Oslo's far-north position means that winter sunlight is scarce and the weather frigid, Norwegians have a cultural belief that there is no bad weather — only bad equipment! Outdoor activities are a way of life there, year-round. The city is even equipped with cross-country skiing trails throughout the city, besides the downhill adventures that await just outside it. Plus, in summer, the city never gets completely dark. A quick boat ride will take you to the beaches of the nearby islands, and within the city, a park is never more than a few blocks from you.
8. Amsterdam, The Netherlands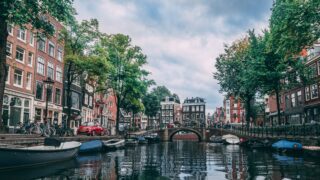 If you don't know much about Amsterdam, you might have an impression of tulips, marijuana, bicycles and canals. While all of those impressions are true, this delightful Dutch city has much more to offer! For one thing, Amsterdam is rich in historical and cultural treasures, from the Rijksmuseum to the Anne Frank House to theopulent Royal Palace. The streets, threaded through with canals and narrow gabled houses, are very walkable — though watch for street markings for bikes, cars and trams! The city is famously liberal, with some recreational drugs and prostitution legalized and excellent protections and amenities for LGBTQ+ residents and visitors. And for relocating families, Amsterdam's schools are also excellent.
Amsterdam is still one of the more expensive cities on our list, and only middling in terms of sunshine and safety. But for expats seeking a dynamic, exciting city in a country that cares for its citizens, look no further.
How to Get Health Insurance for Your Move
7. Lisbon, Portugal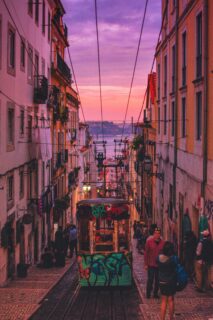 Portugal is a hot place for expatriates right now, and with good reason. Its cost of living is relatively low, its cultural, educational and historical features are relatively high, and it enjoys a Mediterranean climate with the most hours of sun per year of any on the list. It is also one of the oldest cities in the world, with a designation as a global city for its vibrant international economy. While Lisbon scored low for its healthcare system, international health insurance can help make sure you get the coverage you need as an expat.
EU citizens don't need a work permit to get a job here, those outside the EU do. But international companies are increasingly coming to Lisbon, and the high-tech and IT fields are growing. And with its low cost of living for a cosmopolitan city, you can enjoy the more laid-back lifestyle that Portugal encourages.
Also Read: Moving to Portugal
6. Tallinn, Estonia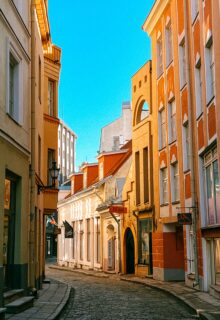 Estonia might be another surprise on this list, tucked up on the Baltic Sea and next door to Russia as it is. But the capital city Tallinn is a rising star in Europe, combining a low cost of living with a high level of safety. It also boasts the highest number of tech startups per person of any large European city, and has produced such respected technology companies as Skype and Wise. As such, Tallinn is an exciting possibility for foreign tech entrepreneurs and workers. While English is common, some knowledge of Estonian or Russian can be important for getting by in business. Work visas are needed but fairly easy to get, and digital nomad visas are popular here as well.
Tallinn is a harbor city that sits across the Gulf of Finland from Helsinki, and like most European capitals it boasts numerous museums, galleries, concert halls and theaters. It was a European Capital of Culture in 2011, and was designated a UNESCO City of Music in 2021. The music scene in Tallinn is particularly strong; some say that you can find a concert in the city every night of the year.
5. Madrid, Spain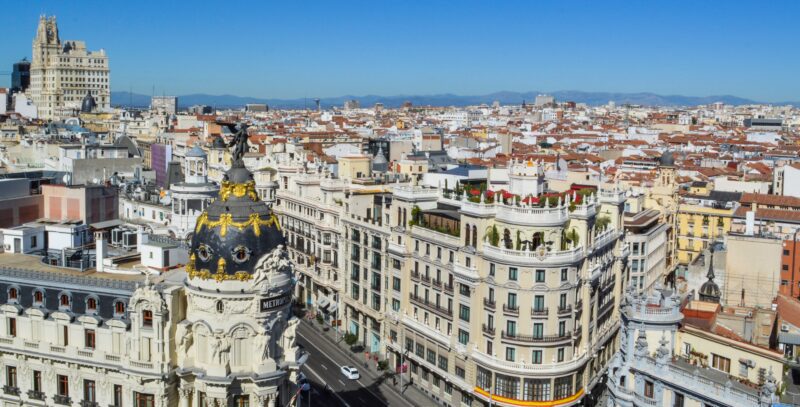 Spain is the only country on our list to grab two top spots, with Madrid coming in fifth. Situated smack in the middle of the country, Madrid is a dry, sunny, culturally rich European capital where the cost of living is still manageable and the healthcare system is among the best. Add to that a relaxed culture, incredible parks and museums and the persistence of "siesta," or long afternoon break, and Madrid is the kind of place an expat could get used to.
And many have: of the 3.4 million residents, nearly 1 million are international. This makes Madrid both a friendly place to make a new home as an expat, and a place where fluent Spanish won't be as necessary. That said, it has a few drawbacks: its lack of coastline means the air quality isn't that great, it's more expensive than other Spanish cities, and the job market can be tight. Still, this central seat of Spanish culture and nightlife is near the top of our list.
4. Helsinki, Finland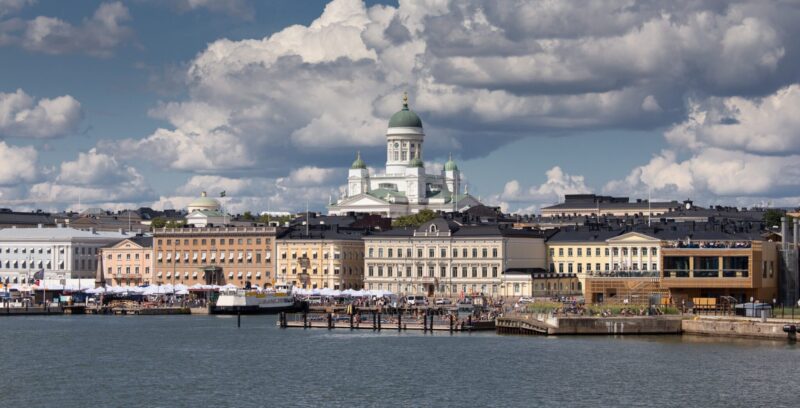 As a nation, Finland has been making news in the past few years as the country with the best quality of life, and thus the happiest people on earth. (Denmark comes in second.) While much of this is chalked up to a Finnish attitude of fortitude called "sisu," it also helps that income inequality is low, accessibility of social safety nets is high, schooling and housing are equitable and waiting times for healthcare are small. In our research, Helsinki ranked in the top 5 for safety and healthcare, and took the top score for both green spaces and schools.
For expats, cost of living and job opportunities are in the low-middle of our list, but the high-tech sector has been drawing more and more foreigners to the market. Helsinki's excellent public transit, social coffee culture and traditional saunas to drive away the chill add to the city's attractiveness. The northernmost city on our list, Helsinki gets around 19 hours of sunlight in the summertime. While there's a reversal in winter, you can also see the Northern Lights here — particularly if you get outside the city.
3. Prague, Czechia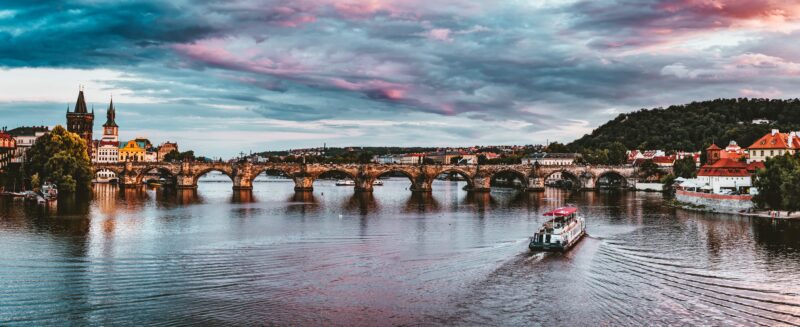 The mention of Prague tends to evoke images of high culture, crystal, and a general post-Soviet triumph of a city. It turns out that Prague really is one of the best places in Europe to live if you're an expat! The capital of Czechia (formerly Czech Republic) is one of the safest cities in Europe to live, has deep history, culture and green spaces to enjoy, and is inviting to expats looking for jobs. English is widely spoken, though Czech is helpful. Teaching English is a popular job, but Prague also houses many multinational corporations, and is a great place for entrepreneurs.
Prague's city center is a UNESCO World Heritage Site, and the city is often thought of as one of the most beautiful in Europe. If you want to travel and see for yourself, it's also situated near the center of the continent, surrounded by Austria, Germany, Poland and Slovakia, making travel easy. It's no wonder it's sometimes been known as the Heart of Europe.
2. Valencia, Spain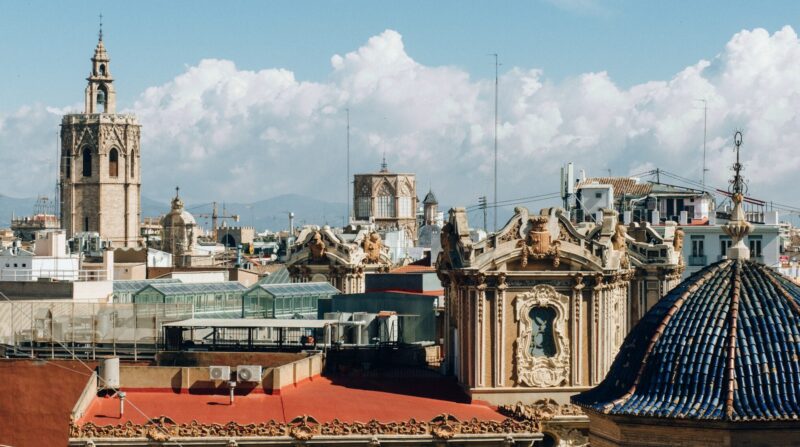 The smaller and lesser-known Spanish city of Valencia comes in at number two on our list for its gorgeous weather, low cost of living, fantastic healthcare, high walkability and LGBTQ friendliness. This port city, on the eastern coast south of Barcelona, is one of the oldest cities in Spain, dating to the Roman Empire. These days, it's getting the attention of numerous lists as a top destination for expatriates. While job prospects for foreigners are not the best, Valencia may be a great choice for students, young people looking to teach English and retirees. And as with most of best cities in Europe, you'll have a much easier time relocating if you have a job lined up already.
What really shines in Valencia is the quality of life: the relaxed work culture of Spain, weather and infrastructure that supports an active, outdoor lifestyle, and beautiful food (Valencia is the birthplace of paella, possibly Spain's most famous dish). If you're looking for a place where you can kick back for a while, this Mediterranean mini-paradise may be the ticket.
See Also: Why Move to Spain
1. Vienna, Austria
Best known as a massive center of culture for music and dance and the birthplace of modern psychology, Vienna has quietly been a great place for foreigners looking for opportunity and a high quality of life for some time now. It's interesting to note that while it took our number one spot, Vienna didn't take the top score in any of our criteria! Instead, it scored solidly in basically every category, edging out other contenders with its solid all-around goodness.
Vienna scored particularly highly in history and culture of course; the city center is a UNESCO World Heritage Site, and it produced such luminaries as Viktor Frankl, Sigmund Freud, Franz Schubert and Gustav Mahler. But it's also highly walkable, gets a good amount of sunlight, and is a great place to find jobs as an expat. Its position in landlocked Austria makes it a superb gateway to the rest of Europe, with Germany, Switzerland, Italy, Czechia, Slovakia and Hungary all in easy reach. As such, Vienna also hosts numerous massive international organizations, including the United Nations and OPEC. A truly global city, Vienna is truly among the best cities in Europe to live.
Related Articles: