An Expat's Guide: Safest Places to Live in China
China is tremendously popular with expats. One of the reasons is that they have few serious safety concerns while living there. Violent crimes against expats are rare and, by reviewing the safest places to live in China, your move to China will be extra comfortable and help you feel at home in no time
Of course, no destination in China – or indeed anywhere – is immune from safety concerns. In busy tourist destinations, petty crimes like pickpocketing are common. This is especially concentrated around bus and train stations and airports. In addition to problems with pickpocketing, tourists and expats in China often encounter minor scams. A common example is shopkeepers who take advantage of currency confusion and offer incorrect change. Sometimes, however, the scams aren't quite so minor. In trendy city neighborhoods, young con artists befriend tourists and expats, often by asking them to take a photo. Coaxed into joining the new friends for an innocent drink, the target soon finds themselves on the hook for an outrageous bill. As with most tourism-based scams, international citizens can avoid hassles by leaving valuables securely at home, using anti-theft bags, and reading up on common cons.
When Safety in China Becomes Serious
Petty thefts are indeed annoying but far more serious are traffic accidents. A major cause of death for Chinese residents between 15 and 45, the World Health Organization estimates that there are about 712 traffic-related deaths in China per day. Pedestrians soon learn to be hyper-vigilant and to wait to cross the roads in groups for greater visibility. Expat chat rooms have helpful information about which local bus and taxi companies have safe, seat-belt-equipped vehicles and which should be avoided.
Unfortunately, there are some safety concerns that neither expats nor Chinese citizens have much control over. China is no stranger to earthquakes and, in 2017, Jiuzhaigou experienced a devastating quake. In this particular case, the quake itself triggered landslides. Landslides are also a concern during the monsoon season in China's mountainous areas, including Yunnan, Sichuan, and Tibet. In addition to the immediate danger they pose, landslides also impact communication, transportation, and utilities, which further hinders recovery. Finally, typhoons and flooding are semi-regular occurrences in China. This is especially prevalent along the Yangtze and Li Rivers and during the June to August rainy season. While there is no way to prevent such disasters, expats can minimize their risk by planning travel around the most dangerous months and checking with local tour companies for their recommendations.
The Safest Places To Live In China
While crime, traffic accidents, and natural disasters can and do happen anywhere, expats report that these cities are among the safest places to live in China. They give high marks to these destinations for their outstanding quality of life.
Zhuhai
Most Chinese cities would love to have the kinds of accolades that Zhuhai has accumulated. It was named "Most Livable City in 2014" by the Chinese Academy of Social Science. What exactly makes it such a terrific place to live? Zhuhai is established as a Special Economic Zone, which means it focuses less on manufacturing and more on tourism and its image as a garden city. As such, air pollution is a lot lower here than in most similarly-sized cities. Zhuhai's green focus, easy access to nearby Macau, and multicultural nature, not to mention its proximity to the water, has earned it the nickname "Chinese Riviera."
Chengdu
Chengdu is famous among travelers for being a top-notch foodie destination, as well as being the home of pandas. But expats see the city differently. Chengdu is a hub of financial, commercial, cultural, and transportation services in western China. That means plenty of jobs and opportunities, along with a high quality of living.
Xiamen
Another designated Special Economic Zone dating back to the 1980s, life in Xiamen has a vibrant economy, a good selection of cultural and educational institutions, and plenty of access to the sea, gardens, and shopping districts. The weather is warm and welcoming and the city enjoys low levels of pollution.
Xian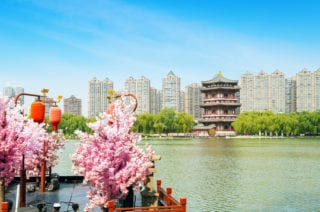 Xian is one of China's most popular destinations for expats. It's not just the grand tourism sites that draw them, though no doubt that attractions like the Terracotta Army only add to the city's appeal. Living in Xian has less expensive than destinations like Hong Kong, Shanghai, and Beijing. However, it has all the same amenities, including excellent transportation links.
Shanghai
For one of the world's most densely populated cities, Shanghai is extremely safe and very organized. The metro covered much of the city and is supplemented by a comprehensive bus network. High tech, design, finance, tourism, and startups thrive here, making it a top choice for expats.
Beijing
Beijing is China's political, cultural, and educational capital—and some might say its security capital as well. Police keep a tight rein on the city (and protestors.) As such, crime remains relatively low around top tourism destinations like the Forbidden City, the Summer Palace, and the Great Wall.
Shenzhen
Ultra-modern Shenzhen is home to the fifth strongest economy in Asia, a real plus for expats looking to be at the center of economic activity. The city is the headquarters to Ten Cent, which makes China's most popular social media app, WeChat, as well as smartphone maker Huawei. Both companies attract plenty of foreign talent and the city has a strong expat community. Its position next to the coast means pollution levels are manageable and there's a lot of recreation opportunities for residents.
Destinations To Avoid Living in China
Official crime statistics are hard to obtain from China due to government information restrictions, as per a report by the BBC. However, there are a few destinations that come up again and again as problematic. That isn't to say that expats don't live there and indeed, most love their adopted cities. But they might require some additional "buyer beware" practices before you decide to move.
Chongqing
Theft, vandalism, corruption, and bribery are among the serious problems that residents in Chongqing face. A reported 55% of the population has had problems with corruption and bribery, while an estimated 40% of residents have experienced petty property crimes. On a more serious note, foreigners report that arguments with taxi drivers and other local residents occasionally turn violent and there have been incidents of stabbing.
Xinjiang Province
This province in Western China poses some serious dangers that cannot be overlooked. An estimated one million people of Uyghur ethnicity have been placed in detention facilities and critics of the Chinese government warn of ethnic cleansing activities against this minority. Expats who have Uyghur heritage or are practicing Muslims (Islam is the majority religion of China's Uyghur community) should do extensive research before settling in this area in particular and throughout China in general.
Xingtai
The danger in Xingtai doesn't come from crime or other problems but from its factories and manufacturing centers. The city has the unfortunate distinction of topping Greenpeace's list of Chinese cities with the worst air pollution levels. As such, anyone with asthma or other respiratory conditions would find it a very challenging place to live.
Related: