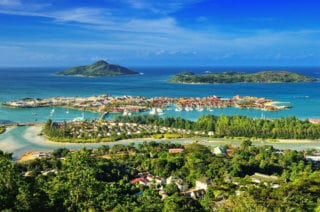 Thinking about living in Africa? When it comes to living in Africa, there's one question on everyone's mind:
Is Africa safe?
The answer is yes, it can be. Africa is home to more than 54 countries spanning almost 12 million square miles, and many of those countries are relatively safe compared to other popular expatriate destinations.
There is a common misconception that Africa is just a massive desert covered with guerilla warfare, famine, and disease.
This could not be further from the truth.
Africa is a diverse continent with thriving high-tech cities, huge skyscrapers, beautiful coastal properties, world-class universities, and progressive enclaves with forward-thinking communities.
Think of it this way: just like there are safe and unsafe places in the United States, there are safe and unsafe places in Africa.
There are countries in Africa with a Level 1 travel advisory, which is the lowest level. For comparison, The U.K., Denmark, and Germany are currently under a "Level 2: Exercise Increased Caution" travel advisory.
If you're ready to start researching where to live, here is our list of the safest countries in Africa.
Is Botswana Safe to Live In?
Botswana has a steady democracy, and the city of Gaborone is both economically and politically stable. The country also has a low crime rate.
If you're looking for an adventure, the Botswana safaris are managed by well-experienced guides that help to keep visitors secure.
Plus, most people speak English, so you won't have to worry about a language barrier.
Is Namibia a Safe Country?
Crime rates in Namibia are low, though most foreigners tend to stick to areas outside of the major cities.
The safest part of Namibia is the southern part, where it borders Botswana (one of the other African countries to make this list).
Seychelles Safety
The city of Victoria ranks as one of the safest cities in Seychelles, as well as on the entire continent of Africa. The island of Seychelles has a stable government and a well-established tourism industry. It's also known for its strong focus on freedom and human rights.
Is Kenya Safe?
Over the past few years, security in Kenya has improved quite a bit but, like anywhere else, you'll still have to deal with pretty crime and theft. As a foreigner in Kenya, it's especially important to be vigilant and keep your valuables secure.
Safaris' are the biggest attraction in Kenya, where the guides are well-trained to shield travelers from all sorts of local dangers.
Living Safely in Rwanda
The city of Kigali ranks as one of the safest cities in the country of Rwanda. Kigali has one million residents with a large expat population that makes travelers feel comfortable and secure.
Rwanda as a whole boasts low terrorism and crime rates and puts a high emphasis on security. It is one of the least dangerous countries in all of Africa.
Morocco for Expatriates
The country of Morocco has a stable political system and is home to four of the safest cities in Africa:
Taghazout
El Jadida
Agadir
Tangier
Just like anywhere in the world there is some level of crime in the major cities, such as Marrakech, so be vigilant with your valuables, cash, and passports at all times. In general, Northern African is a dangerous place to visit, but the country of Morocco is the exception.
Zambia Safety
Petty crime exists in Zambia, but overall, the level of violent crime is low compared to other African countries. Zambia is home to one of Africa's major tourist attractions, Victoria Falls. Most travelers stick to the more rural areas for safari experiences, where guides are trained in many ways to protect tourists.
Safest Cities in Africa
Keep in mind, the level of danger and security in Africa can change at any time. Before you go anywhere abroad, check the U.S. Department of State website for travel advisories and current threat levels. Currently, the safest cities in Africa for foreigners are:
Kigali, Rwanda
Tangier, Morocco
Victoria, Seychelles
Gaborone, Botswana
Nairobi, Kenya
Windhoek, Namibia
Lusaka, Zambia
Related: See why South Africa is rated one of the top countries to raise your children in
Moving to Africa? Don't Forget Health Insurance

Compare multiple quotes and coverage options
Work with an insurance expert at no additional cost
Find the best plan for your needs and budget
Most Dangerous Countries in Africa
Of course, there are places in Africa that are not safe. In general, most of the more dangerous countries are in central and north Africa.
Currently (as of April 2021), the U.S. Department of State has "Level 4: Do Not Travel" warnings for South Sudan, Burundi, Somalia, Libya, Mali, and the Central African Republic.
Know Before You Go
If you want to live in Africa, do your research on the safest countries to live in. The most important thing is to make sure that you choose a city and country where you and your family will be out of harm's way.
Looking for other international destinations where you can feel secure? Read our list of the safest places in the world.
Related: