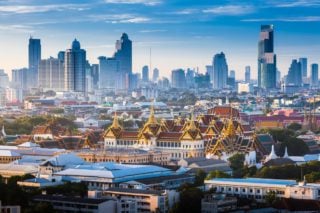 Thailand is a popular destination for foreigners, with breathtaking beaches, great food, and a tropical climate year-round. The Southeast Asian country is one of the best places to live abroad for expats who want an immersive cultural experience, and with the low cost of living in Thailand, it's also one of the most affordable.
Thailand's low cost of living is a huge draw for international citizens. You can create a comfortable lifestyle for yourself in Thailand with much more financial ease than in North America or Western Europe. The country has a lot to offer regardless of where in the country you settle, though the cost of living varies from region to region. Bangkok and other tourism hotspots require a bigger budget than if you choose a smaller Thai town as your new home. But wherever you go in Thailand, you can expect to find a much lower cost of living than in the United States.
This article covers everything you need to know about housing costs, food, leisure activities and other expenses in Thailand.
All prices in Thai baht have been converted to U.S. dollars. The cost of living data comes from Numbeo unless otherwise specified. These numbers were up-to-date as of November 2022.
Is Thailand Expensive?
In short: no. Particularly compared to the U.S., regular living expenses in Thailand, including rent, are around 55% lower. This can allow you to do things like eating out more often, treating yourself to regular massages, or taking frequent weekend trips. As everywhere, your cost of living depends on where you live and your personal lifestyle. But by any measure, Thailand is not expensive.
A lot of Thailand's urban life centers on Bangkok, the capital. About 15 million people call the Bangkok metro area home. But though Bangkok is a dynamic megacity, it's still a lot cheaper than a Western city of its size. If you choose one of the smaller cities, you can expect your cost of living to drop even further.
Also Read: The 5 Best Places to Live in Thailand
The Cost of Living in Thailand vs. the US
Across the board, the cost of living in Thailand vs. the U.S. is a lot lower. In Bangkok, you need USD$2,670-$3,288 per month to maintain the same standard of living that a whopping USD$8,190-$10,010 per month would get you in New York City.
The Average Cost of Living in Thailand
Housing Costs in Thailand
Housing costs in Thailand are a lot lower than in the U.S. or Europe. How much you end up paying depends upon whether you decide to live in a big city or a small town. Bangkok, the capital, is the most expensive city in the country. Big beach and party destinations like Koh Samui and Phuket are more expensive than other mid-size Thai cities like the popular but peaceful Chiang Mai.
Rent for a one-bedroom apartment in the center of a Thai city is USD$324-$396 per month, on average. In Bangkok, this can set you back USD$486-$594 per month. In Koh Samui, a place popular with tourists, you can expect to pay USD$462-$565 per month. In northern Chiang Mai, housing costs are a lot more affordable. Rent there is in the range of USD$278-$340 per month for a one-bedroom apartment.
Price differences follow the same trend for a three-bedroom apartment in a city. On average, you can expect to pay USD$910-$1,113 per month for a three-bedroom apartment in the center of a Thai city. In Bangkok, housing costs for a central three-bedroom apartment can set you back USD$1,691-$2,067 per month. An apartment of the same size is in the range of USD$842-$1,029 per month in Koh Samui and USD$649-$794 per month in Chiang Mai.
Utilities for a studio apartment will add USD$52-$63 per month. Internet access usually costs USD$15-$18 per month on top of that. Keep in mind that Thailand has a tropical climate. So you may need to factor the cost of power for air conditioning into your monthly budget.
Food and Entertainment Costs in Thailand
Overall, food and entertainment costs in Thailand are much lower than in the United States or Europe. Thailand is a great destination for foodies, especially if you like spicy dishes, curries, and all things coconut milk. The nation is known for its street food stalls, offering fresh and affordable meals, and its tropical produce like mango, jackfruit and rambutan.
Depending on where you live, you can expect to pay about 71% less for dining out. A meal at an inexpensive restaurant costs USD$1.68-$2.06 on average. Date night is also a treat, as a three-course meal for two is about USD$19-$24.
If you prefer cooking at home, groceries are 46% cheaper there on average. A dozen eggs cost USD$1.40-USD$1.71, one pound of chicken is USD$0.88-$1.08, and one pound of beef is USD$3.90-$4.76. Staple foods such as rice or potatoes are USD$0.44-$0.54 for a pound of rice and USD$0.49-$0.59 for one pound of potatoes.
Food that is less common in the local diet, such as dairy, may be more expensive. While one pound of local cheese is USD$4.70-$5.74 in the U.S., in Thailand, you'll pay USD$5.61-$6.85.
Wine is also a little more costly in Thailand than in the States; a mid-range bottle is USD$14.11-$17.64. Should you want a beer while you're out and about, you can expect to pay about USD$1.37-$1.67 for a domestic pint like Chang or Singha. For an authentic Thai alcohol experience, try Mekhong spirit (a spiced, rum-like drink) or SangSom, a spirit popular in party drinks.
Taking in a film is less costly; a single movie ticket in Thailand costs USD$4.82-$5.89. But fitness clubs in Thailand are close in price to those in the U.S.: a monthly pass runs about USD$38.17-$46.65.
Transportation Costs in Thailand
Transportation costs in Thailand vary from city to city, but they're overall affordable, especially if you stick to public transit. Bangkok has an extensive public transport system that includes buses, subways, elevated trains and boats. A one-way ticket on local transit is USD$0.72-$0.88. A monthly public transit pass costs USD$27.66-$33.80.
You can also use taxis, tuk-tuks (a three-wheeler type of taxi), and ride-hailing apps to get around Bangkok and smaller cities. A mile in a taxi in Thailand is USD$1.45-$1.77, about half what you'd pay in the States.
If you prefer to drive yourself, be prepared for higher prices. A small car like a Volkswagen Golf runs USD$28,864-$35,278 in Thailand, about USD$7,000 higher than the same car in the United States. A gallon of gas runs around USD$3.90-$4.76 in Thailand, only slightly cheaper than in the States. Besides the expense, you should also be ready for Thailand's chaotic traffic. Thais drive on the left, and buses, tuk-tuks, taxis, cars and motorcycles compete fiercely for space on the road. You'll also need an international driver's license or to obtain a local license, as a foreign license is not accepted there.
Healthcare Costs in Thailand
Thailand has a public healthcare system and public health insurance. You can qualify for public health insurance in Thailand if you have a Thai employer. In that case, a certain amount of your paycheck automatically goes to public health coverage every month. If you move to Thailand without a local employer, you'll need to buy your own insurance. Foreigners who move to Thailand under the LTR (long-term resident) program need to prove they have health insurance with a coverage of at least USD$50,000 or make a deposit of USD$100,000.
For more information, read this guide to health insurance for foreigners in Thailand.

Compare multiple quotes and coverage options
Work with an insurance expert at no additional cost
Find the best plan for your needs and budget
Thailand's Low Cost of Living Lets You Treat Yourself
There's no question about it – Thailand is more affordable than many other parts of the world. You can create a comfortable lifestyle full of meals out, wellness treatments like massages, and weekend travel with more financial ease. In addition, the Southeast Asian nation has lots to offer to expats: a warm climate, friendly locals, a rich culture, and beautiful beaches.
Thailand can be a great place to build your life abroad, with many great options for international citizens. Whether you're looking for fast-paced city life, deep historical exploration, small-town charm or beachfront bliss, the low Thailand cost of living means the choice is yours.
Related: