How Much Does it Cost to Live in the US?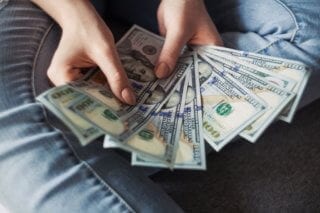 Expats and digital nomads from all over the world have always flocked to the United States. From the gold rush prospectors to today's technological visionaries, people have found remarkable risks and opportunities here. The cost of living in the United States has a range as vast as the land itself, depending on where you are headed and how you would like to live when you get there. Yet some aspects can be predicted.
Wondering how your finances play out in with the cost of living in the United States? Check out the costs on major items, and a few price tag surprises on everyday things.
U.S. Prices: The Highs…
First, let's talk about the big-ticket basics: your home, transportation, and medical care.
Cost to Buy a Home in the United States
The price of a home in the United States is not getting any cheaper. The average listed home prices in Bethesda, Maryland, a wealthy suburb of Washington, D.C., are currently considered the most inflated, at around US$1.2 million. Prices for Manhattan condos stand at a million-plus — even after a recent lull in price hikes.
According to GlobalPropertyGuide.com, Standard and Poor's data show home prices going up in 19 of the 20 big U.S. cities. Among the largest 2019 rises (3 to 5% and higher) affected Atlanta, Boston, Charlotte, Cleveland, Denver, Detroit, Las Vegas, Minneapolis, Phoenix, and Tampa.
Smaller (under 3%) rises occurred in Chicago, Dallas, DC, Miami, Portland, Los Angeles, San Diego, New York, and San Francisco. Only Seattle's prices moved downward — about 1%. If you are willing to buy in some other cities and their suburbs, though, you can find reasonable prices, by world standards. Mortgage interest rates are attractively low.
Here are the states in the U.S. that draw the most expatriates.
Cost of a Home in Florida:
Canadians and others flock to Florida for easy-going tax laws and relative affordability. The median Florida house price is US$265,000, or $195,000 for a condo. Florida grows by 300,000 newcomers each year, making the Sunshine State one of the most densely populated states.
California Home Prices:
Running second only to Florida as an international draw, California claims some 12% of a given year's international home purchases in the United States. Buyers come from China, Great Britain, India, and Mexico. California's median home price was US$617,410 in August 2019 and rising. In San Francisco, the average buyer paid $900,000.
Buying a Home in Texas:
Buyers come from Mexico, India, Great Britain, China, and Canada. There is no state income tax in Texas, which is unusual, and the median home price is a refreshing US$245,000. Cities with the most international appeal are Austin, the Houston area (shopping Mecca of wealthy Mexican socialites), as well as Dallas and Fort Worth.
Arizona Home Costs:
Phoenix draws international homebuyers with its hot, sunny weather and magnificent rock formations with fancy spa resorts and indigenous cultural sites sprinkled within them. The beauty of the Grand Canyon is here, and the timeless allure of Sedona. The Mexican restaurants are legit! The median home sale price? US$280,000.
Cost of a Home in New Jersey:
This mid-Atlantic state has 130 miles (209 km) of coastal property. Second-home buyers find this very attractive — and the storms like it too. Buying inland might be a better choice. In August 2019, the median house sale price was US$329,000 in New Jersey, and for condos, the figure was $274,000. The state's Northern region has well-known upmarket areas including Montclair and The Oranges, and is a stone's throw from New York City.
Hawaii Housing Prices:
This state hardly needs an introduction. It attracts visitors from the world over, who come to don flippers and a snorkel and admire the glorious tropical fish, bask on the white sand, or enjoy local dances and fancy cocktails served with Macadamia nuts by folks wearing leis. International buyers come from many areas of the world — notably including Canada, China, Germany, Japan, and Russia. The state's median home price rose was recorded at US$673,125 in August 2019. The highest median prices can be found on the islands of Maui and Oahu, and range around $800,000.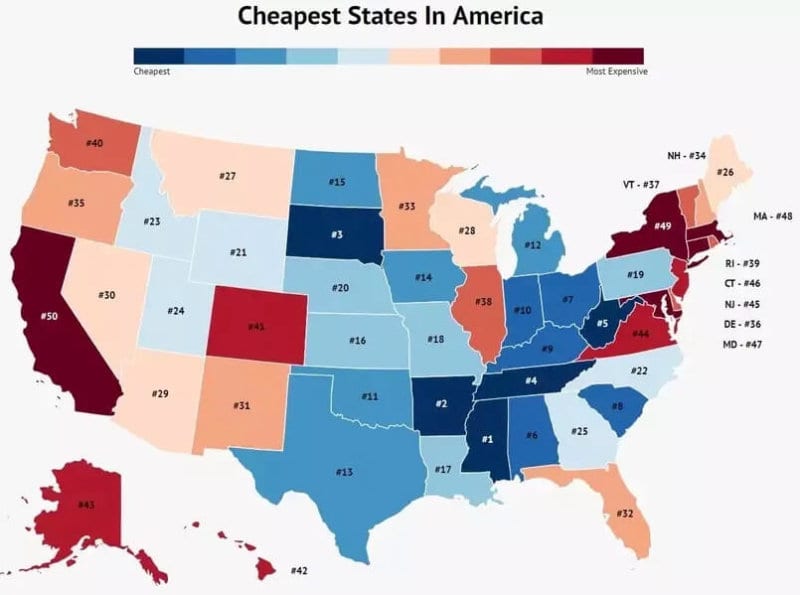 Source: https://www.homesnacks.net/cheapest-states-to-live-in-1211594/
How Much Does it Cost to Rent in the US?
Finding affordable rentals in and around big cities is a challenging task. As a general rule, there are fewer affordable apartments and condos than hopeful renters, so prepare to move quickly when you find the place that appeals to you.
Renting for one costs just over $1,000 a month across the country. In Northeastern and mid-Atlantic regions, which includes Wilmington, Philadelphia, Trenton, and Boston, expect to pay $1,300 to $1,500 a month. The numbers are in the same range out west. They are slightly less than that in Midwestern region that encompasses Indianapolis and Chicago and across the Southern states.
Cost of Living in the US With Medical Insurance
Paying for a private health insurance policy in the United States can be costly. Most U.S. residents secure at least partial coverage through an employer, or by applying for federal, income-based assistance.
Legal permanent residents (LPRs) in the United States can qualify for substantial benefits through what is colloquially known as Obamacare and officially called the federal Health Insurance Marketplace. So can people who temporarily reside in the country on non-immigrant visas and in various forms of protected status. Check the income qualifications to find out if you are eligible for insurance coverage and tax credits. If you do not qualify, you may need to purchase an international health insurance plan.
LPRs can also apply for Medicaid assistance and children's health insurance if they meet certain state residency and income rules. Medicaid covers emergency care for those who meet the state criteria, even if they lack a federally eligible immigration status. Except where long-term, government-paid institutional medical care is involved, applying for these benefits does not impact anyone's route to a green card or U.S. citizenship.
Cost of Transportation in the United States
One more big-ticket item that just about every U.S. resident buys is — you guessed it — the car. In most big cities, a car is unnecessary. For trips and travel outside the cities, you might very well need one.
Take a look at Walk Score to explore the cities and towns that you will potentially call home. It can help you decide if you really need a car. If not, you can simply hire one at one of many reasonable outlets if you ever fancy a road trip. Tickets for cross-country train rides offer a wonderfully affordable alternative for exploring this expansive country. And with the rise of ride-hailing apps, it's easy to beam a set of wheels up any time you need them.
How Much Does a Car Cost in the US?
Now, back to car shopping. Beyond the home mortgage payment, the biggest monthly bill faced by the average U.S. resident goes to paying off a car loan — weighing in at close to $400 each month. If you prefer to ferret out an affordable car and avoid the financing costs, you will find plenty of popular online car selling sites to browse. There is a massive inventory to scour at Cars.com — and you can punch in your location to find what you are seeking within a given radius. Check out the user-friendly tools at AutoTrader.com if you want help finding a certain make, model and blend of options. Hemmings.com is the site for you if you are looking for a collector's car.
For local car shopping, eBay is on the scene with its eBay Motors market. Another good idea is to browse what is available in a specific area is Facebook Marketplace. You might also phone the car rental companies in your chosen area, and ask where to go to look at last year's models for sale. And so on.
Car insurance is required for all drivers. It averages just under $250 per month across the United States. This varies widely by state and several other factors like driving history.
For those without a vehicle, the big monthly expenses usually involve water, waste and recycling, gas and other utility bills. Expect to set aside another $300 a month to cover them all.
The Lows…
Let's take a look at some daily necessities: clothing, electricity, communication, and nourishment. You will find some pleasant news here, as these low prices offset some of those higher U.S. living costs.
Cost of Clothing in the US: Where to Find Bargains
Clothes, including high fashion apparel, can be purchased for incredibly low prices at "off-price" retail stores (big names include Ross Dress for Less, Marshall's, and TJ Maxx). These stores often stock gourmet food items and home accents as well.
There are also plenty of hairstyling chains where you can get an inexpensive haircut (around $US20, including tip). It will go nicely with your new clothes.
Cost of Living in Your U.S. Home With Electricity
Paying just 13 cents USD per kilowatt-hour, U.S. residents enjoy cheap heating and cooling costs — compared, for example, to Germany's 33 cents. This puts the U.S. on a par with South Korea or Brazil (Brasil). Good news indeed, as the United States is a vast landmass, which makes for temperature extremes!
To make matters better, U.S. states are gradually shifting from coal to eco-friendly sources of electrical power. Residential solar roofs are now considered fashionable, and they are also quite affordable. With a total of 71+ gigawatts of residential solar power, the United States has the capacity to run 13.5 million homes, and the residential solar sector is on track to double its capacity in less than five years.
Cost of Mobile Phone Plans in the United States
Many people buy phones, WiFi packs, and other electronic devices at bargain prices when they purchase a data plan from a carrier. Data plans for the big powerhouses are not cheap, though: monthly bills of US$150 or more are hardly unusual.
That said, you do have options (and thus leverage)! You can look at the subsidiary brands of these big firms. For example, T-Mobile's Metro runs US$50 per month for 100GB of storage on Google One and a nationwide retail presence. The AT&T subsidiary Cricket charges $60 per month for unlimited data. Another option for unlimited phone and text service and LTE data is Verizon's Visible, available in the under-$50 category.
PC Magazine notes that two smaller data providers may have all you need and are highly rated by their customers: Republic Wireless and Consumer Cellular.
US Cost of Eating Out or In
There are infinite offerings in the restaurant sphere, from world-class culinary icons to the classic greasy-spoon diners. Do not forget to factor in a tip: at least 18% is typically expected for decent service, and it is a key part of the staff's sustenance at restaurants with table service. Tipping is not expected at drive-in, fast-food and buffet spots.
Some wonderful news is how easy it is to find a hearty, healthful meal at a fast-food price:
Look for the Veggie Grill chain on the West Coast and beyond.
Try the Hip City Veg chain in and around the Philly area.
New Jersey has excellent restaurants featuring the culinary delights of every region of India.
Washington, DC has excellent Greek, Pan-Asian, Ethiopian, and West African cafes.
You will find plenty of Middle Eastern hummus and falafel spots in New York City.
In the small towns of Texas, Arizona, and California, the Mexican food is authentic. It can be quite unlike what people refer to as Mexican food elsewhere in the United States and the world.
Cooking at home? You can find internationally known grocery stores — Lidl, Aldi and Safeway are leading examples — with quality food at refreshingly affordable prices.
Living in the US: What's Free
People who come to the United States often find the easy-going generosity of restaurants refreshing. U.S. residents take it for granted that they will never need to dig for coins to get an extra condiment packet or a coffee refill.
Many major museums, such as the grand offerings along the Ellipse at the national capital, are free to visit and enjoy any time you are in the area. National Parks, with few exceptions, are always open to the public during daylight hours.
And speaking of free, one thing you will not see is a pay toilet. Back in the 1970s, invoking the women's liberation movement, Mayor Richard J. Daley announced the abolition of pay toilets from Chicago airports. Chicago followed up by becoming the first big U.S. city to entirely ban pay toilets. Free toilets are surely a benefit when it comes to the cost of living in the US!