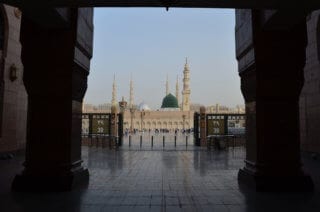 Saudi Arabia is a historic country with a rich, hospitable culture and unique landscapes. The country was not open to foreign tourists until 2019, making it an exciting new destination to explore. Not only does the country boast six UNESCO world heritage sites, but it is an affordable country to live in. Saudi Arabia has a lower cost of living than the majority of Western Europe, the United States, and Australia. The capital of the country, Riyadh, sees prices similar to St. Louis, Missouri in the U.S. or Adelaide, Australia. Other than rent, general consumer prices across the country do not vary widely. The following numbers, unless otherwise noted, were sourced from Numbeo. All prices in Saudi riyal have been converted to USD. These prices were up to date as of January 2023.
Is Saudi Arabia Expensive?
Most people will find Saudi Arabia to be an affordable country. It is cheaper to live in Riyadh than in the neighboring capitals of Doha, Qatar, Abu Dhabi, U.A.E. or Manama, Bahrain.
Similarly, travelers from the United States will find a very low cost of living in Saudi Arabia vs. the U.S. On average, consumer prices in the United States are 43% higher — when you add in rent prices, the United States has rates 88.5% higher than Saudi Arabia! These numbers are similar in Australia; while France is a bit more reasonable, their prices are still nearly double that of Saudi Arabia at 50.9% higher.
The Average Cost of Living in Saudi Arabia
Housing Costs in Saudi Arabia
While Saudi Arabia's cost of living does not vary greatly throughout the country, rent and utility prices are the exceptions.
The capital, Riyadh, has the most expensive rent for a one-bedroom apartment, with prices ranging from $693 to $848. Mecca is the cheapest city to rent a one-bedroom apartment, with prices ranging from $275 to $336. On average, in cities such as Al Khobar, Medina, Jubail or Ad Dammam, a one-bedroom apartment goes for $350 to $426. In these same cities, the price of rent for a one-bedroom drops to $274 to $335. Riyadh is where people can save the most money by moving out of the city center, with a one-bedroom dropping to $431 to $527.
If you are looking for a bigger apartment, the average three-bedroom will cost between $598 and $731. In the capital, where rent is more expensive, expect to pay between $866 and $1,059 for a three-bedroom. Outside the center of Riyadh, it is cheaper, with prices ranging from $659 to $805. The city of Medina is an outlier here: a three-bedroom apartment in the city center averages $1,397 to $1,708. However, this is only in the center. Outside of the center of Medina, the prices drop below the national average, with a three-bedroom apartment costing $371 to $454.
Don't forget utility bills when thinking about housing costs. Heating, electricity, water and other standard utilities average $92 to $113 throughout the country. However, Al Khobar and Medina both have more expensive utility averages. In Al Khobar, the prices range from $159 to $194; while in Medina prices range from $134 to $164. If you have a larger home, you should expect prices to go up accordingly. Additionally, home internet averages $66 to $80 per month. Again, Medina is the exception, where Internet averages $85 to $104.
Getting ready to make the move to Saudi Arabia? Don't forget to explore our moving abroad checklist!
Food and Entertainment Costs in Saudi Arabia
Going out for an inexpensive meal in an average town in Saudi Arabia will set you back $5.99 to $7.33. This is almost three times cheaper than the United States, where the average price is $15.30 to $18.70. If you are looking for higher-quality restaurants, a three-course meal for two is still affordable by most standards, coming in at under $50; the prices range from $40.73 to $49.79. With movie tickets ranging from $15.57 to $19.03, you can have a fancy date night for under $100! While alcohol is illegal in Saudi Arabia, many places sell non-alcohol beers, which average $1.44 to $1.76. If you enjoy sport and exercise, a fitness club averages $84 to $103 per month.
Although consumer prices have gone up, it is still generally cheaper to eat in, depending on the dish you are craving. The price of chicken has risen to $3.06 to $3.74 while red meat ranges from $5.15 to $6.29. Rice is about a dollar per pound, while potatoes are even cheaper, ranging from $0.50 to $0.60. Other typical kitchen staples include milk at $5.54 to $6.78, eggs from $2.24 to $2.74, a loaf of white bread at $0.69 to $0.85, and a pound of apples for $0.84 to $1.02.
Transportation Costs in Saudi Arabia
Given it's the largest producer of oil in the world, it isn't surprising that most people tend to drive in Saudi Arabia. A Volkswagen Golf or other similar car costs between $20,965 and $25,624; this is only slightly cheaper than the United States, where prices average $22,325 to $27,285. A gallon of gas on average costs between $2.09 and $2.55.
Taxis are a common way to get around for those who do not own cars. The start rate for most taxis is $2.39 to $2.93 and fees range from $2.31 to $2.83 for each additional mile.
Public transportation is available in Saudi Arabia. While it is a bit limited, there are numerous projects in the works to expand transit throughout the country. The Riyadh Metro is set to open later this year with billions of dollars invested in the project. Currently, there are intercity buses to travel through the country as well as some urban bus routes. A one-way ticket on an urban bus costs around one dollar. In the last year, the Saudi Public Transport Company (SAPTCO) has signed multiple contracts to expand its routes.
The Costs of Education in Saudi Arabia
Due to language and cultural barriers, most foreigners choose to send their children to private international schools. An international primary school costs between $5,785 and $7,070 per child per year. Preschool or daycare averages between $278.71 and $340.65 per month. While private schools are not cheap, they are far more affordable than in the United States, where a private international school costs nearly $10,000 more.

Compare multiple quotes and coverage options
Work with an insurance expert at no additional cost
Find the best plan for your needs and budget
Healthcare Costs in Saudi Arabia
Through the Ministry of Health, Saudi Arabia provides free healthcare for all citizens of the Kingdom as well as to pilgrims during Hajj. Expats in Saudi Arabia are expected to access healthcare through the private system. All foreigners working in Saudi Arabia must have health insurance. For employees in the private sector, this should be provided through their employers and cover dependent family members.
For tourists in Saudi Arabia, the visa cost includes full health insurance for one's trip. However, private insurance is still recommended as there are some limitations to the KSA tourist insurance. A popular activity for tourists, for example, is renting quad vehicles to ride through the desert. The Kingdom classifies this as an adventure sport and any accidents or injuries that happen will not be covered by the tourist insurance program. International Insurance offers comprehensive plans that ensure you are fully covered not only in Saudi Arabia but worldwide.
Saudi Arabia: Affordable Cost of Living in the Middle East
The cost of living in Saudi Arabia is cheaper than all neighboring nations. While prices are low, keep in mind the quality of living also ranks low on Mercer's Quality of Living Survey. While the similarly priced Adelaide is ranked 29th and St. Louis is 70th on the survey, Riyadh and Jeddah come in at 164 and 168 respectively. Foreigners may find the no alcohol laws and restrictions on women to be rather difficult and limiting. All tourists or expats should research government policies and customs before visiting to ensure they can enjoy their trip to the fullest without breaking any laws.
Related:
Best Expat Jobs in Saudi Arabia
Saudi Arabia Health, Safety, & Travel Insurance