How Much Does it Cost to Live in Paris as an Expat?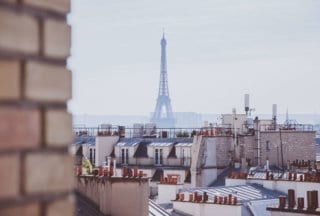 Paris is a spectacular city to visit, but how expensive is it to live there?
For those of you who are interested in trading your citizenship for the Parisian lifestyle, you've come to the right place. This guide will help you to understand the cost of living in Paris, France.
We've converted all prices below to U.S dollars. Salaries in Paris can range drastically. However, the average salary in Paris was $58,000/year.
1. Housing Costs for Expats in Paris
The average cost of housing is comparable to most major cities throughout the world.
Depending on where in the city you live and if you choose to share rent by having roommates will most likely dictate how much your rent will be.
Renting a 3-bedroom apartment: $4,000/month
Renting a 1-bedroom apartment: $1,600/month
Renting a furnished two-bedroom apartment: $3,400
Renting an unfurnished two-bedroom apartment: $2,900
2. Entertainment & Social Life in Paris
We all know how expensive going to bars, restaurants, and events can be, especially in a big city. Paris is no exception. Expect to pay a little more for specialty drinks and gourmet food, but you can definitely find a nightlife scene that fits your budget.
1 ticket to the movies: $27
1 cocktail in a downtown club: $14
1 beer at a neighborhood pub: $7.41
Basic dinner for two in a neighborhood pub: $57
Cappuccino: $4
Curious to see how these prices compare to other parts of the world? Learn about the cost of living in Saudi Arabia and Italy.
3. Medical & Healthcare Costs
Healthcare in France is drastically different than healthcare in most other parts of the world.
You qualify for healthcare coverage after 3 months of living in France. On top of this, doctors are not allowed to charge upfront for medical procedures. Instead, medical bills are paid directly by the government or insurance provider.
France's health insurance system also allows for a handful of free preventative medical examinations. The exact number of free examinations that you qualify for is determined on a case-by-case basis based on your age, gender, and risk factors.
Despite this, it's important to check for coverage gaps and ensure that you find health insurance that will cover you in the case of an emergency.
Here are a few additional medical expenses in Paris:
1 week of cold medicine: $6.50
1 box of antibiotics: $8.50
4. Transportation Costs in Paris
Getting around Paris is a breeze thanks to the city's amazing public transportation system. If buying a monthly train pass or paying for countless taxis doesn't sound like it falls within your budget, try biking around (or walking)!
A one-way ticket (local train): $2
Monthly train pass: $93
2-mile taxi ride: $12
Related: Come explore our list of the best international credit cards for expat life.
5. Groceries & Food Costs in Paris
Some things will cost more in Paris than you're most likely used to. However, items like beer and wine are much cheaper in comparison to many other parts of the world.
1 gallon of milk: $5
1 loaf of bread: $1
A dozen eggs: $3
1 lb of Chicken: $6.37
1 apple: $1.29
1 head of lettuce: $1
Cheese (1 lb of local cheese): $9
Bottle of Red Wine: $8
An imported Beer: $3
There are challenges when moving to France and living as an expat. However, living as an expat can lead to some of the most exciting times of your life.
Do your research about Paris before making the move to ease any anxiety and make sure that Paris is the right city for you. Understand how costs will vary in Paris compared to your current home to make sure that you can afford to make this move.
It'll help ease any uncertainty or anxiety you might have about the move if you do your research beforehand. Knowing how things might cost in comparison to what you're used to now will help you put things in perspective.
Related: Fun Facts and Interesting Things to Know About France