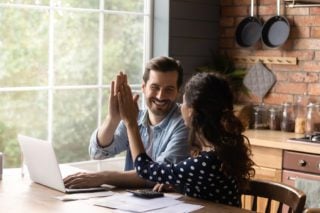 Budgeting for a move abroad is accessible and achievable. If you've been able to save up for a car or an international vacation, you can budget to move overseas. Here's how to plan your budget to move abroad, a checklist for your budget, and ways to make the most of your moving funds.
Five Ways To Plan Your Budget To Move Abroad
Moving to a different country can seem like a great idea financially. Work visas and digital nomad visas let you earn while you see more of the world. Immigrating permanently can open up a new life and career. And with a retiree visa, you may get a better cost of living in a dream destination. To make this happen, you need to invest in an international move, and that has costs. When you budget for a move abroad, you anticipate and save up towards those costs.
The travel community online often suggests from $5000 to $8000 USD per person as a starting budget to move overseas. To calculate the budget that's right for you, review these five areas of finance and lifestyle.
Research the Cost of Living
For most countries today, today, the Internet makes it easy to research the cost of living. Travel bloggers post about what they spend. Restaurant menus and grocery stores are online. Real estate sites can be searched in-depth for every type of place to live. And searching for "Is X location expensive?" brings you ample feedback and opinions.
See The Costs of Living Abroad for Expats and Global Nomads for an overview and location-based articles.
Your budget for a move overseas needs to be based on your destination. Many destinations combine modest costs of living with great culture, like Mexico, Thailand, and Hungary. Other locations are known for their high cost of living. Tokyo, Copenhagen, Paris, and New York are all iconic – and are some of the world's most expensive cities. You might consider other locations in the same countries to reduce your cost of living while having access to those cities.
Check if Your Visa Requires Proof of Funds or Proof of Income
Do you need savings or income for your visa? Some countries require that you have savings, either for a stay or for permanent immigration. This is often called proof of funds. For example, Canada requires that you have proof of funds for yourself and each member of your family.
Most digital nomad visas require either proof of funds or proof of income. Either of these ensures that, at your destination, you will support yourself and contribute to the local economy. Proof of income requirements range from about 2,200 USD per month in Hungary to over 7,500 USD per month in Iceland.
The values for proof of funds or income are a great guideline for understanding your destination's cost of living and planning your budget. Matching or exceeding these requirements will ensure you have a suitable budget.
Consider the Lifestyle You Want
What kind of lifestyle do you want in your destination? Some expats are happy to live a budget lifestyle while living overseas. Digital nomads or retirees often seek destinations with a low cost of living. Others want the lifestyle they have "at home," or they want to enjoy extras at their destination, like travel or living in a famous location.
A lifestyle expense that expats may not consider is the cost of trips home for visits while living long-term in another country. If you expect to travel home two or three times a year, include that in your budget. You may need to adjust your lifestyle overseas to make that possible.
Include Healthcare and Insurance Costs
Choose healthcare and insurance based on what you need at your destination. Digital nomads and those traveling on work visas usually need to provide proof that they have health insurance.
Requirements aside, insurance reduces the stress of an international move. Quality health insurance keeps medical problems from spoiling your time abroad. Travel insurance gives you additional support around thefts and emergencies. A good insurance provider can help you find coverage in your budget.

Compare multiple quotes and coverage options
Work with an insurance expert at no additional cost
Find the best plan for your needs and budget
Plan For an Emergency Fund
Emergency funds help cover unexpected events. To budget for your emergency fund, ask yourself: what would an emergency be for you? If you chose a high-deductible insurance plan, cover some costs for medical care or theft. If your family back is important to you, keep savings reserved to buy a plane ticket home at any time.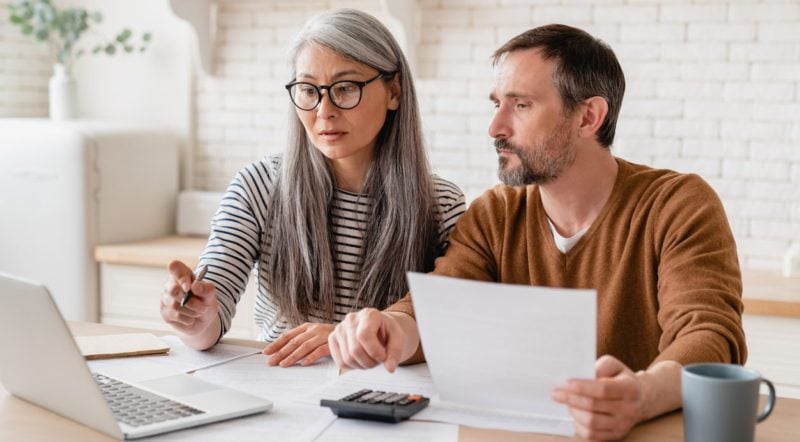 A Checklist to Budget for a Move Abroad
Use this checklist to plan your budget for a move abroad. Saving up for these items should fund your first two to three months in a new country.
International Move Expenses
Visa and application fees and medical exams
Airline flights or other transportation
Shipping for your belongings
Living Abroad Expenses
Healthcare and insurance
Rent for four months (to cover deposits and advance payments)
Living expenses for three months, including:

Internet access and other utilities
Food
Local transport
Entertainment
Student loan or other payments
Emergency or unexpected expenses

Extra Costs To Consider When Budgeting To Move Overseas
Many of the costs of a move abroad are standard, such as visa fees and airline tickets. You can make choices around several areas that can be costly, bringing your belongings and bringing your pets.
Moving Your Stuff
The more belongings you have, and the heavier your belongings are, the more expensive it is to move them internationally. You may want to move "everything" to avoid buying items like appliances or furniture again. Yet homes in other countries often have different sizes and electrical outlets: your items might not work or might not fit. What's more, you may need to pay customs duty if you are bringing personal belongings over a certain value, especially vehicles. If you are moving overseas permanently, take it as a chance to really clear out.
Also Read: Planning Your Move Abroad: Store, Ship or Trash It
Moving Your Pets
Moving pets internationally can have hidden expenses. It can take up to six months for a pet to be medically cleared to move internationally, requiring multiple vet visits. Some destinations also require that pets are quarantined at the owner's cost. As an example, to bring a dog or cat to Australia, you must pay for both quarantine and a pet import fee. If bringing your pets is very important, look to destinations where it is easier to import pets.
Defraying Your Costs
If you are fortunate enough to get a job in another country, your employer may cover many of your international moving costs. Even if they do, you will have your own costs around your belongings and life in your home country, such as long-term storage. You will probably want a budget for the items you enjoy and that make you comfortable, too, separate from what your employer pays around your move.
Finally, know that exchange rates can change abruptly. The change may reduce how much money you have to spend in your destination country. Some additional funds will help you cover exchange rate fluctuations.
A Budget for a Move Abroad Is the Beginning
There's more to financial preparation than your budget to move overseas. Your next steps may include one or more of these financial steps.
Check in with your financial institutions, including banks, student loan holders, and retirement funds.
Research what is needed to set up new bank accounts at your destination and transfer money. Money transfer methods and applications are changing all the time.
If you are working in your destination or living off retirement funds, you'll benefit from advice from a tax advisor.
If you can plan to move at the end of your country's financial year, do so. When it's time to file your taxes, it will be easier for one year at least.
Budgeting for a move abroad helps you visualize what life in your destination will be like for you. You'll uncover new possibilities and interesting things you hadn't expected. And learning about what you'll enjoy will inspire you to save the money you need.
Also Read: