Best Places for Expats to Live in France
Have you ever wondered about moving to France as an expat? Do you peruse travel brochures and dream about waking up in the French countryside?  The best place to live in France will depend on what boxes you're looking to check! But no matter what you're looking for, one of these French cities is sure to be a great option. 
If you're considering moving to France to live as an expat, read on for our guide to the best French cities for expats. We've put together this guide to help you determine which city in France would suit you best. 
Living in France is certainly an exciting opportunity for expats. When you think of France, you probably imagine the France of your dreams. Those dreams may be of a country rich in culture and history, great food and wine, beautiful mountains and beaches, vibrant multicultural cities, or small quaint towns and villages. Of course, you are right about it all! France has all of that and much more. 
There are many things to consider before moving to France. Use this list to help narrow down the list of the best cities in France.
How We Determine the Best French Cities for Expats
In order to determine which city in France would be the best fit for you, you have to know what you're looking for! To rank our best cities in France, we did some research for you. We found the places that are most frequently called the best cities in France to live. 
From there, we identified which cities in France were especially good places for expats. There were many, but the same places figured over and over again, with occasional exceptions. We cross-referenced this against the latest report from the "Villes et Villages association," which publishes a ranking of all of the municipalities in metropolitan France. 
This year they analyzed 34,827 municipalities using 187 criteria, divided into nine categories: 
Quality of life

Safety

Health

Shops and services

Transportation services 

Education

Sports and leisure

Solidarity

Real estate attractiveness
We finally narrowed it down to five cities, each of which represents a certain facet of French life. From the big city to France's wine capital and food mecca, our list of the best cities in France for expats came out as follows: 
Paris,

Lyon

Bordeaux

Toulouse

Nice
Keep reading for our guide to the five cities that are the best places to live in France for expatriates.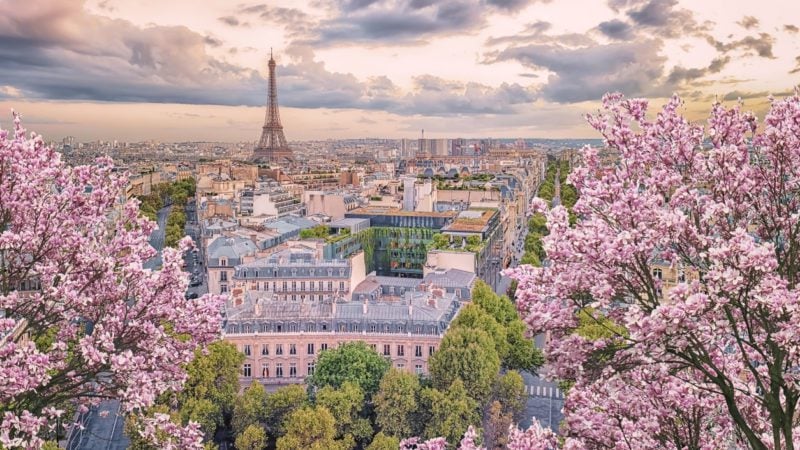 Paris: Big City Living for Expats
Let's start with the capital of France itself, Paris, the biggest city in France and home to 2,161 million inhabitants.
Paris is known as the City of Light and is a global center of fashion, business, culture, and the arts. It is also a very romantic city and a popular destination for couples of all ages. Certainly, if you love large metropolitan areas, Paris is the place to be in France. It's full of all the excitement of world-class cities, such as London or Madrid, but has a special charm that only France can offer.
There's no need to drive in the City of Lights. And to be honest, you might not want to, as the city's rush-hour traffic is a well-known source of frustration. Paris is a city that is easy to walk around, especially the city center. But it also has an excellent public transport system, including an underground rail system (le Métro), a suburban express railway (the RER), a regional train network (Transilien), four tramway lines and an extensive bus network. If you want to leave Paris (sacre bleu!), the city has two international airports and six train stations offering transportation to anywhere in Europe and beyond. 
Paris is not as tropical as cities on the Mediterranean coast, so you can experience the full four seasons. You can shop for the changing seasons' fashions in the great shops that cluster around the heart of Paris, the Arc de Triomphe. Or pick out something in one of the many markets or little boutiques that fill Paris's quainter areas (quartiers).
If you are moving to France for work, there is a strong likelihood you will find yourself based in Paris. Although the world knows Paris for its arts and culture, don't forget that it's also a major European business hub. 
Cost of Living in Paris 
There's only one real downside to living in the capital: the cost of living in Paris is the highest in the country. As a broad guide, you could expect to pay the largest percentage of your income on rent and food, at roughly 44% and 26% respectively, followed by transport costs and utilities. Of course, this also depends on your own lifestyle and how you like to live.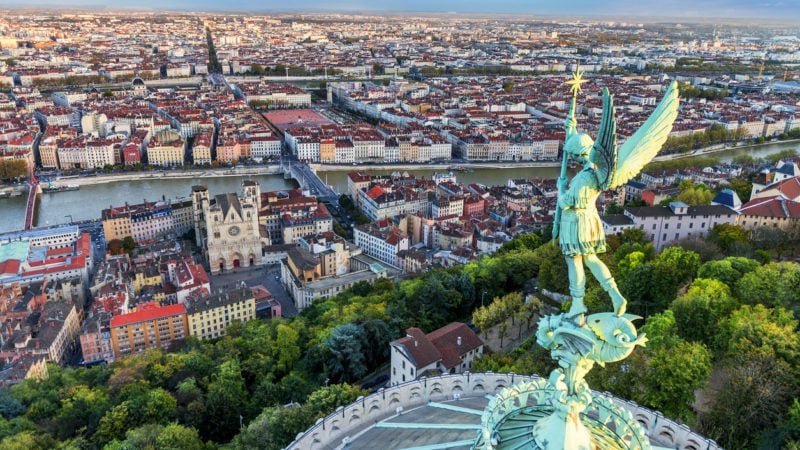 Lyon: The Food Capital of France
Lyon is the third-largest city in France but still manages to feel like a small town while retaining all of the advantages of a big city. It lies right in the very middle of France, in the heart of the Rhone valley. Lyon is home to 522,969 inhabitants, spread over a city area of 47.87 km2 (18.48 sq mi). It is also relatively close to the French Alps and only four hours' drive from the Mediterranean coast. 
Ask any French person, and they will tell you that Lyon is the food capital of France, and some say the world. The city boasts a staggering 2,000+ Michelin-starred restaurants! 
Foodies can wander the picturesque area where the Saone and Rhone rivers converge, which has an excellent shopping center, a rock-climbing center, and stylish rooftop bars.
Lyon's rich history dates back to 43 BC, and it is a UNESCO World Heritage Site. It became famous for its silk industry in the 1400s, and specialty silk weavers can still be found here today.
Cinema was invented in Lyon! It's also known for live theater and its many puppet theaters. Its museums are full of exciting exhibits, and the city walls are full of internationally renowned street art. For sports fans, Lyon's most well-known professional team is football's Olympique Lyon, and the city also has nationally known basketball and rugby teams.
Today, the vitality and variety of Lyon's ecosystem put the city at the forefront of numerous fields such as industry, health, environmental technologies, and digital technologies. Many people still overlook this city in favor of big-sister Paris. Lyon has been ranked #1 in France for work-life balance. Lyon is also known for being a business-friendly city. 
Cost of Living in Lyon 
Lyon is a popular French city for expats and locals alike because it's known to be about 20% cheaper than Paris. Although Lyon comes with a less expensive cost of living when compared to Paris, it is still the 2nd most expensive city in France. But if you're seeking a French city similar to Paris but without the hefty price tag, Lyon is a wonderful option.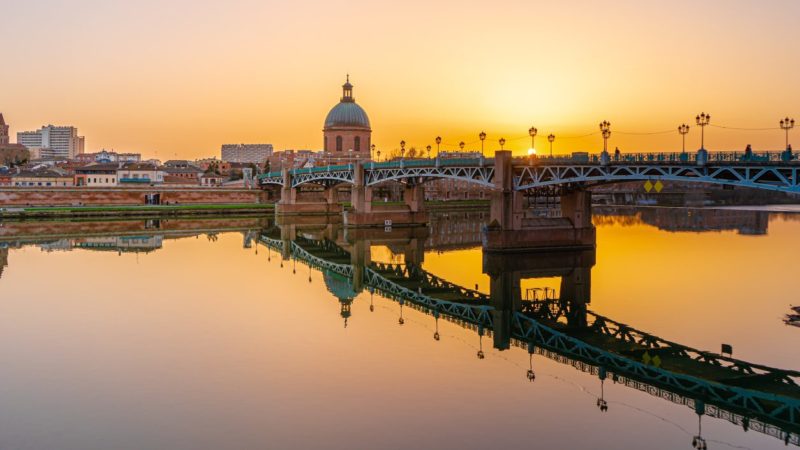 Toulouse: Technology and Culture
With 1.4 million people in the greater metropolitan area, Toulouse is the fourth largest city in France. The city covers an area of 118.3 kmsup>2 (45.7 sq mi). It's a great place for young active families, which is one of the many reasons it's on our list of the five best places to live in France. 
Toulouse is a cultural melting pot with many expats and international students. The French love Toulouse and have frequently voted it the most attractive place to live in France. It's nicknamed the Pink City (La Ville Rose) because of the pinkish-red bricks used to construct the city's buildings, which glow a beautiful rosy pink each evening as the sun sets.
Toulouse has a Mediterranean climate, making it easy to enjoy the outdoors all year round. The city is full of beautiful waterways, including the Canal du Midi, a favorite for cruises. Toulouse also has plenty of stunning walks and fabulous scenery. The city is also close to the Pyrenees, a world-class destination for hiking and skiing.
This beautiful locale also hosts thriving industries that attract engineers from around the world. Toulouse is Europe's leading space center, with both The Centre National D'Etudes Spatiales and Cité de l'Espace. The city is also known as the "Capital of Aeronautics" and is the Airbus headquarters location. Toulouse is France's answer to Silicon Valley, and the city is considered a hub for startups in the tech field. Tying back into its outer-space focus, it even has the first startup incubator dedicated solely to the moon. The city sponsors an annual "Start-up Weekend" to encourage collaboration among entrepreneurs.
Toulouse is a city of education, research, students, and scientists. It has four universities, including the second oldest university in France, and has been rated students' favorite place to attend university in a national survey. Toulouse also has some of the best primary and secondary schools in France. Its state schools are exceptional, and many long-term expats opt to send their children to local schools. It is also home to the International School of Toulouse. The International School was established primarily for Airbus expat professionals' children, and Airbus includes tuition fees for the school in some employees' benefits packages.
Cost of Living in Toulouse
Toulouse is considered a great option for students and expats looking for culture and affordability. The housing market and transportation costs are relatively affordable in this French Mediterranean city. 
Young people can find Toulouse to be particularly affordable because the city provides transportation services and more at reduced prices for students and people under 26 years of age.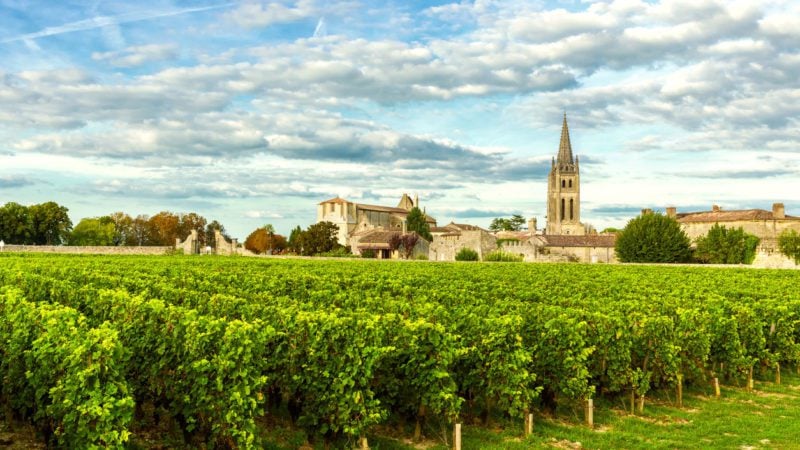 Bordeaux: A Wine Lover's Dream
Bordeaux is the wine capital of France, but there is much more to it than complex reds and crisp whites. It offers a high quality of life, comfortable weather, and a lower cost of living than the major cities of Paris or Lyon. Situated in the Nouvelle-Aquitaine region, Bordeaux is home to 980,000 inhabitants and covers an area of 49.36 kmsup>2 (19.06 sq mi). The high-speed rail system puts it only two hours away from Paris, but you don't have to leave Bordeaux to have a big city experience.
Wine is a top industry in the city and a top indulgence. In the Bordeaux region, 10,000 estates produce wine across 287,000 acres of vineyards. 56% of the estates are family-owned businesses. All of this adds up to a staggering 960 million bottles of wine every year. Two-thirds of the wine is sold by the 300 negociants (wine merchants) on the Place de Bordeaux, who sell to over 170 countries! Not surprisingly, the wine industry is the number one employer in the region, supplying over 55,000 direct and indirect jobs. So, if you are a wine fan, you might consider setting up your expat home in Bordeaux. 
But Bordeaux has other industries besides wine. It's a hub for lasers and optics with one of the only two megajoule lasers in the world. It's also one of the hubs of the aviation industry. The culture, lifestyle, and newfound business friendliness of Bordeaux have also created a startup scene, with several notable video game studios and the French e-commerce website Cdiscount. 
Bordeaux is home to the national opera house and ballet, and it also offers incredible designer shopping. The city's ambiance is friendly and lively, with a strong undertone of elegance. It offers lots of museums, cultural events, and plenty of other things to do. 
The city is ancient – the first settlement was by the Celts in the 3rd century BC. But it's known for the grand boulevards and 17th- and 18th-century buildings that inspired Haussman's redesign of Paris in the 1800s. 
For the past two decades, Bordeaux has undergone extensive revitalization. Pedestrianized streets and improved transit make it easy to enjoy the city car-free. The banks of the Garonne, once a no-go zone, now host joggers, parents with strollers, performances and markets. It's no surprise that Bordeaux was named Europe's best destination in 2015, Lonely Planet's Top City to Visit in 2017, and is now the most desirable place to live in France.
Cost of Living in Bordeaux
Bordeaux not only touts some of the best wine in the country but it's also considered one of the cheapest French cities and one of the most affordable Western European cities. The city is often compared to Paris because of its architecture, gastronomy, and cultural charm. But Bordeaux's cost of living is much more affordable than that of Paris. 
The city is suited for bike commuters and provides low-cost public transport as well. Bordeaux has a well-maintained public transport system made up of trams and buses to connect its commuters.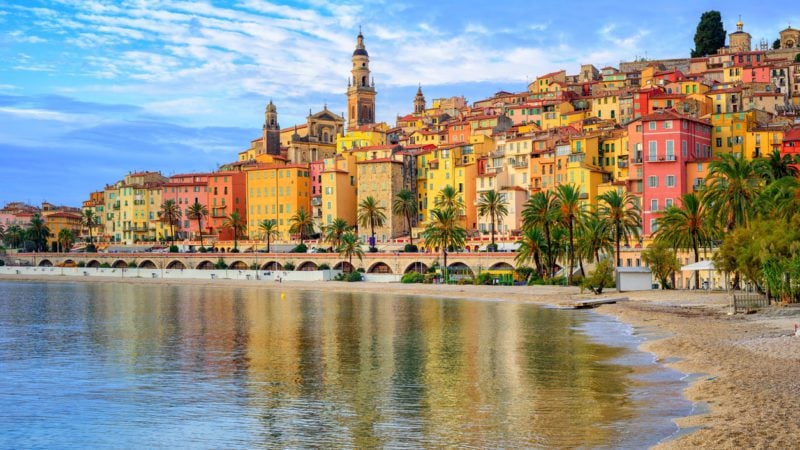 Nice: French Mediterranean for Expats
Many expats consider the best place to live in France to be on the beautiful Mediterranean sea. If you dream of the French Mediterranean and the luxury of the Côte d'Azur, then Nice may well be your favorite of the five biggest French cities. Just a few miles from the Italian border, Nice is a beautiful mix of both French and Italian culture. 
This wonderful city is the capital of the stunning French Riviera. Its colorful buildings and upscale beachy ambiance will make you feel as relaxed as if you were on a long holiday. 
Nice's location is also unbeatable. The city is set along a ribbon of golden coastline, between traditional fishing villages and stunning resorts, earning this city its place on our list of the best places in France.
This seaside city attracts not only retired expats looking to soak up the sun but also younger internationals who want to work against a backdrop of sparkling sea and azure skies. In fact, Nice hides a bit of a business and employment secret. Just 26 kilometers from Nice lies the 2,300-hectare technology park of Sophia Antipolis. 
Today, this tech hub, overlooking the Mediterranean, employs over 30,000 people and is home to 1,414 companies. 40% of those companies are involved in R&D, mostly in information technology. But technology isn't the only industry in Nice. It's a top vacation destination, and expats can also find jobs in the tourist industry.
If you like arts and culture, the city hosts museums of every stripe. The Paleontological Museum houses exhibits that are up to 400,000 years old, while the Musée Marc Chagall has the largest public collection of the artist's works in the world. 
Take a walk along the famous Promenade des Anglais, a flat, pleasant, paved walkway beside the beach – it's great for both sea-gazing and people-watching. Just remember that if you want to swim, come prepared, with swimming shoes and something soft to sit on, because the beaches of Nice are covered with pebbles, not sand! The months between June and October are particularly suitable for swimming, with consistently warm water temperatures.
However, we are sure that the beach will be the only rocky welcome you get in Nice! This cosmopolitan and welcoming city has opened its arms to visitors and expats alike for many years.
Cost of Living in Nice
The cost of living in Nice is typically more affordable than in Paris but can vary widely because of its proximity to the sea. A beachfront property will come at a higher cost than something further away from the coastline. 
Nice is a resort city so there are many more expensive "tourist" shops around the city. But for expats living in Nice, there are local grocery stores and affordable alternatives to those targeting tourists. Similar to other French cities, Nice has a very well-connected public transport system which makes for easy travel between coastal cities in France. 
Which City in France is Best For You?
Opinions will differ on which is the best place to live in France. Think about what is most important to you before taking the leap! The important thing to remember is that France has something to offer everyone. Do your research before you move, and ask yourself, "What sort of life do I want to live while I am in France?" If you have the time, visit the places in France that catch your eye and spend a few weeks there before making any permanent moving arrangements.
Health Insurance for Expats in France 
It's an exciting time! France is full of culture, amazing gastronomy, and new adventures. Make sure that you're ready for anything by selecting a global medical insurance plan before you start your new adventure. Expat insurance covers any unexpected medical needs while living abroad. Use our handy comparison tool to compare medical insurance plans. 

Compare multiple quotes and coverage options
Work with an insurance expert at no additional cost
Find the best plan for your needs and budget
Also Read: