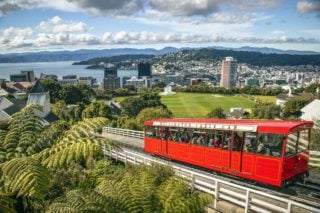 For many expats, moving to New Zealand is the ultimate dream. But first, you have to find the best place to live in New Zealand for your particular needs and interests. Thousands of migrants and expatriates successfully move to New Zealand every year. Some come for a working holiday of up to two years while others end up living here after an amazing vacation with the Kiwis. If you're curious about the New Zealand city you could call home, keep reading for some of our favorite places in New Zealand for expats.
This guide will help you learn more about the many different places in New Zealand and what they can offer you if you choose to call them home. Deciding where you want to end up in New Zealand can help you plan for a successful stay. It may even help your immigration visa application succeed. Read on to learn about the best places in New Zealand for expats.
Auckland: The Largest City in New Zealand

Expatriates love Auckland. Auckland is New Zealand's biggest city, with 1.5 million people spread out over an area the size of Los Angeles. It's New Zealand's most diverse city and is considered the largest Polynesian city in the world. Auckland does come with a higher big-city cost of living, but it also has the most jobs in the widest range of industries. Auckland can have three times as many jobs available as Wellington, and five times as many as Christchurch.
Inspired by Auckland's warm, temperate climate, and its gorgeous scenery and beaches, Aucklanders love the outdoors. On the weekends, Aucklanders may visit their beaches or head out on day trips for surfing, sailing, and hiking. Not in the mood for the beach?
Auckland's neighborhoods have all the shopping, dining, fitness and entertainment you could want. International artists and shows play in central Auckland's theaters and a large stadium. You'll also find meetups and events for every expatriate group.
Auckland does have a high cost of living, with expensive rents and real estate. Many expatriates find this is balanced out by finding good jobs quickly. Public transport in Auckland is good and improving constantly. And if you like downtown living, central Auckland apartments are surprisingly affordable. Just read the fine print to check fees for body corporates or quake strengthening.
Considerations for Living Outside Big City Auckland 
While Auckland is a wonderful option for expats moving to New Zealand, to spread the benefits of expats and migrants evenly, New Zealand immigration visas reward those who can work outside of Auckland. If you have a job offer outside Auckland, it can be easier to meet your visa requirements. But Auckland is a large metropolitan area and is a desired destination for many expats!
Also Read: Immigrating to New Zealand as an Expat
Wellington: New Zealand's Cool Capital

Windswept Wellington is a mid-sized city perched on the hills around Wellington Harbor, at the south end of the North Island. Its hillside homes and stunning views remind many visitors of San Francisco. But Wellington's cost of living is much more moderate compared to other New Zealand cities like Auckland. Its creative scene is famous thanks to the success of Wētā FX's film empire, founded by Peter Jackson. And the Wellington job market welcomes expatriates. All these things make Wellington a favorite for expats and migrants.
Wellington is New Zealand's capital. As a result, nearly 20% of Wellington's jobs are with government branches and agencies. Many of these agencies accept job applications from qualified migrants and will help sponsor a work-related visa.
Downtown Wellington is lively with bookstores and record stores, sophisticated bars and dining, and New Zealand design boutiques. After 2020, Wellington's many suburbs have had their retail revival, with new cafes and gourmet shops for the work-from-home crowd. The city's active film and theater scene has many links toWētā FX, still based in Wellington's Miramar suburb.
Christchurch: The Center of the South Island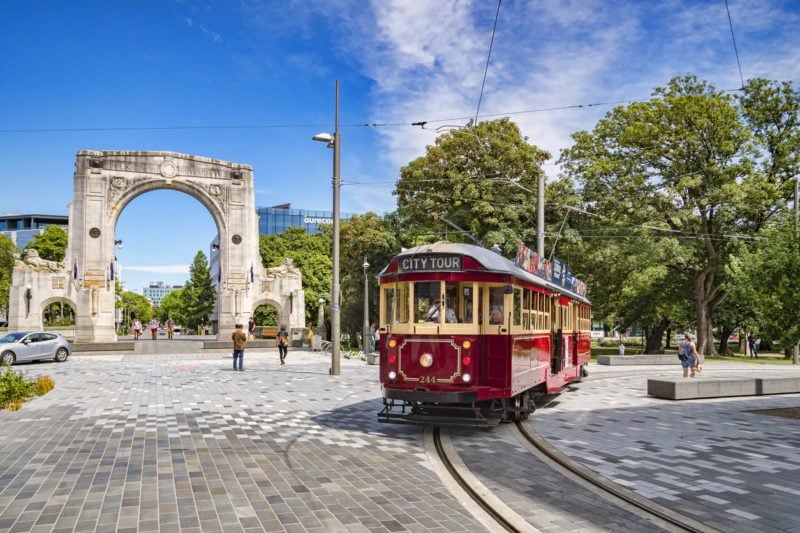 Christchurch is the largest city on the South Island of New Zealand. It is centered around spacious, tree-filled Hagley Park and the Avon River. It has always been popular with expatriates, especially those from the United Kingdom, Europe, and Japan who find that Christchurch offers a lower cost of living than that of London or Tokyo. Expatriates find work here in software, medicine, and hospitality.
After severe earthquakes in 2011, Christchurch is rebuilt and better than ever. Both expats and families in New Zealand choose Christchurch for its well-priced and well-built housing. Many people cycle to work or school, helped by Christchurch's 60km of cycleways.
Christchurch draws its share of international performers. Its alternative music scene, including the World Buskers Festival, is going strong. And Christchurch cuisine makes the most of New Zealand flavors, especially beef, lamb, and fruit from nearby Otago. Living in Christchurch also makes all the activities of the South Island accessible. These include skiing, hiking, and visiting vineyards and craft brewers.
Hamilton: Starting the Future
An hour south of Auckland, the inland town of Hamilton used to be a quiet regional center. Workers and families from the countryside came to Hamilton for services. Its main attraction was and is Hamilton Gardens, a world-famous park that makes the most of Hamilton's warm, mild climate. In the nineties, Hamilton chose the motto, "The City of the Future." In response, amused locals nicknamed the city "Hamiltron," shortened to "The Tron."
Today, the ambitious motto is coming true. Hamilton is on the rise, and more expats are moving there. They have good reasons. Houses and rents in Hamilton are 20% to 25% less costly than in Auckland. Businesses are choosing to locate in Hamilton and its region, the Waikato, because their workers want to be there.
New rail services connect Hamilton and Auckland. Hamilton is also only an hour and a half from Auckland International Airport. If you want to stay connected to the world while living affordably in New Zealand, give "the Tron" a chance.
New Plymouth: Affordable Kiwi Charm

New Plymouth may be one of the best places to live in New Zealand for families seeking a calmer daily routine as it's a smaller and quieter New Zealand city. It is the main city in the Taranaki region, on the North Island's west coast. Expats often get jobs here in teaching, oil and gas engineering, or food technology. Those who move to New Plymouth are rewarded with a beautiful area and an affordable lifestyle. Housing is well priced, though rentals may be a little hard to find.
The region has a strong local music and comedy scene and many outdoor events and festivals. Families love the beautiful parks and playgrounds and the easy beach access. New Plymouth's beaches shelter many great surfing spots, with surf schools to get you started. To experience classic New Zealand life, try New Plymouth!
Family Living in New Zealand's Smaller Regional Centers 

New Zealand's smaller regional centers may be the best places to live in New Zealand for families. You may be tempted by a job offer there, particularly in teaching or medicine. People who enjoy these areas love the outdoors. They may have a background in farming or primary industries. Families also do well in New Zealand's regions. Having children in local schools and activities helps everyone make friends and enjoy New Zealand culture.
Be aware that New Zealand's regional towns don't have international airports. Flying from the regions to Auckland or Christchurch can be costly: driving may take 3 to 6 hours. Visit these places so you can see if they are a match for you.
Dunedin: The Edinburgh of the South
Families and professionals often find New Zealand's South Island town of Dunedin rewarding. Dunedin perches on hills around a clear blue harbor, enjoying four clear seasons. The Dunedin University of Otago brings events, opportunities and lively students from around New Zealand. Dunedin's Edwardian villas and reasonable cost of living draw New Zealanders and migrants alike.
Budget-Friendly Living in New Zealand 
For expats on a budget, the best place in New Zealand will come with affordable living. More havens for a reasonable cost of living in New Zealand are in the North Island: the towns of Taupō and Rotorua and the region called Northland. These areas are great for early retiree expats who want to live affordably and host family and friends. Taupō and Rotorua are well known to visitors. In the early 2020s, both towns had a building boom with new housing.
Northland, called "the winterless North," is the warmest part of New Zealand. It has rolling farms, sand dune beaches, forestry land and national parks. Its climate delights those who want to work in a garden and those who want to relax. Whangārei is a popular city in the Northland and is often referred to as the city with 100 beaches. The city is full of history and is home to the largest native forest in the Northland, Waipoua Forest.
Luxury New Zealand Living
For affluent expats, three regions offer some of the most upscale experiences in New Zealand, with real estate prices to match. The Hawke's Bay region of the North Island is a vineyard district that offers elevated dining and cultural events. Napier and Hastings are its main towns. In the heart of the South Island, Queenstown's dramatic lake setting makes it a global destination. Recent developments and quality facilities for visitors give it a North American feel. At the top of the South Island, Nelson's golden sand beaches and small, pretty towns draw expatriates who love coastal living at its finest. The Nelson area is also just a few hours to Wellington via interisland ferry.
Choose the Best Place To Live in New Zealand for You
To find the best place to live in New Zealand, go for a visit! We recommend renting for your first three to six months so you can be confident that where you're starting your new life in New Zealand is right for you.

Compare multiple quotes and coverage options
Work with an insurance expert at no additional cost
Find the best plan for your needs and budget
Related: