Best Places to Live in the USA for Foreigners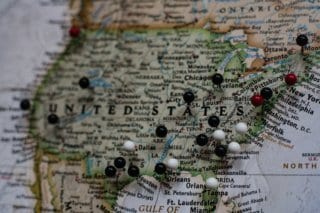 The classic 'coming to America' story goes something like this if you are a fan of movies. Bewildered newcomers land in the big city – usually New York City, Los Angeles, or Las Vegas. They encounter a slew of humorous challenges and social faux pas. After struggling with their surroundings, they suddenly and unexpectedly realize that they are exactly where they want to be after all. It is a fun, if somewhat predictable formula. But what the movies never show are the real-world needs and wants of expats in the United States. There are not many movies that focus on access to healthcare, high school test scores, or average house prices. However, these are very real concerns for many new residents, along with crime rates, quality of living, and access to arts, culture, and sporting events. Here are some criteria to consider assessing the best places to live in the USA, as well as 10 cities that get high marks from new residents.
Criteria to Consider
Determining the best cities to live in the USA for foreigners is not always so straightforward. Some cities, such as San Francisco, boast large salaries, a strong economy, and a vibrant arts scene. However, the average house price is 1.3 million dollars. Even a one-bedroom rental apartment costs $3,700. New residents are welcome – but it may be near impossible to find a place to live, let alone afford it.
Other locations, such as Dayton, Ohio, boast an affordable average house price that is well under $200,000. However, it also has been extremely hard hit by the opioid drug crises in the United States, only recently starting to recover. Finding an ideal new city is a balance of many factors, including economics, social, cultural, and environmental considerations. The biggest or cheapest cities are not always the best choices.
Top US Cities for Global Citizens
Austin, Texas
Santa Barbara, California
Colorado Springs, Colorado
Fayetteville, Arkansas
Lancaster, Pennsylvania
Portland, Oregon
Huntsville, Alabama
Grand Rapids, Michigan
Sarasota, Florida
Rochester, New York
Austin, Texas
Known as the Live Music Capital of the World, Austin was ranked the top choice for the best places to live in the United States by Business Insider. The city has a strong emphasis on arts, culture, outdoor spaces, and venture capital investments. Austin residents also benefit from no personal or corporate income tax, and a low state and local tax rate. For newcomers, this combination means lots of affordable public events such as festivals, concerts, pop up galleries, as well as a wide variety of classes for children.
Santa Barbara, California
With an average commute to work at less than 20 minutes, residents of Santa Barbara have the shortest commute of any major American city. The city also ranks exceptionally well for overall personal well being, low levels of crime, and healthcare, an excellent combination to make new residents feel at home. The city is also well known for its beautiful architecture, including Mediterranean-style stucco buildings with red tile roofs, reflecting the city's Spanish colonial heritage. However, the rental market is tough – there is a lower than average vacancy rate here.
Colorado Springs, Colorado
While it is just an hour away from Denver, Colorado Springs still has a friendly, small-town feel to it. The city boasts high-quality schools, public parks, and access to sports. It also offers jobs in the military sector, medical research, and high tech. There is also plenty of new construction creating new homes. New residents will appreciate the family-friendly feel of Colorado Springs, the close proximity to Denver airport for international flights, and a milder-than-expected climate.
Fayetteville, Arkansas
Fayetteville is home to seven Fortune 500 companies, as well as the University of Arkansas' main campus, and thus has a strong economy and job sector. Average home prices sit well under $200,000. As well, Fayetteville has a strong all-around ranking for healthcare, crime levels, and daily commutes. The city is well known for volunteer organizations and nonprofits, perfect for newcomers looking to make new friends and connections.
Lancaster, Pennsylvania
With the average home price coming in at under $200,000, life in Lancaster is affordable. It is also healthy. The city ranks first in terms of access to quality healthcare and also enjoys low levels of crime and lower than average workplace commutes. While it might be less well known than many larger cities, Lancaster has a lot to offer newcomers. It has a mix of farms and suburbs, a variety of churches, and local's favorite, the Mars Chocolate factory.
Portland, Oregon
Portland's motto is "Keep Portland Weird", and this unconventional approach works well for new residents. A huge array of interests, hobbies, lifestyles, and freelance enterprise thrive here. Ocean, mountains, and vineyards are all nearby, as are basketball, soccer, and junior hockey teams. Major organizations like Intel and Nike call Portland home, as do academics. A higher than average proportion of people hold post-secondary degrees.
Huntsville, Alabama
As the fastest growing city in Alabama, Huntsville is famous worldwide as being a hub for NASA. However, there is a lot more happening here than just astronauts and space training. Craft breweries are huge in Huntsville. Artists' shops and studios, and new houses, apartments, and shops are constantly springing up. Newcomers will appreciate Huntsville's low cost of living, higher than normal average annual salaries (an estimated $53,600) and small size (less than half a million people).
Grand Rapids, Michigan
This mid-size city of about 1 million people has a decidedly young, college-feel to it. Case in point? Grand Rapids calls itself Beer City USA in honor of their 80 plus breweries. It also has high all-around rankings for access to healthcare and for quality of life and personal well being. The strong LGBTQ community is well known for its annual Pride event. Education and healthcare industries are major employers here, with job opportunities for newcomers with advanced degrees as well as those without.
Sarasota, Florida
Sarasota's warm climate is a major attraction for newcomers and locals alike. But sunshine and sand are not Sarasota's only charms. The city has a thriving arts and culture scene. It also has a strong employment sector which includes education, trade, and transportation, and, naturally, tourism and leisure. Plus, Tampa and Orlando are both nearby, adding to the available activities and attractions. However, traffic congestion is a common complaint as the city struggles to expand its infrastructure to keep pace with its increasing population.
Rochester, New York
Rochester, New York, residents enjoy a short commute time as well as respectable rankings in terms of crime levels and healthcare. The city is known for its beautiful historic buildings, low rent costs (less than $1,000 a month on average), and average house prices that are under $150,000. Rochester residents pride themselves on being one of the friendliest communities in New York and welcoming to new residents.
Related: