Top 5 Places to Live in Dubai
Dubai is undoubtedly one of the most sought-after locations for expats to live. A once dessert, Dubai is now one of the most luxurious and alluring places, offering attractive remuneration packages to top talents in architecture, media, and finance, among other vocations. With hot weather all year long, the second biggest shopping mall with its own ice-skating rink, and what people like the most: no income tax!
Moving to Dubai can be an exciting experience, however, choosing the best place to live in Dubai and what to look for is not an easy task. In today's article, we will explore the most popular expat areas in Dubai, share the approximate apartment (or villa) prices and talk about Dubai and its rental market in general.
What You Need to Know About Dubai
Dubai is one of the six of the United Arab Emirates. The UAE took the third spot in the Numbeo Safety Index 2020 Mid-Year, making the whole country a safe place to travel and relocate to, especially for families.
Dubai is also the most tolerant of all Emirates toward a Western style of life, where expats can buy alcohol (in restaurants or bars only) and are allowed to dine in restaurants before sunlight during Ramadan.
When it comes to renting a place, in Dubai, prices are quoted yearly, and advance payment is required for one year upfront, and sometimes every quarter. There might be a possibility to negotiate payment options with your landlord, but payments are expected as stated above as a general rule. There might also be agent fees included if you chose to use their service.
Dubai is infamous for its terrible morning and evening traffic jams. The traffic jams are usually from Sharjah headed into Dubai and reversed in the evenings. This is due to cheaper rent in the Sharjah Emirate. Therefore, before choosing your Dubai residence, check where you will be working, where your kids may go to school, and really make it a deciding factor in your choice as the traffic jams can ruin one's good mood easily.
What are the Best Places to Live in Dubai for Expats?
There are many expat neighborhoods that you can choose from to live in Dubai. The below list presents the five best places to live in Dubai for expats.
Deira
Deira neighborhood, also often referred to as Downtown Dubai, is an area considered as Dubai's City Center. It is a continuation of the Old City, but more modern. Traditionally, Deira has been the commercial center of Dubai, but it's been losing its status to other, newly built finance and business centers in the city, such as Business Bay. Deira is also located nearby Dubai's International Airport and to Sharjah, another Emirate. Besides that, Deira has plenty of shopping and dining options, with excellent metro connection to other major parts of Dubai, and what's important to some, the rental prices are quite affordable, for Dubai, that is.
Average rental prices:
25,000 AED a year for a studio apartment
60,000 AED a year 2 bedroom apartment
Dubai Marina
Dubai Marina, one of the best places to live in Dubai, is a seafront place, with many restaurants, bars, and clubs to choose from. It is a combination of a commercial and residential area with high-rise buildings. The man-made marina has a modern look and feel, it is home to more affluent expats. Besides being in the center of dining and entertainment, you can also enjoy the pedestrian-friendly walkway where you can walk, jog, or even cycle. With a short walk away from The Beach, a shopping and leisure complex with a sandy beach and al fresco dining options, and Dubai Marina Mall hosting all the brand names imaginable, Dubai Marina is a place for those looking for a posh and convenient lifestyle.
Average rental prices:
40,000 AED a year for a studio apartment
60,000 AED a year for a 1 bedroom flat
80,000 AED a year 2 bedroom apartment
Arabian Ranches
Arabian Ranches is a top-class gated residential area with a plethora of clubs and activities within. Situated just a short drive from Dubai's city, Arabian Ranches is the ultimate luxurious desert-themed residential neighborhood with villas, golf clubs, polo clubs, schools, spas, a shopping mall, and restaurants. It is a preferred location for families as it offers peace and tranquillity, and pleasure.
Average rental prices:
110,000 AED a year for a 2 bedroom villa
130,000 AED a year for a 3 bedroom villa
Mirdif
Located near the airport, living in Mirdif can get loud, and perhaps that might be the biggest disadvantage of this suburban neighborhood. Once considered a far away area, now Mirdif is one of the best places to live as it is well connected to the old Dubai and is especially popular among expatriates working in that area. Mirdif is also close to Dubai Festival City, which is home to a massive shopping mall, a spectacular water-and-light show, and a beautiful golf course. In Mirdif, you can rent a flat or a beautiful villa, sometimes with a small pool to relax by after a hard day's work. It is a more affordable area for people looking to live in a villa with a garden. There are many shopping malls located there, so the convenience of everyday living is not a problem in Mirdif. Over the weekend, residents often visit many of the area's parks, in particular Mushrif Park.
Average rental prices:
65,000 AED per year for a 2 bedroom flat
70,000 AED a year for a 2 bedroom villa
90,000 AED a year for a 3 bedroom villa

Compare multiple quotes and coverage options
Work with an insurance expert at no additional cost
Find the best plan for your needs and budget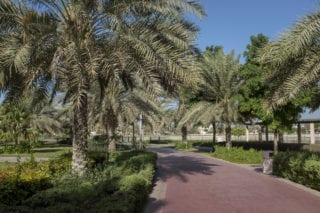 Al Barsha
Al Barsha is one of the newer residential developments and is located in west Dubai, and it is conveniently located close to Dubai Marina, with rental prices slightly lower than that district. It is also 25 minutes drive to the airport and 5 minutes drive to the famous Palm Jumeirah residential and hotel area. Al Barash, also called Barsha, is famous for being the home of the Dubai Autodrome and the Mall of the Emirates, which has a theatre, cinema, ski slope, and hundreds of shops and restaurants. While still not a very cheap area to live in, it offers slightly better prices than other centrally located areas in Dubai.
Average rental prices:
40,000 AED per year for a studio apartment
50,000 AED per year for a 1 bedroom flat
65,000 AED per year for a 2 bedroom flat
There are many other expat areas in Dubai but these are our top 5 best places to live in Dubai. In the end, it is estimated that approximately 80% of its population are expats and foreign workers! Understanding the overall cost of living in Dubai, Dubai's specific laws and customs, as well as visa requirements in Dubai, are all only first steps in your journey to moving there! To conclude, Dubai is a wonderful place for expats to live, with plenty of housing and entertainment, and schooling options to suit everyone's needs.
Related: