Teaching English Abroad: What You Need to Know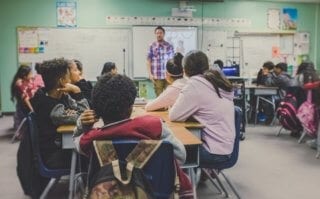 An incredible 1 in 4 people worldwide are currently learning English or are interested in doing so. This means there will be an estimated 2 billion English learners in 2020. That translates to some 40,000 ESL or English As A Second Language institutions around the world that will be looking for people interested in teaching English abroad. While the typical image of an international ESL teacher is an eager young 20-something, keen to earn some money while they travel, people of all ages and backgrounds are embracing life as an ESL teacher. If it is a career path that is intrigued you, here is what you need to know about teaching English as a second language abroad.
It Is More Than Just Travel
Sure, you can earn money while you discover a new country and culture. However, that is just the tip of the iceberg when it comes to the benefits of teaching English abroad. Being an ESL teacher is also an opportunity for you to learn. Some ESL teachers take language classes themselves, pick up classes at a local university, or learn another skill like cooking, flower arranging, or photography.
You Do Not Have to Have an English Degree to Teach Abroad
The majority of ESL jobs have three requirements. The first is that you must hold a university degree. No, it does not have to be in English or linguistics or education. Any bachelor's degree in any subject will do. For most countries, there is a practical reason for this requirement. A university degree is one of the necessities for the host country to issue the appropriate work visa.
There are some ESL jobs that do not require a university degree. However, having a degree will maximize your options and earnings.
What Accreditation is Required to Teach English Abroad?
The second requirement to teach ESL is accreditation. Teachers must hold an accredited TESOL (Teaching English to Speakers of Other Languages) or TEFL (Teaching English as a Foreign Language) certificate. While these two certificate names are often used interchangeably, there is a difference between them.
TEFL programs are designed for teachers who plan to teach students in a country where English is not the primary language. The students are studying English as a foreign language like it was an academic discipline. There is a heavy emphasis on grammar and pronunciation in their studies.
The TESOL program is designed for teachers who plan to teach non-English speaking students in a country where English IS the primary language. TESOL programs are often used for new immigrants and refugees. They are even used in multilingual countries where a citizen speaks one official language but not the other. The TESOL program has a strong emphasis on using English to communicate in everyday life.
Each program has its pros and cons. For potential ESL students, it is prudent to do some research about which accreditation is frequently required in their preferred destination before they pay for a course. There are some ESL jobs that do not require accreditation but they are few and far between. They also pay much less and are often informal arrangements.
TELF Org is one of the most experienced TEFL course providers. Founded and run by teachers who have undergone the exact same courses that you will be studying means they know exactly what it is like to step inside a classroom for the first time. The fully flexible courses will allow you to learn how to teach English online from home in a fun and instructive course.
Do Not Forget Your Own English Skills
Finally, all ESL teachers must be native English speakers. Teachers from Canada, the United States, and the United Kingdom are especially sought-after. This is followed by Australia, New Zealand, Ireland, and South Africa. Of course, there are many other countries where English is the native language. Unfortunately, whether it is explicitly stated or not, ESL institutions have a preference for teachers from certain countries.
Which Countries Pay the Most?
Japan, Ecuador, the Czech Republic, Korea, Egypt… One of the most exciting things about planning to teach ESL is deciding where you want to go. There is a seemingly endless list of possible locations. However, before you fall in love with a certain country or city, keep in mind that many ESL teacher placements are in smaller cities. Teachers are rarely in the glamorous capital or tranquil seaside town they imagined. As well, many schools are in suburban locations. You would have to choose between an easy commute but a quieter social life or commuting in each day in order to live closer to the nightlife.
Asia has quickly become a "hot-spot" for those who want to become an ESL teacher, but how do you know which country is right for you? Here is a breakdown of a few of the top spots in Asia that will allow you to not only break even while getting a cultural experience but walk away with more than what you started with.
Teaching English in the Middle East
$$$$ United Arab Emirates
The highest-paid English teaching jobs in the world are in the UAE, specifically Dubai and Abu Dhabi. Salary packages for teachers in the United Arab Emirates can range between $3,500-$5,500 (12,300-20,400 AED) per month, depending on experience. However, like most Middle Eastern countries, the requirements are stringent and most jobs require teachers to be certified to teach in their home countries or at least have several years of teaching experience. (Source)
$$$$ Saudi Arabia
Saudi Arabia has an edge on some of the other countries in the Middle East because many job openings do not require teacher certification. Experience is always beneficial, and TEFL certificates are usually necessary, but salaries in Saudi Arabia are typically in the range of $3,000-$4,000 (11,000-15,000 SAR) per month.
$$$$ Kuwait and Oman
Kuwait and Oman are two other destinations in the Middle East where salary is competitive.
ESL Jobs in Asia
$$$$ South Korea
Although a bachelor's degree is required, working in South Korea can lead to an increasingly healthy bank account at the end of the yearlong contract. On top of free housing and airfare reimbursement, a typical monthly salary is between 1,800,000 and 2,400,000 KRW. It's not uncommon for ESL teachers in South Korea to be able to save about $1,000 each month. At the end of the typical 12-month contract, teachers have plenty to bring home or continue their travels on.
$$$ Japan
After South Korea, Japan allows ESL teachers to go home with the happiest savings account. However, flights are not commonly paid for and interviews typically take place about three months prior to the start of the contract. Teachers wanting to head overseas right away might want to look elsewhere.
$$ China
If you do not have an undergraduate degree you will want to check out teaching jobs in China since a degree is preferred, but not always required. Housing and air-fare for ESL teachers in China are typically paid for along with a monthly salary of 6,000-12,000 RMB. Those hoping to do as much sight-seeing while abroad can look forward to about two weeks off for the Chinese New Year.
$ Taiwan
Although airfare and housing are not usually paid for in Taiwan, ESL teachers can expect to save about $500 each month it an average monthly salary of 46,000-68,000 TWD. Thanks to the Chinese New Year teachers will also enjoy a two-week break for travel.
While teaching English as a second language in Asia probably won't make you rich, depending on the country you choose it will allow you to save some for when you return home. Plus, the cultural experience alone is worth its weight in gold!
Teaching English – Additional Considerations
In general, additional certifications and/or a Master's degree will help you raise your salary, as will experience. Urban centers and towns/cities with a high immigrant, expat, or international population tend to have more teaching opportunities and higher salaries. Teachers in international schools worldwide also make a very comfortable salary. This ranges from country to country and region, and those positions tend to require more experience and qualifications, but it is an especially attractive option for those who want to make a career out of teaching abroad.
The cost of living abroad is also a huge factor. Some countries have high salaries but the cost of living is more than in other countries. You also need to consider other benefits – housing, medical insurance, and living expenses. Do your research before making your final decision.
Think About Your Working Conditions
Many ESL organizations promote the benefits of a 29-hour workweek. They promise that you only need 29 hours a week to teach, plan lessons, and take care of administrative tasks. And in the remainder of the week, your time is your own to do whatever you want. You can travel, study, or even take on other part-time jobs. Whether or not that is realistic depends on many factors. If 29 hours of work is spread out over 6 or 7 days or in morning and afternoon shifts, it might be nearly impossible to travel, study, or socialize as you expected.
Furthermore, it is worth noting that the 29-hour workweek is often set up specifically so ESL teachers are not considered full-time employees. In many countries, people who work less than 30 hours a week are not eligible for benefits, including health insurance plans paid for by the employer.
TEFL Org has a "Jobs Centre" which helps connect graduates with teaching roles across the globe. As a graduate, you will have life-long access to this unique database; ensuring you will always be able to teach no matter where your next adventure takes you! Use this database to connect with others and understand more about the jobs offered.
Read The Fine Print
If flights, accommodations, on-going education, or health insurance are advertised or promised verbally, make sure those perks are written into your contract. In many locations where learning English is very popular, like South Korea, teachers have leverage. They do not have to accept the first offer they receive. They also have some flexibility to shop around, so to speak. It is okay to ask for details and photos of things, like what the teacher housing is like.
It Is Hard Work
Sure, there is a lot of fun to be had in teaching English as a second language, especially when your students are cute kids who make you laugh and love playing games. But teaching any subject is challenging work. Some ESL companies do supply lesson plans but some do not let you deviate from them at all, stifling creativity. Other times you might be frustrated by surly teenagers or grumpy executives who are not attending lessons by choice. And cultural clashes, from how misbehaving children are disciplined to corporate attitudes about supporting teachers – well, let us just say it is challenging.
It Is Also Hugely Rewarding
Many ESL teachers talk about how the year they spent teaching abroad was one of the most defining periods of their life. They faced fears and challenges, they went through all the stages of culture shock and learned how to cope with culture shock when living abroad. And they had an undeniable sense of accomplishment for helping their students. If teaching English as a second langauge  interests you, even with all the ups and downs, it is well worth looking into.
Related: