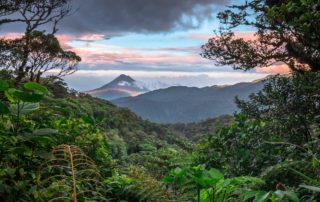 Costa Rica is an amazing place for expats to live. The country offers natural beauty, like mountains and beaches, and is safe and affordable.
Unlike many other countries, expats in Costa Rica are able to purchase land and property so it's no surprise that Costa Rica is a popular country for expats.
Best Places for Expats to Live in Costa Rica
If you're an expat or would-be expat who dreams of living in a fantastic climate where life is fun and affordable, you can't go wrong with Costa Rica. We're here to help you determine which city in Costa Rica would suit you best.
Costa Rica is made up of seven provinces: Alajuela, Cartago, Guanacaste, Heredia, Limón, Puntarenas, and San José. You can find wonderful aspects of living in Costa Rica in each province, but the best place in Costa Rica for you will vary because of the country's varied climates and landscapes. To help you decide, here's an overview of the best places in Costa Rica.
Atenas: Small Town Living
Alajuela province is in the north-central area of Costa Rica, bordering Nicaragua. Atenas, which is located on an elevated plateau, is a jewel of a place to live. It has ideal weather — National Geographic has ranked Atenas as having one of the best climates on Earth — and Atenas isn't too proud to boast about its "El Mejor Clima del Mundo." Atenas was named as one of the best places to retire abroad by AARP in 2010 because of its climate and beautiful landscapes.
With fewer than 10,000 inhabitants, you'll be able to experience authentic Costa Rican life in Atenas. However, Atenas is just 45 minutes away from San José, making it easy for you to go shopping or seek medical care there, or in nearby Escazú. A bus makes the trip accessible to those who don't want to, or can't, drive. Juan Santamaria International Airport is also nearby.
If you're a coffee-lover, Atenas could be your paradise as the country is noted for having some of the best coffee because of its climate. The town offers regular coffee tours of its sprawling coffee farms.
Cost of Living in Atenas
Atenas attracts many expats and retirees each year because, beyond its beauty, it is extremely affordable. The cost of living in Atenas can range depending on lifestyle, rental cost, and more.
Rent in Atenas ranges from $750 a month for an unfurnished home or apartment up to $1100 for a furnished rental. But Atenas also features luxurious options with beautiful and regal homes costing $3500 or more per month.
Cartago: Old Capital City in Costa Rica for Expats
The capital city of Cartago province is also known as Cartago. This city is part of Costa Rica's lovely Central Valley, which is actually an elevated plateau. At 4,720 feet, Cartago offers residents and visitors incredible views and cooler weather.
Founded in 1563, Cartago was Costa Rica's capital for centuries. Unfortunately, earthquakes destroyed much of the city's early architecture, though churches and other sites still show the area's rich history. Cartago also has museums and botanical gardens to visit and is home to the Costa Rica Institute of Technology, one of the top engineering schools in Central America.
With a bit over 150,000 residents, Cartago has plenty of things to do, from shopping to bars. If you need more excitement, it's easy to get to the bigger city of San José by bus. It takes about an hour to travel to San José Airport, so you can easily catch international flights and welcome visitors.
Cost of Living in Cartago
Cartago, like much of Costa Rica, comes with a low cost of living. Even while Cartago is one of the bigger cities in Costa Rica, it is still one of the most affordable places to live for expats in the world. The city of Cartago ranks as the 3rd least expensive Costa Rican city. If you're searching for urban living at an affordable price, Cartago could be the perfect place for you!
Tamarindo: The Best Place to Live in Guanacaste
Tamarindo is a small surfing town on the north Pacific that has become an extremely popular tourist destination. It delivers warm, sunny weather that's perfect for enjoying time at the beach. Given the number of tourists and expats in Tamarindo, there are plenty of options for restaurants and nightlife, as well as medical clinics, supermarkets, and co-working spaces. If you have children, there are international schools they can attend.
It takes about an hour to get to Liberia International Airport from Tamarindo. Liberia also has an international hospital if you need more advanced medical care. Keep in mind that your life in Tamarindo might not be as authentic as in other areas of Costa Rica. However, it's also not as necessary to speak ish, so if you're still learning the language, Tamarindo could be a great option for you!
Cost of Living in Tamarindo
Tamarindo's popularity means it's more expensive to live there than in other parts of Costa Rica. The average monthly cost of living in Tamarindo is $1118 which is more affordable than cities of similar populations in other developed countries. However, if you're looking for an ocean view, you'll love living in Tamarindo. Tamarindo is one of the most expensive cities in Costa Rica, but its cost of living is still extremely affordable when compared to North American and European cities.
Heredia: The Best City for Expats in the Heredia Province
The city of Heredia is the capital of Heredia province. Known as the "City of Flowers," Heredia is the place to go for those who love scenic landscapes full of beautiful blooms. It's located in the mountains and provides comfortable temperatures for residents.
You can easily catch a local bus or drive to San José, but living in Heredia means you can avoid some of the noise and congestion of city life. And you don't have to travel to the bigger city at all. From meeting your healthcare needs at Heredia Hospital to international schools for expats with children to shopping at a lovely mall, Heredia has it all. Heredia's temperatures (in degrees Fahrenheit) usually range from the high 50s at night to the 70s during the day, making it a comfortable place to live year-round.
Cost of Living in Heredia
It's no surprise that Heredia has attracted plenty of expats. They appreciate that the town is affordable; the average cost of living in Heredia is $716. In addition, amenities like high-speed internet are easily accessible.
Limón: Settle on Costa Rica's Caribbean Coast
Limón is on Costa Rica's Caribbean coast, which sees less tourism than the Pacific side of the country. Typical for its Caribbean location, Limón does get more rain than other parts of the country. Yet the eastern coast is still a beautiful region that boasts stunning natural landscapes, and living there will give you the opportunity to explore Limón's Afro-Caribbean culture.
Despite the name, Limón International Airport currently has only domestic flights. The closest international airport is San José. It takes around four hours to drive from Limón to San José, so that city is not easily accessible. Limón does have amenities like shopping and medical clinics, but if you regularly need specialty medical care, you would likely have to go to San José. However, if you're looking to get off the grid in an affordable location, Limón might be the right choice for you!
Cost of Living in Limón
Limón can offer affordable monthly living expenses. On average, a couple living in Limón can live a comfortable lifestyle for less than $2400 per month. Limón is a great option for expats who want to escape the hustle and bustle of a noisy city and absorb Costa Rica's beautiful landscapes.
Dominical: Natural Charm in Southern Costa Rica
Dominical is in Puntarenas province, part of Costa Rica's Southern Zone that borders Panama. In Dominical, you'll discover an idyllic blend of comfortable amenities along with the less-developed natural charm.
Dominical has enchanting views and a great beach for surfing. It also has unpaved dirt roads — but it's just 40 minutes from Quepos, which has a domestic airport, hospital, and other necessities.
Cost of Living in Dominical
Dominical is situated in the Southern Zone of Costa Rica and was originally a very quiet and small fishing town. Living in Dominical will come with an added expense for imported items as it is a small beach town off the beaten path.
Rental properties in Dominical are relatively affordable, averaging between $900 and $1200 and the average monthly cost of living falls just between $2,000 and $4,000 USD. But rentals in Dominical can be difficult to come by especially now that many expats and retirees set their sights on this small town.
Escazú: Safe and Suburban Outside of San Jose
Escazú offers modern amenities and luxury brands and is considered one of the safest cities in Costa Rica. If shopping is one of your favorite things to do, Escazú might be the place for you! Escazú also provides other attractions that come with city life, such as excellent hospitals and international schools. If you're a traveler who wants to explore multiple cities in Costa Rica, Escazú is a great option for a home base. The San Jose international airport is only a ten-minute drive away by taxi or car and only a 30-minute journey by bus.
With all that Escazú has to offer, it's no surprise that many expats have chosen to make it a home away from home. This can be a good thing, as you'll find a readymade expat community. The number of expats has made Escazú more expensive than other locations, but if you want safe city living, you can't go wrong with Escazú!
Cost of Living in Escazú
Escazú has become extremely popular in recent years and can range in cost of living depending on your lifestyle. Rent per month in Escazú can run as low as $1,000 up to $10,000 for luxury rentals. The average monthly cost of living in Escazú ranges from $2,400 to $7,600 USD.
It is typically more expensive than other Costa Rican cities as it's a popular suburb close to San Jose but is still extremely affordable when compared to developed cities within the US or Europe. While it's a great option for expats on a budget, Escazú is also known for its luxury accommodations and premier living for those looking for a more luxurious lifestyle in Costa Rica.
The Best Place in Costa Rica for You
Before moving abroad, consider your options carefully. Would you prefer a cooler climate or somewhere more tropical? Can you afford a location with a higher cost of living, or do you need to be more budget-conscious? It's up to you to decide between beach life in a small town, living in a big city, or somewhere in between.
The good thing is that expats in Costa Rica can find a location that fits their lifestyle and preferences. As you can see, there are tons of great places to live in Costa Rica and no matter where you settle, you can always relocate! Your best place to live in Costa Rica is waiting!
Global Health Insurance for Expats in Costa Rica
We hope you found this guide helpful for your potential move to Costa Rica! As exciting as the idea of living abroad can be, there are certain things that expats must consider before taking the leap. One of those things is global health insurance. The importance of healthcare while living abroad can't be overemphasized.
Expats living in Costa Rica should opt for health insurance in Costa Rica to avoid any unexpected medical bills. It's also imperative that expats investigate different towns and cities in Costa Rica to determine access to healthcare if and when needed. Healthcare is the type of concern that is best to address before your move, not after!
Contact one of our trusted insurance brokers to help you find the best worldwide health insurance plan.

Compare multiple quotes and coverage options
Work with an insurance expert at no additional cost
Find the best plan for your needs and budget
Also Read: