Museums, Music, Castles, Culture and Commerce — We Rate The Best Places to Live In The UK for 2023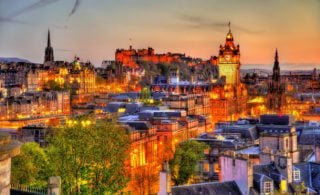 The United Kingdom is a broad and varied place. Though its land mass is small, its population is huge — the fourth largest population in Europe, including Russia. That means there are a whole lot of different cities with varying characteristics to choose from. So how do you go about narrowing down the best places to live in the United Kingdom as an expat?
You might be tempted to pick London and be done with it. After all, it's famous and has by far the largest number of migrants of any U.K. city. But London is also expensive. There are many other cities that offer great healthcare, high quality of life, and fantastic cultural attractions. In fact, you'll find that many cities beat out London as the best places for expats to move to. Read on to learn what the current 10 best places to live in the United Kingdom are and which one might be right for you.
What Makes The United Kingdom Unique?
England, which makes up about half of the U.K.'s landmass, is only one part of the United Kingdom. The U.K. also includes Wales, Scotland, Northern Ireland and some smaller islands. While people throughout the U.K. speak English, people in many regions speak other languages too, including Welsh, Scots, Ullans (Ulster-Scots), Gaelic, Irish, Cornish and Manx.
Also, English dialects vary greatly throughout the United Kingdom. So much, in fact, that a person from Glasgow and a person from Cornwall might have trouble understanding each other! Be prepared to hear and learn to understand a lot of different ways of speaking English.
The United Kingdom is also famous — perhaps even notorious! — for its oceanic climate, which means largely cool summers, mild winters, and few temperature extremes. Because the U.K. is a group of islands in the path of the warmer Gulf Stream, it rarely gets bitterly cold in spite of its northerly location. But overall, U.K. weather is known as cloudy, drizzly, and somewhat dreary. If you choose to move abroad to the U.K., don't expect a lot of fun in the sun.
How We Identified The Best Cities in the United Kingdom
What makes a city one of the best places to live in the United Kingdom? Of course, it varies depending on who you are and what you need from a place. Some expats are looking for the most innovative technology sectors to work in. Others want a great place to raise a family. They might want a quiet place to retire with good health care. Or perhaps they want somewhere with a lot of cultural attractions.
For this article, we started with the cities with the most active expat populations. We graded each on cost of living, safety, jobs and health care. Amenities and quality of life considerations also went into the mix, like cultural attractions, LGBTQ friendliness, internet speed, quality of schools, levels of pollution and sunshine, green space and walkability. After ranking them by each metric, we added up each city's points and cut the list down to the 10 best cities in the United Kingdom.
In order to rate each city, we pulled data from many sources. We looked at official U.K. government data for health care, migration patterns and school rankings. Cost of living and safety data both come from Numbeo. The UNESCO World Heritage listing showed us where the most important historical attractions are, while Citybase Apartments provided a valuable study of the cultural attractions of 63 U.K. cities.
Also Read: Moving Abroad to the UK From the US

Compare multiple quotes and coverage options
Work with an insurance expert at no additional cost
Find the best plan for your needs and budget
The 10 Best Places to Live in the United Kingdom
Here is the list of the top 10 best cities to live in the U.K., based on the number-crunching above. You might find that some cities are more suited to you than others based on where they ranked more highly.
10. Manchester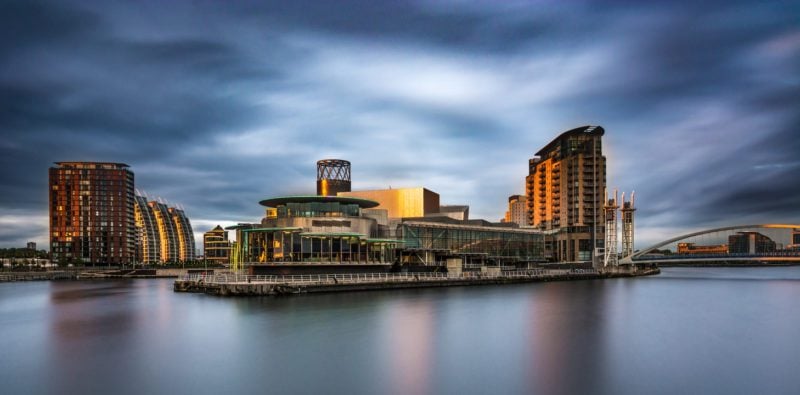 Manchester, a city of about half a million people, is famous for a number of things. It was the first industrialized city, the first programmable computer was built there, and Alan Turing, the mathematician who made that computer possible, was born there.
But most people are probably more familiar with Manchester as a center of football (soccer) mania, as Manchester United was the U.K.'s first-ever professional football club. The city is also well-known for its massive music scene, which has produced bands from the Hollies to the Smiths, from Herman's Hermits to Oasis. Manchester ranks as one of the top cities on this list for cultural attractions in general and has vibrant pub and club scenes.
But the real story in Manchester for expats is job opportunities. The city scores high on several lists of places to launch or advance your career. And with a cost of living significantly lower than London's, Manchester offers an easier road, especially if you're starting out in your career.
What held Manchester back from a higher place in our best cities in the U.K. list? It has some struggles with health care; NHS wait times have been longer there in the past few years than in any of the other cities on the list. It's also not as great safety-wise as most of the others, though U.K. cities are overall safer than those in the States.
Also Read: The United Kingdom Healthcare System
9. Aberdeen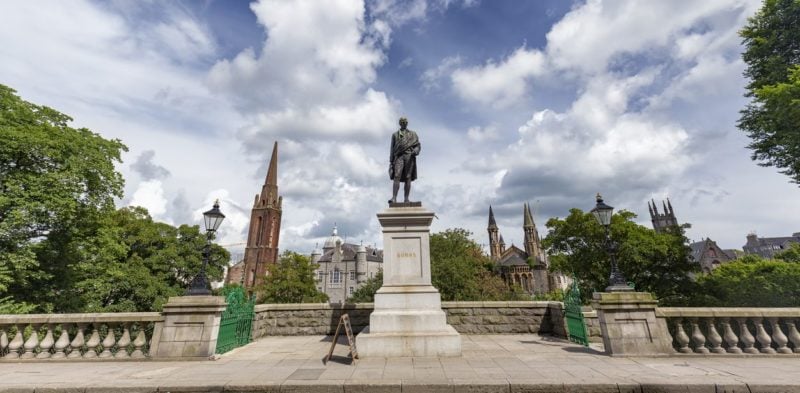 Aberdeen is a coastal town in Scotland, and while it's the northernmost city on this list, it still enjoys the U.K.'s oceanic climate with cool, rainy winters and mild summers. Because it's so far north, Aberdeen also has long winter nights and long summer days — enjoying nearly 18 hours of daylight in the high summer.
Known as the "Granite City," Aberdeen boasts many beautiful Victorian buildings made with the region's glittering, mica-flecked granite. There's a thriving street art culture here too, and the city hosts Scotland's only street art festival, Nuart Aberdeen. Nature surrounds Aberdeen, and greater Aberdeenshire has 263 castles, including fascinating ruins to explore.
The seaside city's main industries were once textiles, fishing and shipbuilding, but offshore oil became huge in the 1970s and remains a big part of the economy today. Unemployment is low, with five of Scotland's 10 biggest businesses headquartered in Aberdeen. The cost of living is also one of the lowest on this list, which makes Aberdeen an easy place to settle.
Where Aberdeen really shines is in its safety, health care, and green spaces. With several universities and highly ranked schools, Aberdeen draws many students and families to enjoy the temperate weather, safe streets and low cost of living.
8. Bristol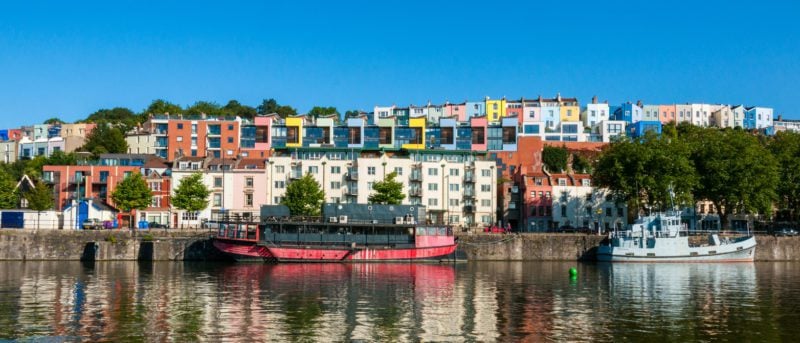 Due west of London and just across the River Severn from Wales, Bristol is an old port city that now thrives in the creative media, electronics and aerospace industries. Bristol placed around the middle of the list in a lot of our rankings, like jobs, safety, and healthcare. But the city is rich in green spaces, cultural value, and walkability. It's been named Britain's best city to live in twice in recent years and also won the European Green Capital Award in 2015. Its mild climate (it's one of the warmest cities in England) and relatively high hours of sun make it an attractive place to settle.
Bristol is known as Britain's gateway to the Southwest, home of some of the most famous Welsh and English landscapes. But the city itself also has the Avon Green Belt, an environmental planning project that surrounds Bristol and protects from urban sprawl. Step outside the city, and you'll find countryside and farmland for miles out from the city limits. Within the city itself, you'll find thoughtful planning for walking.
You'll also find rich arts and culture in Bristol, including the city's own branch of the Old Vic theater, numerous artworks by graffiti artist Banksy (thought to be from Bristol), and a film scene that's earned the city UNESCO City of Film status.
7. Oxford

A small city of just over 150,000 people, Oxford is probably best known for housing one of the most prestigious — and oldest — universities in the English-speaking world. Sometimes called the City of Dreaming Spires, Oxford is full of stunning architecture dating from the Saxon period to the modern day. The city's rich history and deep educational tradition make it a clear winner for the intellectually curious expatriate.
Alongside the ages-old educational and publishing industries in Oxford are fast-growing information technology and science fields. There's also a longstanding car manufacturing industry, starting with Morris Motors, which was established in 1910.
Oxford is one of the safest cities on our list and also tops the charts on walkability. Large portions of the city center are pedestrianized, and the area has many parks and nature walks. 28 nature reserves exist in or just outside the main city, and like Bristol, Oxford has a green belt preventing overdevelopment outside the city limits. In this case, though, the project has had some impact on housing costs, which makes the cost of living in Oxford a little higher.
6. London

While it's no longer the be-all end-all place to go in the United Kingdom, the capital city of London still takes high marks in several areas. For one thing, it has the highest migration of any U.K. city — which means there are many thriving expatriate communities. There are also more job opportunities in London, which is part of why so many foreigners flock here. London also takes top marks for schools and is rich in history, including four UNESCO World Heritage Sites.
This storied metropolis has also kept in step with other cosmopolitan cities throughout the world, such as Paris, New York, Tokyo and Shanghai. As in those places, the cost of living is high; for more detail, see our page on the cost of living in London. It's also not the safest place, though it scored better than Manchester and Birmingham for safety.
But if you want the experience of living in a world-class city, London has it all. Its history traces back to Roman times and is alive, particularly in its royal pageantry. It's an amazingly multicultural city and becoming more so every day. It has fantastic universities, high fashion, great restaurants, endless theater, excellent public transit and some of the most beautiful buildings in the world. It may have only ranked sixth, but London is truly still among the best places to live in the United Kingdom.
5. Southampton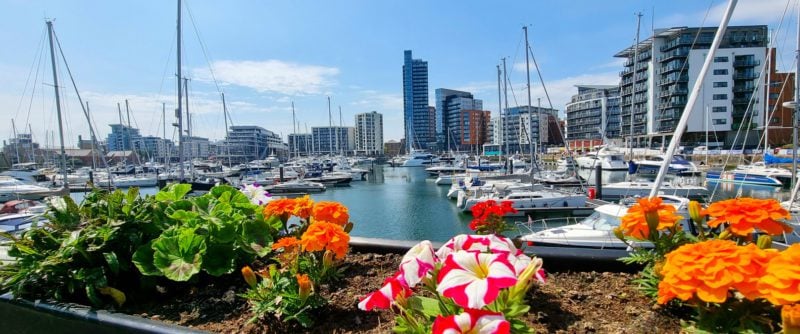 A port city that has sent ocean liners into the English Channel for over 100 years, Southampton may be most famous as the launch point of the doomed RMS Titanic in 1912. In spite of that terrible mishap, the city still enjoys a vibrant maritime culture today. Amid the 21st-century urban renewal that made Southampton a cultural force to contend with, the city also built up its port into a major tourist attraction, including the Sea City Museum. Southampton also hosts the Southampton Boat Show each September.
The largest city on England's southern coast, Southampton enjoys a milder, sunnier climate than most U.K. cities. It also has a cost of living nearly 34% lower than London's. It's just a two-hour train ride from the capital, should you wish to live more cheaply but visit London easily. And it's also a short ferry trip to the famous Isle of Wight if you want to escape the city entirely for a seaside retreat.
Southampton has plenty of its own attractions, though. It has the longest surviving stretch of medieval walls in England and historical museums like the Tudor House Museum. It also has lots of world-class theater touring from London and a wealth of art galleries. For nature lovers, the New Forest National Park is close by, with excellent hiking trails. Southampton also has a high proportion of outstanding schools, an official designation in the United Kingdom. This makes it a good place for families to settle.
4. Cambridge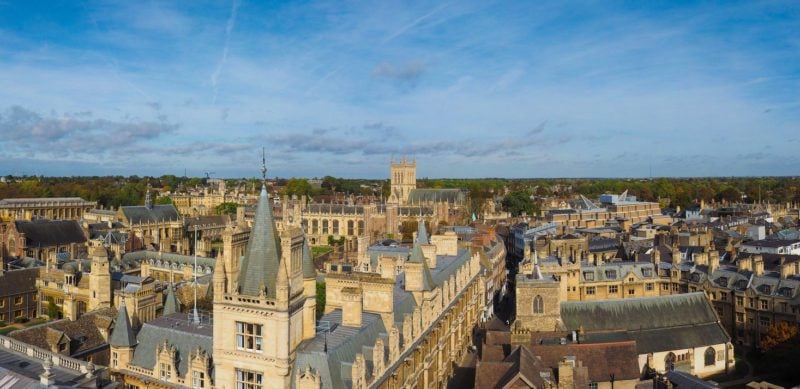 Cambridge, like Oxford, is a small city about 60 miles outside London that is home to one of the United Kingdom's most famous universities. Unlike Oxford, however, Cambridge feels like a university town. Oxford is more modern and urban, with the old university threaded throughout. But Cambridge exists primarily for the university, one of the best in the world. The campus, with its own splendid architecture dating from the 13th century onward, is cohesive. It's the focal point of the city itself.
It's a young city, enlivened by its student population and its highly educated workforce. Over 40% of the workforce in Cambridge has a higher education qualification, more than twice the national average. Job opportunities are plentiful here as well, especially in software and bioscience. As the center of the high-tech sector known as Silicon Fen, Cambridge also generates a lot of start-ups, mostly out of the university.
Among the cities we studied, Cambridge came in number one for safety. Cambridge also has good walkability and is steeped in history. It scored number one in culture according to a survey that looked at the density of museums, theaters, galleries and historic sites.
3. Glasgow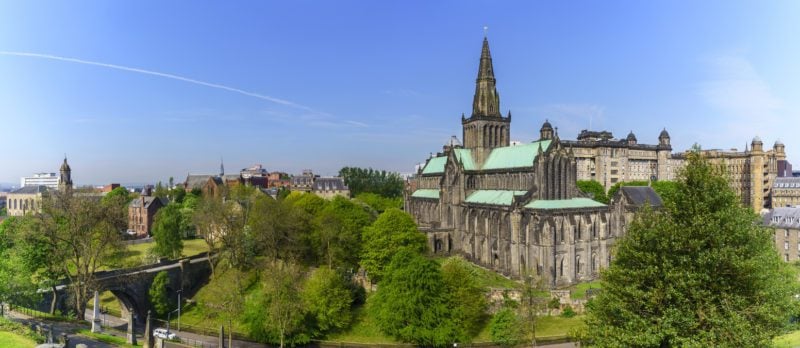 Situated west of the Scottish capital Edinburgh on the river Clyde, Glasgow is the largest and most populous city in Scotland and the fourth in the United Kingdom. It's also brimming with industry, job opportunities, arts organizations, green spaces, culture, and sports. Glasgow is also the main place where Gaelic is spoken and studied, outside of the Scottish Highlands.
Like Manchester, Glasgow was one of the first heavily industrialized cities. It drew thousands of workers to its ports for shipbuilding, engineering, construction, textiles, and other manufacturing work. Manufacturing is still a major part of its economy. But it's added printing and publishing, financial services, creative services, healthcare, software development and biotech. If something exciting is happening in the world of work, it's happening in Glasgow.
Another commonality with Manchester is Glasgow's burgeoning music industry. It's produced many bands and was even named a UNESCO City of Music in 2008. The cultural riches go deeper here, though, with the majority of Scotland's national arts organizations headquartered here. Glasgow offers opera, ballet, theater, symphonic music, visual arts, museums, sports and nightlife in spades.
Glasgow sits near the top of our list of the best places to live in the United Kingdom for many reasons. Its cost of living is one of the lowest of the cities we looked at. Its healthcare is top-notch. It offers high air quality and a lot of green space. And it's a great city to be if you're in the LBGTQ community. Essentially, the quality of life in Glasgow is, as a Glaswegian will tell you, "belter." (That means really good, by  the way.)
2. Birmingham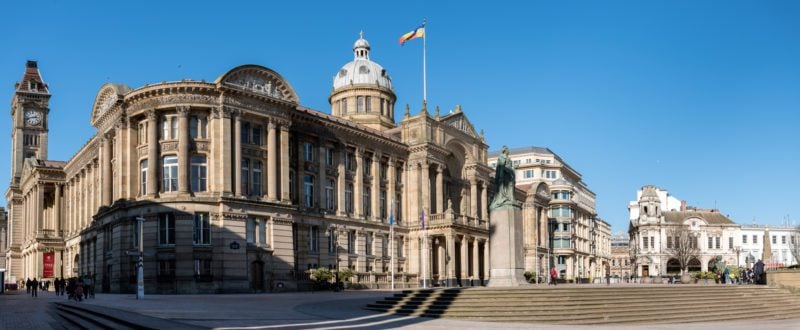 Of all the cities on this list, Birmingham's rank is probably the most surprising. In fact, many foreigners won't even have heard of it. But this city in the middle of England is a hot spot for people who want the big-city feel of London without the inflated cost. Birmingham scored best for cost of living even before we narrowed the list to ten. Plus it offers many of the same perks of London living without the financial hit.
For people who wish to explore the U.K., Birmingham is a great home base. Its international airport is convenient for European jaunts, and its central location makes the rest of the United Kingdom highly accessible.
Birmingham took top marks in healthcare; its NHS system seems more efficient than others in the country. It also boasts great green space, good walkability and public transit, many good schools, and a unique cultural footprint. Birmingham has a surprising number of canals (more than Venice!) and the most Michelin-star restaurants outside London. It is also home to beloved British foods like Cadbury chocolate and HP brown sauce. Experts consider it the birthplace of heavy metal music, as the bands Black Sabbath, Judas Priest, and (part of) Led Zeppelin all originated here. Other huge bands, like Duran Duran, also came from Birmingham. And the city lays claim to a number of literary luminaries, such as J.R.R. Tolkien and W.H. Auden.
Birmingham did take the worst marks on our list for safety. And that may be the only thing that kept it from being number one on our list of best cities in the United Kingdom. But much of the crime is localized to certain neighborhoods and related to gang activity. This means that foreigners and expats are not generally targets.
1. Edinburgh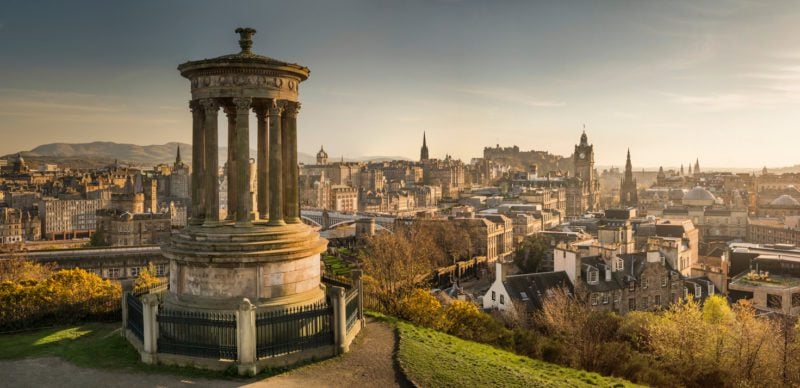 And the number one city to live in the United Kingdom is…Edinburgh! This city also made it to our list of 15 best cities to live in all of Europe. As Scotland's capital city since the 15th century, Edinburgh is well known for its architectural beauty, cultural festivals and big-city amenities/small-town vibe. In our analysis, Edinburgh scored highly in cost of living, jobs, healthcare and safety — all major factors in our ranking. Edinburgh also boasts several UNESCO world heritage sites, plentiful green spaces, low pollution and, of course, whisky.
For expats who come to work, Edinburgh is an ideal setting. It ranked third in job opportunities in our research and has the strongest economy in the United Kingdom outside London. It's a place of opportunity, with a cost of living more than 30% lower than in London. And Edinburgh took second place for both safety and healthcare.
If you're more interested in culture, history, or adventure, Edinburgh offers plenty of those as well. Clean air and green space abound both in and around the city, including a green belt space surrounding it. Walks up the extinct volcano known as "Arthur's Seat" are popular. The distinctive landmark lies just a mile from the equally iconic Edinburgh Castle. The castle is only one feature of the UNESCO World Heritage Site that encompasses the entire Old and New Towns. UNESCO also named Edinburgh its first Literary City in 2004 in honor of its many people of letters, including Sir Walter Scott, Sir Arthur Conan Doyle, and Irvine Welsh.
Probably the most well-known feature of Edinburgh's cultural life is the Edinburgh Festival Fringe (commonly called the Edinburgh Fringe Festival, or just "Fringe"). A month-long spree of independent theater, music, dance and comedy, it takes place every August in hundreds of venues throughout the city. During the rest of the year, Edinburgh remains a city of great beauty, culture, and entertainment. That's how it ranked tops on our list of the best places to live in the United Kingdom!
Related: