Dubai Work Visas: What You Need to Know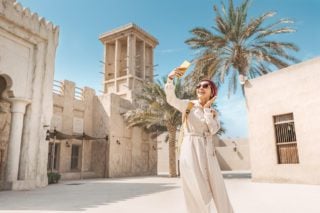 Dubai's economy is growing at a breakneck speed. The demand for labor, especially for skilled applicants with international experience, has never been higher. With the wide variety of jobs available and easy travel connections, Dubai is swiftly becoming one of the most popular expat destinations in the world. However, Dubai is just like the rest of the world when it comes to work visas. There's no way around it – prepare yourself for some paperwork! If you want to work there, you need to look into work visas in Dubai.
Most expats have a job lined up before they arrive in Dubai. This is smart for several reasons, beyond just avoiding the stress of a job search. In general, companies in Dubai will complete all work visa requirements for expats. This includes covering their visa fee, which is a legal requirement. They will also take responsibility for sponsoring the expat's family. Work permits and employment visas can last anywhere from one year to ten years.
How to Get a Dubai Visa
Before you receive a work visa in Dubai, you must first obtain an entry permit visa, an Emirates ID card, and a residence visa. Note that when you're researching all your visa-related steps, a work visa or work permit is also sometimes called a labor card.
Not surprisingly, the most important thing you'll need for a work visa is proof that you have a job offer or a work contract! Thankfully, all the additional paperwork you need for your work visa is also required for your residency visa, making the process relatively streamlined.
The first step is obtaining an entry visa.
1. Entry Permit Visa in Dubai
Well before you get a work visa, you need an entry permit visa, issued by the Ministry of Labor. This is also known as a pink card. Upon successful application, your entry permit visa is valid for two months from the date of issue and allows you to stay in the United Arab Emirates for thirty days. You can extend an entry permit visa twice.
2. Residency Visa and Emirates ID Card for Working in Dubai
Once you are successfully in Dubai with your entry permit visa in hand, your employer can begin the process for your residence visa. You have sixty days to complete all paperwork.
One of the very first steps is to go to an Emirates ID service center to get your Emirates ID. You'll need to bring your passport and entry permit visa with you. After this, you'll need the following to complete your residency visa application.
The Visa Application Form
Your employer will take care of this and will work with you to fill it out.
Passports and Photos
You will need to supply several passport-sized photos, along with your original passport, plus a photocopy. Pro tip: Make some additional copies of your passport for yourself and leave one with a trusted friend while you're overseas.
Company Validation Documents
As part of your work visa application, you will need to submit a copy of a valid company card and a valid commercial license of the company. Your new employer can easily arrange this.
Medical Check and Health Certificate
A valid health certificate is required for anyone applying for a resident permit. This process requires the applicant to submit to a health check at a government hospital or medical clinic. The tests must take place in the United Arab Emirates. No tests from outside the country are accepted. Your future employer or your embassy can advise on recommended clinics and hospitals.
During the health check, you can expect to have a chest x-ray and blood tests. These tests check for certain communicable diseases such as HIV/AIDS, leprosy, hepatitis, and tuberculosis. Any positive results will terminate your residence visa application process and you will have to leave the country immediately. At present, there is no appeals process. If you have any concerns that you might test positive for any of these conditions, speak to your family doctor at home. Some simple testing can set your mind at ease or, at the very least, let you know where you stand before you being the process of moving to Dubai.
Dubai Work Visa Requirements
With your entry permit visa, Emirates ID, and residency permit in hand, you have nearly everything you need to finalize your work visa application. You'll also have to provide the following:
photographs
your valid passport (with a minimum of six months of validity)
three copies of your employment contract
education certificates
professional qualifications as applicable
the sponsoring company's trade license
How Long Does It Take to Get a Dubai Work Visa?
In general, it takes about ten days to receive your work visa. During the approval process, the Ministry of Labor bases their decision in part by checking that there are no local citizens who are able to do the job in question.
Note that all submitted forms and documents must be written in Arabic or supplemented by a notarized translation.
The Gold Card Visa Progam
In May 2019, the "Gold Card" visa program was introduced in the United Arab Emirates. It includes options for five-year and ten-year visas.
Five-year visas are available to people who invest at least AED 5 million or more in property ownership. They must retain these investments for at least three years. The five-year visa also allows families of the applicant to reside with a UAE work visa.
10-year visas are available to people who invest at least AED 10 million. This can be either in an investment fund or a new or existing company. Real estate can make up 40% of this investment. People with specialized talents can also get a 10-year visa.  "Specialized talents" usually refer to top doctors, specialists, and inventors. People with a 10-year visa can bring their families to the UAE.
Tourist Visas in Dubai
Thankfully, if you just want to check out Dubai as a tourist, the visa application process is much simpler. Visas are granted on arrival to most visitors at the airport. This visa allows people to be in Dubai for 30 or 90 days within a 365 day period but not for the purposes of employment. However, you can use a tourist visa to search for a future employer or have meet-and-greet type visits. However, even if you receive a job offer, you cannot begin to work until you have your work permit. People with a tourist visa can, in theory, be upgraded to a work visa in Dubai but it all comes down to timing. In some cases, you may need to leave the country and return to resume work.
Related: