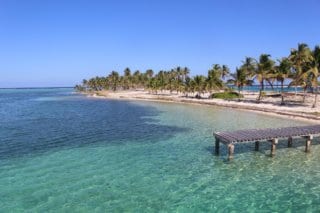 Belize is more than just a vacation destination – it's a great option for expats looking to move to Central America. If you're considering moving to Central or South America, there are a lot of great places to go – and you can't overlook moving to Belize as great option.
Located on the eastern coast of Central America, Belize is teeming with natural beauty. It borders Guatemala to the west and shares its northern border with Mexico. It's also a short plane ride from Belize City to Miami or Houston.
With Caribbean shorelines to the east and dense jungles to the west, it offers a unique, spectacular experience. Keep reading to learn the top 4 reasons why expats should consider moving to Belize.
The Cost of Living
Depending on what type of experience you want to have, the cost of living in Belize can vary quite a bit. Belize provides the option to live luxuriously as if you're at an extravagant beach resort, but that lifestyle will cost you a pretty penny.
Most expats moving to Belize choose a simpler, more affordable way of life. If this is the type of lifestyle you're looking for, Belize is much more affordable than living in the U.S. or Canada, or moving to Western Europe. The U.S. dollar goes a really long way in Belize. And everything from real estate to household goods to food is very cheap if you are used to paying American of Canadian prices.
The Culture
The small country of Belize is home to less than 400,000 residents. Natives of the country (called Belizeans) are usually very welcoming to foreigners. The government also welcomes foreigners, as they have become a major contributing factor to the local economy.
It's important to note that Belize is an English-speaking country. Without a language barrier to overcome, it's much easier to connect with the locals and forge strong, solid relationships.
Easy Residency Requirements for Retirees
While some countries have very strict residency requirements, Belize does not. The government encourages retirees to move there and has a Qualified Retirement Program to make the process even easier.
To qualify, you must be over age 45, receive a pension or an annuity of over $24,000 from a source outside Belize, and be able to pass a security clearance. There are a few other qualifications you need to meet, but the incentives and benefits are great.
Retirees accepted into the QRP will receive a qualified resident's card. With that, you can enjoy duty exemptions on a car, boat, or aircraft for one year, as well as tax exemptions on income received from sources outside Belize. The application process through the Immigration Office is simple, making Belize an ideal option for expats who are in their retired years.
The Weather
If you're a fan of gorgeous, beautiful weather, Belize is a perfect choice. Belize is a tropical paradise and the weather is consistent and is usually in the 70s in the winter and 80s in the summer. With lots of sunshine and lots of opportunities to enjoy the beaches, Belize is perfect for anyone who loves spending time on the water.
It is a beautiful tropical climate – but it's not always perfect. Tropical weather means that you will have to endure some major storms, and sometimes even hurricanes. These storms are important to maintain the beautiful rainforests in the area. Keep this in mind, especially if you are considering buying or renting a property at lower elevations.
Why We Love Belize
For expats looking to move to Central or South America, Belize is one country you cannot overlook. The cost of living is relatively low. The people and the government are welcoming to foreigners, making it easy to assimilate into the culture. There are easy residency requirements for retirees, and if you like beautiful, sunny weather, you'll be able to enjoy it all year round.
English is the official language, so it won't be hard to start a new life in Belize if you are from the United States. Do your research before you go. Think about where you might want to live and go for a visit to see the country for yourself. Spend a few days in Belize and we're sure you'll want to make a permanent move.