Living Abroad? How to Furnish an Apartment on a Budget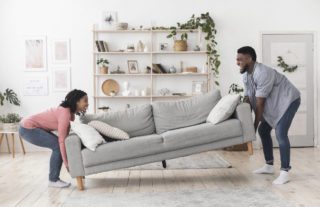 As an expatriate, you want to make your new home feel like home. But it's also crucial that you stick to your budget.
Good news, expats.
There are dozens of ways you can decorate and furnish an apartment on a budget. Check out these tips for how to furnish an apartment without breaking the bank.
1. Consider Shipping Your Existing Furniture to Your New Home
Depending on where you're moving from and moving to, you may want to take your current furniture with you. But before you decide, you'll have to do some research to determine if the shipping costs are worth it.
In some cases, it may be more affordable to buy new furniture than to ship what you already own. You may also want to ship a few items and buy some new items once you arrive. Just make sure that what you're bringing with you will fit. There's no use in spending money on shipping if the items are too big to fit into your new space.
Do you have some items you're really attached to? Consider renting a storage unit until you figure out what to do with them.
2. Make IKEA Your New Best Friend (If It Isn't Already)
If you're not already an IKEA shopper, get ready to be one. IKEA is undeniably affordable, and they have pretty much everything you could ever need to furnish a home.
The Swedish retailer is known for its modern Scandinavian style and budget-friendly options. IKEA makes it easy to shop by room, shop by collection, or mix and match items to create a truly unique space. Whether you need a spatula for the kitchen, a mattress for your bed, or an entire living room set, you'll find tons of options at IKEA.
IKEA has a presence in countries around the world, so there's a good chance you'll be able to find a store close to your new home. Click here to find a location near you.
3. Explore Second-Hand Shops
Most cities are full of second-hand shops and thrift stores loaded with cool and unusual finds. Looking for an awesome deal on a table or an accent chair? Check the thrift stores. Searching for decorative items or unique wall art? Second-hand stores are likely to have that.
When you shop at second-hand stores, it's easy to furnish your apartment on a budget. If you love a DIY project, you can buy some inexpensive items and refinish them to make them look brand new.
4. Know Where the Bargains Are
It's no secret – some of the best shopping deals are online. If you spend some time searching for great online sales, you're likely to save big bucks. You can even set alerts for items you like and receive notifications when those items drop in price.
Sites like Overstock and Wayfair are great sources of stylish, affordable furniture and decor. Look for coupon codes or meet a certain price threshold and you may even be able to enjoy free shipping.
5. Rent a Furnished Apartment
Renting a furnished apartment is a great way to stick to a tight budget. You won't have to worry about paying for your bed, couch, and tables. You won't have to spend money on shipping your old items or buying new ones. And you won't have to worry if your new furniture fits.
Furnished apartments are ideal for expats, especially those that aren't sure what neighborhood they want to live in.
With a furnished rental, you won't have to worry about moving all those items when you move out. And if you're trying to save money to buy a home of your own, what you don't spend on furniture can go right into your savings.
There are lots of ways to furnish and decorate your new home on a budget. Consider bringing a few things you already have. Be thrifty by shopping IKEA, second-hand stores, and thrift shops for great deals. Look online to find free shipping promotions and deep discounts on items you love.
With a bit of work and a bit of patience, your new home will look amazing in no time!
Also Read: