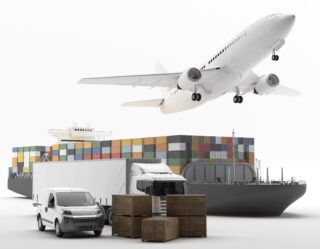 Moving abroad is an exciting adventure that calls for careful planning, especially when it comes to financial considerations. In this guide, we'll delve into the realm of costs associated with international moving, with a specific focus on expenses related to moving and shipping companies. By gaining a solid understanding of these financial aspects, you'll be better equipped to navigate the complex landscape of international relocation. Let's get started!
How Much Does It Cost to Move Internationally?
When it comes to moving internationally, it's important to acknowledge the challenge of providing a one-size-fits-all estimate for costs. Each relocation is unique, influenced by various factors such as the origin and destination countries, the volume and nature of items being moved, specific services required, and ever-changing global economic conditions.
As a result, giving a rough estimate for international moving expenses can be difficult, if not impossible. So, before getting an estimation, understanding the different factors involved is a great first step to take!
The Moving Distance
The distance between your current location and your new destination actually plays a big role in figuring out the cost of moving and shipping. As you might expect, covering longer distances will result in higher transportation expenses. These expenses include fuel costs, travel time, and possible tolls. Moving internationally cross-continent can be quite a journey! It requires careful planning and coordination to ensure a smooth transition.
Get our monthly newsletter filled with tips and information for people living, moving, and traveling outside of their home country.* *By submitting your email, you agree to receive monthly updates for expats, digital nomads, retirees, and more.
The Mode of Transport
When you're moving abroad, you have the option to choose between three different shipping methods depending on your destination and budget. Whether you decide to move by air, sea, or land, the mode of transport you'll choose will directly impact the cost of your move as well as its timeframe. Check out the details below to learn more about the different transportation options, including their advantages and disadvantages.
Shipping by Air Freight
Air freight is the fastest option, making it ideal for those with time-sensitive moves. However, the speed and convenience of air transport come with a higher price tag due to the premium cost of airline cargo space and the efficiency of air travel.
Pros
Predictability: Air freight schedules are usually quite reliable, which is great news when you're eagerly awaiting the arrival of your belongings. It helps minimize unexpected delays and ensures a smoother experience.
Reduced Handling: When it comes to air cargo, there's less handling involved compared to sea cargo. This means there are fewer chances of your household goods getting damaged during transit. So, you can have peace of mind knowing that your belongings are in safe hands!
Direct Routes: Air freight provides direct routes, bypassing any unnecessary stops or transshipment points, which makes it perfect for time-sensitive shipments. Plus, it keeps things moving smoothly and hassle-free.
Cons
Higher Cost: Air freight is known to be the priciest shipping method when moving abroad, mainly because of the premium cost associated with air cargo space.
Limited Capacity: The volume and size of items that can be transported via air are somewhat limited compared to sea or land transport. If you're considering moving a large volume, this method may not be the best fit for you.
Weight Restrictions: There are weight restrictions to keep in mind, which can impact the types of items you can move.
Shipping by Sea Freight
Sea freight is a great option for larger volumes. The cargo is loaded into shipping containers and transported by cargo ships, making it a cost-effective choice. Even though it may take a bit longer than air freight, many people opt for shipping their furniture by container because it's more affordable, especially when moving a substantial volume of belongings.
Pros
Cost-Effectiveness: Sea freight is usually a great cost-effective option, especially if you're moving a large volume.
Capacity: Shipping containers are a fantastic choice for a complete household move. They can effortlessly fit a large volume of your precious belongings.
Suitable for Bulky Items: Sea freight is an excellent option when it comes to shipping large or heavy items that might not be as convenient with air freight.
Cons
Longer Transit Times: Shipping by container usually takes longer, which might not be suitable for time-sensitive moves.
Transshipment Risks: Cargo ships may stop at multiple ports, increasing the risk of potential damage or delays during transshipment.
Weather and Delays: Weather conditions and other maritime factors can impact departure and arrival times.
Land Transport
If you're moving within the same continent, land transport could be a great option. You can choose moving trucks or trains to easily transport your belongings across borders. It's a cost-effective and convenient choice, especially when your destination is reachable by road or rail.
Pros
Cost: Land transport tends to be less expensive than air and sea freight, making it a great budget-friendly choice. But remember, this is only possible if your destination is reachable.
Efficiency: Moving by road or rail offers flexible scheduling, giving you the freedom to plan your move with greater accuracy. Plus, you'll enjoy quicker transit times compared to sea cargo, so you can settle into your new place even faster.
Cons
Limited Reach: As mentioned earlier, land transport is a great option for regional moves. However, if you're planning to move across continents, this might not be the best choice for you.
Regulatory Restrictions & Documentation: When crossing borders, you might need to provide certain documents such as customs clearance certificates. Plus, there could be some additional regulations that you need to keep in mind.
Additional Services
International moving companies go the extra mile to provide a range of additional services, making sure your relocation experience is tailored to your needs. Of course, these services come with various costs that might also affect your international moving expenses.
Also Read: 10 Best International Relocation Companies
Packing Services
Thanks to their years of experience, international moving companies are expert packers who take great care in ensuring that your items are safely packed for the journey. This service saves you time and lowers the risk of damage during transport. The cost is usually based on the volume and fragility of the items to be packed.
Storage
If your new home isn't quite ready for you to move in, or if you haven't found the perfect place to call home yet, you might need to find a spot to store your belongings for a little while. Don't worry, moving companies can help with that! Just keep in mind that there might be some additional fees for this convenient service.
Insurance Coverage
Making sure your belongings are insured for an international move is absolutely vital. It's not just about protecting yourself from potential damage, theft, or loss—it also brings you a lot of peace of mind. International moving companies offer various options, and the cost will depend on the value of your items and the coverage level you opt for. Rest easy knowing your belongings are in good hands!
Don't Forget International Health Insurance
If you're relocating overseas, you'll also need a global health plan that can take care of you wherever you are in the world. International Citizens Insurance can help you get the best rates on a plan  so that you can get the same great care you expect at home.

Compare multiple quotes and coverage options
Work with an insurance expert at no additional cost
Find the best plan for your needs and budget
Customs Assistance
Navigating customs regulations might be one of the most complex tasks when moving abroad, but no worries! Most international movers are here to assist you with customs paperwork and clearance. They'll make sure your belongings smoothly cross international borders. Keep in mind, this service may come with an extra cost.
Unpacking and Setup
When you arrive at your new place, you'll be happy to know that some moving companies offer unpacking and setup services to make your transition smoother. This awesome service may even include assembling furniture and arranging items in your new home, although it does come with an additional cost.
Read: How to Budget for a Move Abroad
Get International Moving Quotes
When it comes to international moves, the best way to get accurate cost estimates is by reaching out to trustworthy moving and shipping companies. They'll gladly provide you with quotes tailored to your unique needs. Professional movers understand the unique aspects of your move and will provide a detailed breakdown of costs tailored to your specific requirements. By comparing quotes from multiple companies, you'll be empowered to make an informed decision that aligns perfectly with your budget and expectations!

Free Quotes for an International Move
Get quotes from up to 5 moving companies

Save up to 40% on your moving costs

Find the best rates all at once!
Related Articles: