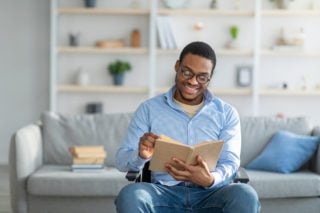 To truly plan your move to a new location – to be a local, not a tourist – read some books about different cultures. Books go deeper than online forums or travel Instagrams. And the more you know about a destination before you go, the more you'll be able to connect with the people and cultures that await.
This article recommends books about 15 top destinations for expats and long-term visitors – two books per destination. You'll find some classics here, and some insider recommendations too.
More, all these books about different cultures are current, written in the 21st century.
Australia
The world knows Australia more through films than through books. Start to go deeper into Australia's culture and history with these accessible reads.
"In a Sunburned Country" by Bill Bryson: (In some countries titled "Down Under.") This book blends Australia's nature with Bryson's travelogue style for a thorough introduction to the lucky country. It's a modern classic for good reasons.
"Growing Up Aboriginal in Australia"  ed. Dr. Anita Heiss: Open yourself to the voices of Aboriginal Australia with this groundbreaking anthology. This was one of the Australian Book Industry Awards' winners for Book of the Year in 2019.
Canada
Canada is famous for being welcoming to visitors and refugees alike. Read these books to learn what makes Canadians so open and cosmopolitan.
"How to Be a Canadian" by Will Ferguson: This book blends an insider's view of Canadian culture with edgy-for-Canada humor. Canadians recommend this as being funny because it's true.
"A History of the Canadian Peoples" by J.M. Bumstead: For a real connection with Canada, invest in this insightful and respectful history of the nation.
Costa Rica
Costa Rica is far more than a beautiful nature reserve. This complex country is also a regional hub for free trade and technology. Costa Ricans' distinct culture has many subtleties, too, and the more you know, the better your experience visiting will be.
"Moon Costa Rica" by Nikki Solano: A travel guide may sound retro, but the Moon guides are exceptional. This is both a travel guide and a book about Costa Rican culture. Solano, a Costa Rica local, shares insights to give you insider tips and real social understanding.
"The Costa Rica Reader: History, Culture, Politics" by Steven Palmer and Ivan Molino: Experience Costa Rican voices and history with more than fifty short essays about what makes Costa Rica unique.
Czech Republic
The varied history of the Czech Republic has fed its rich writing scene, and its capital Prague is an official UNESCO city of literature. These two books open the Czech Republic with a literary flair.
"Gottland: Mostly True Stories From Half of Czechoslovakia" by Mariusz Szczygiel: In this unusual nonfiction book, the surreal side of the Czech Republic blends with the twists and turns of its history. Both the style and stories show how the Czech people resisted totalitarianism in their unique way.
"The Thing About Prague: How I Gave It All Up For Life in Europe's Most Eccentric City" by Rachael Weiss: This 'moving to a new country' travelogue has a twist. Weiss admits the challenges and culture shock of Prague were more than she expected. She left and wrote this loving, hilarious chronicle of her time there, a real insider's view.
France
So much has been written and filmed about France – and so little of it is accurate. These books about French culture show what's missing from "Emily in Paris."
"The Bonjour Effect" by Jean Nadeau and Julie Barlow: This must-read examines the way French people communicate and gives new expats inside information on how to fit into the culture. Nadeau and Barlow are consistently funny and memorably enlightening.
"The Sweet Life in Paris" by David Lebovitz: Professional chef and food writer David Leibovitz followed his dream to Paris. He chronicles real life in France with exceptional clarity and good humor.
Germany
Choosing books about German culture, it can be hard to know where to begin. These books are an excellent start.
"Why the Germans Do It Better: Notes from a Grown-Up Country" by John Kampfner: This book, published in 2020, focuses on Germany today, including the history and values that make modern Germany pragmatic. Kampfner even discusses Germany's response to Brexit and the coronavirus.
"German Men Sit Down to Pee" by James Cave and Nilklas Frank: A little more serious than its title, this book is a great introduction to German culture and manners. Travelers really do use what they learn reading this.

Compare multiple quotes and coverage options
Work with an insurance expert at no additional cost
Find the best plan for your needs and budget
The Netherlands
The idea of the Netherlands brings up vivid images – tulips, windmills, wooden shoes. But the nation and its people are modern and polished. If you weren't planning to visit the Netherlands, you might change your mind after these books.
"Why the Dutch are Different: A Journey Into the Hidden Heart of the Netherlands" by Ben Coates: Loved by reviewers and travelers alike, this book blends memoir, history, and keen social observation.
"The Dutch, I Presume" by Martijn de Rooi: This smartly designed volume opens the doors to Dutch homes and personalities. De Rooi describes Dutch culture and quirks with the dry, sharp wit any visitor to the Netherlands will recognize.
New Zealand
New Zealand is known for its beautiful wild places, and Kiwis have a reputation as outdoor types. Yet they also love to read and to write about themselves thoughtfully. Here are two books to introduce you to New Zealand.
"Pavlova Paradise Revisited" by Austin Mitchell: In the 1970s, Mitchell's book The Half-Gallon Quarter-Acre Pavlova Paradise was a Kiwi bestseller about New Zealand's culture. Mitchell returned to New Zealand in 2011. This serious-and-cheeky update "shows what has changed – and what hasn't" since then.
"The Penguin History of New Zealand" by Michael King: It isn't often that a 576-page history volume sells a quarter of a million copies. King's flowing, inclusive writing about Māori and Pakeha history made this book into a best-seller.
Peru
Peaceful Peru is a world-class destination. Peru's accessible visas and low cost of living draw a lot of interest from travelers and nomads. Learn about Peru's history and culture from these books.
"Turn Right at Macchu Pichu: Rediscovering the Lost City One Step at a Time" by Mark Addams: Readers love this witty travelogue. What was the purpose of the iconic citadel, Macchu Pichu? Addams takes to the trails of the Andes to find out. Along the way, he learns about Peru's quirks and the Incas of today.
"In Search of an Inca: Identity and Utopia in the Andes" by Flores Galindo Alberto: Alberto looks back in Peruvian history and forwards through Peruvian society, exploring the nation's ideals and the impact of colonialism.
Spain
Spain is another country that is so popular with tourists, there's a gap between the world's ideas about it and the country's reality. These books will connect you to the spirit and challenges of Spain.
"The New Spaniards" by John Hooper: The author said, "It's the book I wish I'd had when I moved to Spain. It didn't exist so I wrote it." Two editions and decades of rave reviews show the world wanted this book too, about everyday life and people in post-Franco Spain.
"Ghosts of Spain: Travels Through Spain and its Silent Past" by Giles Tremlett: This is more somber than some 'about this country' books, yet Tremlett's deep love for Spain shines through. Ghosts of Spain examines Spanish society through the history of the Spanish Civil War.
Sweden
Sweden is in the heart of Scandinavia, where long winters give people a passion for books. Authors writing about Sweden itself know they must be good, and these two books deliver.
"Made in Sweden: 25 Ideas That Created A Country" by Elisabeth Åsbrink: Swedish Åsbrink opens up about the myths and truths of Sweden by examining 25 Swedish icons. You'll get the insider views on everything from cozy homes and lagom to Scandi noir.
"The Almost Nearly Perfect People: Behind the Myth of the Scandinavian Utopia" by Michael Booth: This amusing and lively review of five Scandinavian countries discusses Sweden with its neighbors – and why they don't always get along!
Taiwan
Taiwan is a destination for travelers in the know. It has something for everyone: bustling cities, temples and museums, quiet forests. Again, these books will make you want to visit.
"Two Trees Make a Forest: On Memory, Migration, and Taiwan" by Jessica J. Lee: A true, gorgeously written story. Lee discovered her Taiwanese grandfather's memoirs. She went on to explore Taiwan's nature and her own heritage there.
"Forbidden Nation: A History of Taiwan" by Johnathan Manthorpe: Look past the cover for a sweeping history of Taiwan. Once a vital center on the Maritime Silk Road, Taiwan's trade led to its struggle for national freedom, with some pirate kings along the way.
Thailand
Vivid Thailand is on every traveler's must-see list. Yet the true Thailand may feel elusive. These nonfiction books are reliable sources to share what makes Thailand unique.
"Very Thai: Everyday Popular Culture" by Philip Cornwel-Smith: This book about Thai culture shows us Thai life through popular art and music. Hundreds of images, and a surprising amount of history, make this a lively read.
"A History of Thailand" by Chris Baker and Pasuk Phongpaichit: Behind the quiet title is a concise, fast-paced history of a complex country. The authors show how Thailand's society and economy have shifted over the centuries.
JOIN OUR NEWSLETTER!
Get monthly access to tips and tricks for expats and find out what's going on in the world of travel!
United Arab Emirates
You may be familiar with the largest city in the United Arab Emirates – Dubai. Expats and digital nomads have made Dubai into a global city, packed with the workers of the world. Read these books to decide if you'll try the Dubai dream yourself.
"City of Gold: Dubai and the Dream of Capitalism" by Jim Krane: This volume on Dubai's history, politics, and economics has heart, too, as Krane meets the people of Dubai. From migrant workers to constrained aristocrats, this work explores Dubai's glitter, and the human cost of it.
"A Diamond in the Desert: Behind the Scenes of the World's Richest City" by Jo Tatchell: Brought up in Dubai by an expat family, Tatchell returned to chronicle Dubai's explosive expansion. She includes the views of women caught up in Dubai's changes.
United Kingdom
"Oh, to be in England," – and Scotland, and Wales. Many visitors to the United Kingdom plan to enjoy London, stately homes, and literary locations. To learn about wider Britain, including parts of its society that may seem opaque, start with these books.
"Watching the English: The Hidden Rules of English Behavior" by Kate Fox: This anthropologist author unpacked British character and society and created an international bestseller with this book. Topics include self-deprecating British humor, ironic garden gnomes, and army squaddies.
"Getting By: Estates, Class and Culture in Austerity Britain" by Lisa Mckenzie: Modern Britain is more than Instagram aristocrats and movie settings. This thoughtful volume explores the lives of those Britons who make the best of the UK's public housing estates.
One More Recommendation for Books About Different Cultures
Was a country you're interested in missing from this list? Check out the fantastic "Culture Smart!" series of books about different cultures. This series covers customs and culture for 106 different countries, from Albania to Zambia.