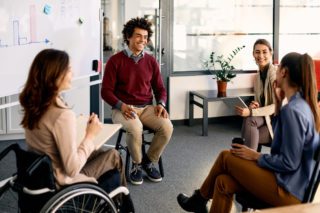 An urgent knock on your door.  It's Tiffany, and she tells you, her HR manager, that she's been chosen for an assignment halfway around the world.  Breathless with excitement, or maybe it's nerves?  She explains she "has a million questions." At this point, some HR professionals may wonder with dismay what questions she could possibly have.  But you?  You smile inwardly, knowing you've prepared for just this situation.
This is the crucial pre-departure period, falling between expat selection and landing in the host country.  Managed effectively, expats' risk of culture shock on arrival is much reduced.  They are also less likely to underperform, end their assignment early, or leave for a job elsewhere.
As one foreign worker on assignment explained to researchers, "Moving is an experience that forces the individual to place complete trust in the company." In this article, we see the personal and business concerns that can be addressed before departure. We also address best practices for pre-departure training.
Personal Concerns
Firstly, you say to Tiffany, let's discuss the relevant policies and procedures for your relocation.  Following best practices, over the course of the next hour, you discuss her salary as well as her relocation package. You discuss any cost-of-living adjustments to ensure that her quality of living does not decline even for assignments to the world's more expensive destinations.
You also discuss accommodations with Tiffany.  This is one of the most important areas for organizations to address. Without a basic understanding of what "home" looks like, expats may imagine the worst and stress over the details. Among other issues to consider are where will she be housed on arrival and for how long?  Also, be ready to discuss what assistance is provided in finding permanent accommodations.
When I arrived in Rwanda, for instance, I received one month of free, high-end accommodations from my employer.  This included a voluntary two weeks residing with a local co-worker, who offered inside knowledge about my host country and its culture.  For permanent housing, I was mostly on my own, though HR did connect me with a real estate manager.
By contrast, the process when I arrived in Kyrgyzstan years earlier to work at a small university was less formal but no less effective.  There, I initially stayed in the home of my supervisor. Meanwhile, the head of HR helpfully accompanied me as I toured apartment rentals.
Support can therefore come under various guises.  Every organization is different, and so are the needs of your staff. What is most important is transparency. The international employee needs to know where the company will assist them and in what areas they will need to take their own initiative.
A Checklist for a Host Country Life Briefing
Secondly, either with Tiffany alone or with any peers assigned along with her, you discuss the details of host country life. This is a simple checklist that can be fulfilled for all expats.
This includes:
Immigration procedures when arriving in country
Work visa and other bureaucratic issues
Hygiene concerns, if any, such as drinking water, food-borne illnesses, and so forth.
Personal finance and local banking, including how to open a new bank account.
Medical facilities and international medical insurance
Transport – How will the employee get to work? Is a car necessary, or is public transportation extensive?
What to take with you – from clothing to furniture to pets
Host country safety risks, ranging from the risks of natural disasters to violent crime, to gender or issues of diversity.
Children's education and options for spousal employment
Shopping
Climate

Compare multiple quotes and coverage options
Work with an insurance expert at no additional cost
Find the best global plan for your needs and budget
Preparing for the New Role
With personal concerns addressed, you and Tiffany discuss her new job responsibilities. This is not an idle concern; lack of clarity about new job responsibilities is one of the biggest causes for expat failure. The stress resulting from unclear responsibilities also reduces job satisfaction and increases the risk that the international employee will pack up and leave.
Consequently, you discuss how her performance assessment will work, being sure to coordinate with host country supervisors to contextualize this to her new home, culture, and environment. At a broader level, she receives a primer in local business laws as well as advice for dealing with local partners.
For a deeper orientation, you may offer Tiffany the chance to visit her future home on a "look-see" visit.  It is often an emotional leap to move to a new country sight unseen. This first-hand knowledge before the big move can go far in reducing anxiety.
The early visit allows Tiffany and accompanying family members to ease into the process, begin their housing search, visit schools for their children, and get to know locals and co-workers.  Tiffany can also meet her future co-workers and supervisors, gaining a better understanding of her responsibilities.
If a physical visit is not possible, "virtual visits" may substitute.  For instance, before accepting an offer to relocate to the University of Florida's graduate school, I spoke with a dozen or so future co-workers and supervisors on video from my residence in Budapest, Hungary. One gracious coworker even gave me a tour of the campus via video call on his phone.
Hands-on Experience
Whether in person, during virtual visits, or with recently returned staff from the host country, Tiffany may also participate in informal briefings.  As scholar Hilary Harris writes, "Arguably, the chance to meet and discuss the host country with people who know it well, perhaps other employees of the company from there or who have just returned, is among the cheapest and best forms of preparation."
Shadowing is yet another method to prepare Tiffany for her pending assignment.  This involves assigning Tiffany –prior to her departure – to begin interacting with people and ideas relevant to her future role.  Reviewing reports, communicating with the host country staff, and engaging with its results all help Tiffany to adjust well before arrival.
And on arrival, firms may arrange for Tiffany's assignment to overlap partially with another expat still on assignment.  As Harris writes, "This has the significant advantages of allowing one to brief the other, to introduce them to key clients, government officers and so on and to 'show them the ropes' in the working environment."  However, these overlaps can be difficult to organize, costly, and lead to confusion about who is in charge – so careful planning is advised.
Cross-Cultural Training: An Overview
Finally, you turn your attention to pre-departure training. In our article on culture shock, we discussed several major cultural dimensions.  Together, these dimensions reveal the ways in which country cultures differ – this one more individualistic, that one more hierarchical, and so forth.
Larger cultural differences on these measures predict more extreme culture shocks for the newly arrived expat. HR, however, can make international staff more familiar with cultural differences by providing cross-cultural training.
Consequently, cross-cultural training may begin by providing trainees with an overview of the most important cultural dimensions.  In addition, quality cross-cultural trainers provide participants with an understanding of how these cultural dimensions predictably impact business practices.
While there are many ways to do this, one effective approach is to discuss the broad business implications that are relevant around the world – for instance, for collectivists in general – but also to include a fine-grained analysis of how the cultural practices play out in the host country to which the international staffer is soon relocating. Not only is the well-trained global citizen able to recognize and label differences, therefore, he or she is also able to proactively respond in culturally appropriate ways.
This three-step process to cross-cultural training can be summarized as follows:
Step One: A conceptual overview of each of the major cultural dimensions.
Step Two: A discussion of the general business practices associated with each cultural dimension.
Step Three: A discussion of the specific cultural and business practices of the host country.  
Unpacking the Three Steps to Cross-Cultural Training
Using the dimension of individualism and collectivism as an example, we can see how this three-step process unfolds. In Step One, trainees gain a conceptual understanding of individualism and collectivism – for instance, learning basic definitions and social implications for individualists and for collectivists.  As one example, trainees may learn that collectivists tend to have strong social networks and close connections with extended family. By contrast, individualists' immediate concerns tend to center on the self and the nuclear family.
In Step Two, business implications, trainees may learn how individualists and collectivists are motivated in the workplace differently. For instance, collectivists tend to respond better to group incentives while individualists prefer rewards for standalone achievements.
Furthermore, studies show that individualists are more likely to free ride on group projects, putting in less effort than they would if working individually. By contrast, collectivists tend to cooperate well when working with members of their own in-group. However, they free-ride at levels comparable to individualists when assigned to work with outsiders.
In Step Three, trainees discuss the implications in the expats' host country. For instance, they may discuss how in homogeneous and collectivistic Japan, group members tend to productively work together.  Or that in more diverse countries, say Colombia, collectivists are more susceptible to the free rider effect.
Cross-cultural researchers have evaluated most every country on each of these cultural dimensions, and tools such as Hofstede Insights allow anyone to look up country results.  This is particularly important for employees that interact across a wide variety of cultures or that work in a diverse society.
Imagine an international employee working in Australia learns that tomorrow she will be traveling to Ghana, for instance. Even without specific training, she can use her knowledge of the cultural dimensions to quickly – if broadly – understand the most important cultural indicators for that West African society.
Too Little, Too Late
It's worth noting that there are other relevant cultural dimensions not discussed here, including cultural dimensions relating to communication styles.  Similarly, staff preparing for assignment may require foreign language training.  Sensitivity training for both host country and foreign nationals can minimize the risks of diverse workplaces – and leverage the benefits, such as increased creativity and improved group decision-making.
As many options as there are for training, however, research suggests that many expatriates – including over 70% of North American expatriates – receive little or no training prior to their departure.  Furthermore, a mere 10% of experienced managerial-level international employees receive cross-cultural training. Despite their technical experience, a majority report being ill-prepared for interactions with host country nationals.
There may be an even greater temptation to skimp on training when cultural differences as seen as minimal or languages the same.  Yet even small differences between cultures can be consequential – and even more so when foreign staff have an unrealistic expectation that their lives will change little on arrival.  For instance, host workers in one L.A. office reported experiences with "uniformly shell-shocked" Australian employees within just a week of their arrival – and this among workers in the tourism industry, no less.
The Cost of Skimping
These are dismal figures, considering the high favorability rates among international staff that do receive training.  Indeed, researchers are virtually unanimous in suggesting that well-designed pre-departure trainings are well worth the costs. One consequence of receiving little or no training, as we'll see below, are higher rates of expatriate failure.
In addition, even those receiving training often report that their training lacked rigor. As a British investment banker assigned to Japan told researchers, "I don't think two or three days at [the training center] helped enough – to understand what I now think is the most subtle culture in the world . . . maybe four or five weeks might have."
An IT manager assigned to Vietnam explained, "The biggest criticism I would level at the pre-move briefings is that they were out of date almost as soon as I arrived here … I think the people doing the briefings were not really up to date with what is going on here."
Finally, a female marketing executive told researchers, "My sex was never an issue until I came out here. And, I've got to say that the training center really did not prepare me for the problems I have had since coming here."
Spending on Training Saves Money
Yet, one study showed that expats subjected to rigorous training programs are 70% more likely to remain with their organizations than those receiving less rigorous training. This means that by spending on training, organizations are saving on turnover costs.
How rigorous does the program need to be? This depends on the cultural distance between the host and the home country, the extent of communication challenges, and the complexity of the role.
For HR, much of this is no surprise. The challenge, rather, may be gaining the support of management to produce the comprehensive programs needed to support employees departing on international assignments.  But let us not allow perfect to be the enemy of the good.  Do what you can with what you have, remembering that Tiffany's knock on the door is coming soon.
Related Articles
About the Author
Dr. Thomas J. Bussen, with a Doctorate of Business Administration, JD, and MBA, is an Assistant Teaching Professor at Miami University's Farmer School of Business, and a former professor at the African Leadership University and the American University of Central Asia.  He is the author of several books, including Shaping the Global Leader and Compliance Management: A How-to Guide. His latest book, Enlightened Self-Interest: Individualism, Community and the Common Good, makes the case for a more inclusive and equitable professional mindset and is expected for release in 2023 with Georgetown University Press.
Sources and Further Reading
Earley, P. C. (1993). East meets West meets Mideast: Further explorations of collectivistic and individualistic work groups. Academy of management journal, 36(2), 319-348.
Forster, N. (1997). 'The persistent myth of high expatriate failure rates': a reappraisal. International Journal of Human Resource Management, 8(4), 414-433.
Guzzo, R. A., Noonan, K. A., & Elron, E. (1994). Expatriate managers and the psychological contract. Journal of Applied psychology, 79(4), 617.
Harris, H., & Brewster, C. (2002). An integrative framework for pre-departure preparation. International Human Resource Management: A European Perspective, 224.
Lin, C. Y. Y., Lu, T. C., & Lin, H. W. (2012). A different perspective of expatriate management. Human Resource Management Review, 22(3), 189-207.
Mercer's Cost of Living (2021), https://www.mercer.com/our-thinking/career/cost-of-living.html
Mesmer-Magnus, J. R., & Viswesvaran, C. (2007). Expatriate management: A review and directions for research in expatriate selection, training, and repatriation. Handbook of research in international human resource management, 197-220.
Suutari, V., & Brewster, C. (2001). Expatriate management practices and perceived relevance: Evidence from Finnish expatriates. Personnel Review.