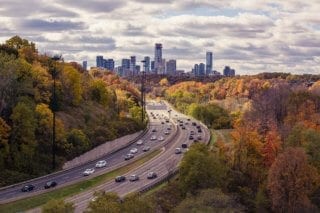 Best Places to Live in Canada for New Residents
A search for any listing of the best places to live in Canada will display a strong preference for the small and medium cities in southwest Ontario. These communities really have the best of both worlds. Their position next to the Greater Toronto Area (GTA) means residents have access to Toronto's attractions and amenities, like festivals, museums, and special events. They also benefit from superb infrastructures, like proximity to international airports, bus lines, and commuter trains. And they are insulated from Toronto's high cost of living, congestion, and crime rate. However, Ontario is not the only destination to consider! There are many excellent options for people planning to immigrate to Canada which are much further afield from as well.
Read: Cost of Living in Canada
Ottawa, Ontario
Ottawa tops nearly every list of the best places to live in Canada. The capital city of Canada has a desirable blend of a strong, stable economy thanks to a large concentration of government workers. Plus, Ottawa has an affordable cost of living, an established arts scene, and excellent healthcare. The city has the sixth-highest concentration of doctors' offices in Canada. It also has a respectable mix of general hospitals and specialty institutions, such as the Ottawa Heart Institute. Adding to the city's general sense of good health is access to green space. Ottawa residents are in the top 10 in Canada when it comes to walking to work. The city has ample walking and biking paths and some commuters even skate or paddle to work via the Rideau Canal.
Burlington, Ontario
A prime example of a city that benefits from its proximity to Toronto, many of Burlington's residents commute to Toronto – but enjoy a lower cost of living at home. Burlington boasts a strong economy and low levels of unemployment. Meanwhile, young families appreciate the area's public parks, recreation facilities, and strong school system. Plus, it's beautiful! Burlington is a waterfront city with easy access to hiking trails and nature. However, traffic can be a problem here. Only 2% of the population regularly walks to work and in-city transit use is low.
Grimsby, Ontario
Another Toronto-adjacent winner, Grimsby is in a prime location. It's within an hour of Toronto, Hamilton, and Niagara Falls. Plus, three international airports are nearby in Toronto, Hamilton, and Buffalo, New York. This has huge appeal for new residents who are involved in international business or frequently travel back to their home country. And this all comes packaged in a beautiful town of some 29,000, situated next to Lake Ontario.
Word is slowly getting out about Grimsby. The population has grown by 7% over the past five years. And more than 12% of residents speak a language other than French or English. Add in affordable housing and a strong recreation program and it's not hard to see why it's such a popular destination.
Oakville, Ontario
With activities like the annual Downtown Oakville Jazz Fest and the New Art Festival, Oakville is holding its own when it comes to arts and culture and special events. The vibrant downtown flanks the shores of Lake Ontario, giving residents an urban/rural vibe all in the same location. The city is tightknit, with a neighborhood feel, and skews towards young professionals and families. However, there is a major drawback when it comes to housing. The average price of a home in Oakville is over $1.2 million, making it one of the more expensive cities adjacent to Toronto.
Brandon, Manitoba
Brandon is decidedly a family-friendly destination for new residents. Its strong points include monthly daycare costs, which are a few hundred dollars lower on average than other comparable cities. There is also a good selection of kid-focused museums and attractions. More than 27% of all families in Brandon have children. Perhaps unsurprisingly, the city's public school system is excellent. But it's not just a great destination for kids. Working adults in Brandon have one of the shortest commutes in Canada, averaging under 12 minutes. And the city's overall unemployment rate is low as well.
Canmore, Alberta
Few cities in Canada can boast the natural beauty which Canmore, Alberta, calls home. Set in the Rocky Mountains, the city borders Banff National Park and is home to Canmore Nordic Centre Provincial Park. Residents love skiing, mountain biking, kayaking, and canoeing. Employment is low, with residents finding plenty of job opportunities in the tourism and outdoor recreation sector. Canmore is close to Calgary and all the services and amenities the city offers. But Canmore is less expensive, quieter, and has a better work-life balance.
St. John's, Newfoundland
One of the oldest cities in North America – and one of the closest to Europe – St. John's, Newfoundland, is Canada's easternmost provincial capital. Famously friendly, it's been welcoming people from all parts of the world ever since the Vikings landed a millennium ago. Arts, culture, and history are alive and well in St. John's. New residents will appreciate the city's quirky style, with its brightly colored houses, steep streets, and cobblestones, strong local entrepreneurship community, and emerging culinary scene. As well, St. John's has a strong education sector, topped off by the well-respected Memorial University.
Lévis, Quebec
Next to Quebec City but with far fewer tourists and a much lower cost of living, Lévis has extremely low unemployment, a high average household net worth, and sound infrastructure. It's situated next to the St Lawrence River, is close to the US border, and has easy train connections through Quebec City to Montreal, Ottawa, and Toronto. And although Lévis is small, it is more than just a typical suburb. Large companies and manufacturers, such as Frito Lay and Ultramar refinery, are located here, as are shopping malls, ski hills, outdoor pursuits, and historic sites.
Dieppe, New Brunswick
This small city in the heart of Francophone New Brunswick often flies under the radar but it's the fastest-growing census metropolitan area east of Saskatchewan. It also boasts the second-highest growth rate in eastern Canada. In the past 30 years, Dieppe's population has quadrupled. That strong sense of growth and community is evident among the city's more than 80 different community associations and organizations. For families, Dieppe offers education options in English and French, plus a community college and two universities.
Whitehorse, Yukon
Whitehorse residents are loyal to their city – very much so. 94% of Whitehorse residents say that their city is the best place to live in Canada! There are a lot of reasons for that, perhaps none so powerful as the region's unemployment rate. At just 2.7%, it has one of the lowest rates in Canada. It's also considered the most entrepreneurial city in Canada. Rounding out Whitehorse's appeal is access to great outdoor recreation, high air quality, a growing list of arts and cultural events, and Canada's newest university, Yukon University.

Compare multiple quotes and coverage options
Work with an insurance expert at no additional cost
Find the best plan for your needs and budget
Related: