An Overview of Singapore for Expatriates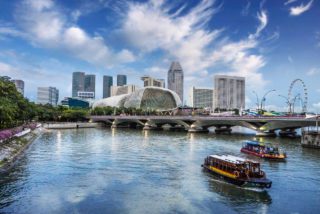 Singapore: a country that has a lot of history but is full of modern luxuries. From shopping to nightlife to being the world's greatest Grand Prix host- it offers appeal to even the most diverse crowds. It's no mystery why Singapore ranked second in the HSBC Expat Explorer Survey! If you're not familiar with everything that Singapore has to offer we will fill you in on what expats in Singapore have to say. The Expat Explorer survey has three areas, see how they rank:
Economics
Singapore ranked third overall in the category of economics but a closer look will show you the following: satisfaction with the host economy is ranked in 1st place while household income came in 6th and personal disposable income trickled behind in 11th. these results show that overall expats in Singapore are happy with their current economic situation.
Related: The Best Expat Jobs in Singapore
Experience
Individuals living there find the overall experience to be very pleasing and ranked it overall in 3rd place. In fact, the survey says "For expats looking for an improved quality of life and greater economic opportunities, Singapore is the place to go." A few reasons why expats love Singapore within the experience category include:
Travel around locally (2nd)
Setting up utilities (2nd)
Adapt to local work culture (3rd)
Make friends (3rd)
Organize finances (3rd)
Commute to work (3rd)
Adjust to the new culture/lifestyle (4th)
Organize healthcare (4th)
Opportunities for sport (5th)
Environment (6th)
Expat responses show that areas of improvement include using the local language (28th), local culture (28th) and work/life balance (27th).
Raising Children in Singapore
The country ranked 5th in this category overall- looking closer these are a few strong areas within this category:
Quality of childcare (1st)
Quality of education available to your children (2nd)
Access to better education (5th)
Health and well being of your children (6th)
Results show that expats are not as pleased with the cost of education available to children (35th), cost of childcare (31st), and an increase in children being more outgoing (19th).
Although childcare in Singapore is of high quality, it comes at a price. The report reveals that "Well over three-quarters of those paying for their children's education find it more expensive than educating them at home (83%). However, for this money, 70% say their children get a better quality of education than they would have had otherwise."
Overall, expats in Singapore enjoy life in their new country.
Every group lives peacefully united and in harmony with each other regardless of race, religion or color. The mouth-watering food and different customs and festivals are to die for. It is simply a beautiful place to experience. – Expat in Singapore

Take a look at the HSBC Expat Explorer survey for more details on what expats had to say about Singapore, Expatriate and Travel Insurance to Singapore.