Finding an Apartment or House in Singapore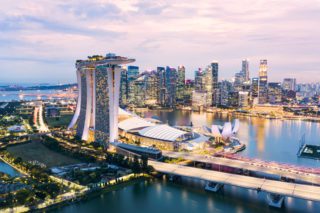 With Singapore ranked as the best place in the world for expatriates or international citizens living abroad, it's little wonder that the island-state is attracting more and more bright minds from around the world. But moving to a foreign country can be a daunting task, particularly with one as tightly governed as Singapore. That's why we'll take you step by step through renting long-term accommodation in Singapore. Whether you're flying solo or bringing your entire family along for the ride, this practical guide will teach you about renting a flat or house in Singapore!
Rental Costs in Singapore
A good guideline is to allocate about 30% of your salary to housing costs. However, if your company has provided you with a housing allowance, that's even better.
Since rental rates in Singapore are one of the highest in Asia, this first step is essential to make sure you don't overextend yourself with a single line item in your budget. That black-and-white colonial home built in the 1900s may look charming, but it may not be the best idea unless you're bringing home a six-figure paycheck every year.
Choosing a Neighborhood
Platforms like iProperty.com.sg and SRX list the available homes for rent, but you'll still need to narrow down your search criteria a tad more. For instance, have you already secured a job? If so, you may want to check out where your office is. Are you bringing your family along? Look up where your kids' schools are located. Singapore may be small, but you don't want to end up picking a far-flung location like Woodlands if your office is in the Central Business District (potentially a two-hour commute every day).
It's best to use an online mapping tool to check out any shortlisted units you see on the listing platforms. We'd recommend gothere.sg for this – it's a local map app that provides far more accurate directions than Google Maps. Whichever neighborhood you pick, make sure that it's near a train station and no more than a 45-minute commute every day.
Decide Whether to Hire a Property Agent or Not
Getting a local agent to help in the search can save quite a bit of time, particularly if you'll be flying in from halfway around the world. A property agent would know the lay of the land and could easily recommend areas that are best suited to you and your family.
There's no extra cost on your part if you hire an agent since landlords will typically bear the cost of agent commissions. You'll likely have to pay the stamp duty tax, but this is regardless of whether or not you get an agent.
Schedule Viewings of Your New Apartment or Flat
Even if you have an agent working on your behalf, you'll still need to come down to Singapore and check out the places in person. It's best to do this in the daytime so you can also make sure that the house isn't an oven in the afternoon (Singapore humidity can come as a bit of a shock to the uninitiated).
Since this could potentially be your home away from home, you'll want to put on your "buyer's cap" and check for the following:
Peeling paint, which could indicate water seepage
Wet patches of flooring, which could indicate leaky pipes (and increase your utility bill)
Rotten or termite-ridden wood
Possible presence of bedbugs
Clogged drains
Rental Agreements or Contracts in Singapore
Once you've settled on a place, you'll have to put down a security deposit. This is typically equivalent to two months' rent (for a two-year lease). But before renting and signing on the dotted line, read through the contract in detail. Tenancy agreements in Singapore are typically worded in favor of landlords, with very few rights given to tenants unless explicitly written.
Particularly since you're an expat, you'll want to check that:
The security deposit can only be withheld if there's damage to the property or unpaid rent
You'll be given advance notice in writing before the security deposit is forfeited
Your deposit will be returned to you within 14 days
You'll pay a limited amount for repairs per annum – anything beyond that sum is the landlord's responsibility
There's a diplomatic clause in the event that you need to move away before the end of the lease
The landlord can only visit your apartment with your prior permission
Also, the landlord will need proof of your work visa to proceed with the contract, so it's best to sort that out before putting down the deposit on your new home.
Related Articles