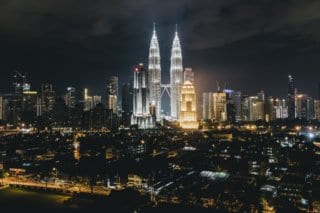 The cost of living in Malaysia and the laid-back lifestyle make retiring in Malaysia a great choice. But the country also offers a variety of excellent employment opportunities for nomads looking for work.
Fortunately, expat jobs in Malaysia are not just for high-skilled professionals; there are also job opportunities for entry-level workers that speak English to fulfill needs in the hospitality and teaching sectors.
If you want to move abroad to find work, it is essential to research the local job market. That's why we've created this list of the best jobs in Malaysia for non-natives.
Obtaining a Work Visa in Malaysia
First things first, before you relocate and seek employment in Malaysia, you'll need to obtain the proper visa. The type of work you intend to do will determine the type of visa you need.
If you work in a professional field, you'll most likely need an expatriate visa. If you plan to do an unskilled job that the Malaysian government does not consider "professional," you'll most likely need a foreign worker's visa.
For a complete list of work permits and visa types, visit the Immigration Department of Malaysia. There is also a special division called the Malaysian Expatriate Services Division that works with local businesses and foreigners to provide employment visas.
Related: Find Health Insurance in Malaysia
Jobs in High Demand in Malaysia
As with all economically healthy countries, some jobs are in high demand in Malaysia. Here are the best expat jobs in Malaysia.
IT Jobs
The tech industry is expanding rapidly throughout Asia, and companies need data scientists that can analyze statistics. Programmers are also required in just about every industry, as are AI experts and software engineers.
Engineering Jobs
Malaysia is home to a booming real estate market, resulting in a strong need for architects and structural engineers. If you have design skills and surveying expertise, you can find work as a site supervisor, a senior project manager, or a project engineer.
Banking and Finance Jobs
From actuarial science to financial technology, you'll find a wide variety of jobs in Malaysia if you have experience in the financial industry. As salaries rise and the standard of living increases, there is a growing need for tax accountants and auditors.
Marketing Jobs
Social media is a massive part of most Malaysian's lives. According to Hootsuite and We Are Social, Malaysia ranks 5th in terms of social media penetration. That means companies in all sectors are looking for social media managers to build their brand presence.
This doesn't mean just sending out witty tweets or making weekly Facebook posts. You'll need to know how to develop content, maintain a strategic content calendar, and know how to use analytical tools.
Jobs in Tourism
Malaysia is a growing tourist destination, and companies are hiring professionals with hospitality and service industry experience to meet the demand. In addition to careers in hotels, restaurants, and resorts, the spa industry is also thriving. With the right expertise, you can find work as a professional spa therapist.
The tourism sector features some of the best expat jobs in Malaysia, especially if you speak English because visitors love to speak in their native tongue.
Teaching Jobs
Native English speakers can almost always find work teaching English as a second language in Asia. Check the TEFL website to learn what openings are available in schools as well as in the private sector. To make things even better, many teaching jobs are no online thanks to Malaysia's love for technology.
Where to Start Searching for Jobs in Malaysia
There are a variety of employment websites that list open opportunities throughout the country.
Asia Work is explicitly geared towards expats looking for employment. MalaysiaJobs.org, on the other hand, offers a comprehensive list of all the country's biggest job boards.
Depending on your skills, there are excellent employment opportunities for expats in Malaysia. Of course, the best jobs in Malaysia are the ones you're qualified for, and that pays well. It's always best to find a job before you make the move, as the type of work you want to do may determine the type of visa you need.
Before you go, find International Health Insurance in Malaysia