Work Visas in Germany for Expats and Foreigners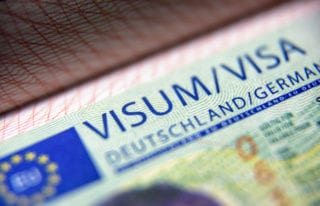 According to the Organization for Economic Co-operation and Development (OECD), an estimated 36.5 foreign workers call Germany home. This is one of the largest expat communities in the world and the majority of workers come from other EU countries. There are several good reasons for their desire to work in Germany. For instance, the country offers excellent healthcare, recreation opportunities, and a strong economy. Despite Germany's reputation for productivity and efficiency, the average workweek is just over 26 hours and employees enjoy a minimum of 20 paid vacation days a year. This is an attractive work-life balance that's hard to find elsewhere. As well, for those not from the EU, applying for a German visa is the first step in gaining citizenship. If you live in Germany with a residency permit for at least eight years, you are eligible for German citizenship. With that comes a coveted German passport, one of the best in the world. But in order to get there, you have to start at the beginning and look at which work visas in Germany are right for you.
Do I Need a Work Visa in Germany?
Citizens of the European Union, the European Economic Area (which includes Iceland, Liechtenstein, and Norway), and Switzerland generally do not need work visas for Germany. However, there are some exceptions. Citizens of newer EU countries, including Bulgaria and Romania, require permits to work in certain sectors. Additionally, all new residents from the EU and EEA must apply for a residency certificate within eight days of arrival. This is a necessary step to access the public German healthcare system and obtain an electronic tax card.
What Are the Different Types of German Work Visas?
There are several different types of work visas and it really depends on your country of residence and your occupation. People from Australia, Canada, Israel, Japan, Korea, New Zealand, and the United States require a residence permit for work purposes. In order to work in Germany, you must first have a residence permit that includes work authorization. The extent to which you can work will be detailed on this residence permit. As such, when you look into work visas in Germany, you are really also looking into German residency requirements. You can apply for this after you arrive in Germany. This works out well for people who are visiting as short term tourists and fall in love with the country or come across a fantastic work opportunity.
Visitors from all other countries need to get a work visa before they travel to Germany. In order to apply for a work visa in these circumstances, you need a firm job offer. These applicants will also need a residence permit once they get to Germany.
In both cases, there are several different kinds of residency permits and work visas to choose from, depending on your circumstances. These are four of the most popular.
General Employment Permit
General employment permits apply to those working in jobs that do not require higher education or special skills. Note that the term "special skills" is relevant. There are many jobs that fall under the purview of the general employment permit that require vocational certificates. You will only be eligible if the position in question cannot be filled by a worker from the EU, the EEA, or Switzerland. These permits are usually granted for a year and can be extended multiple times.
Highly Skilled Worker Permit
If you are a highly skilled worker (such as scientists with special knowledge, doctors, university teachers or assistants with executive functions) or earn more than 84,600 Euros, you can apply for a settlement permit, also referred to as a highly-skilled worker permit. This highly coveted permit allows you and your family to live and work in Germany indefinitely.
University Graduate Permit
Foreign university graduates with sufficient funds for personal support can get a six-month residence permit to look for work. However, this permit is for looking only! You cannot actually work with a graduate permit so if you are so lucky to find a good job, you'll have to apply for the appropriate permit or visa for the situation.
EU Blue Cards
EU Blue Cards – which actually aren't blue at all – are designated for applicants with a university degree and a guaranteed job with an income of at least 50,800 Euros. (Should the job be related to a field where there is a shortage of workers, that income level drops to about 41,000 Euros). A Blue Card is really a four-year residency permit and it also allows family members to join you and work in Germany.
Self Employment Residence Permit
If you are self-employed or planning to start a business, you must demonstrate how your skills are needed in the area you want to settle down in. You must also demonstrate how you will help the local economy. For instance, will you be hiring local staff or attracting tourists? Applicants must also prove that they have sufficient funds to cover their own costs and provide a detailed business plan.
How Do I Get a German Visa?
Unlike some countries, where the burden of applying lies with employers, for work visas in Germany the responsibility of applying for a visa or permit lies with the individual. However, you can expect some support from your employer. They can provide a detailed job description and attest that they could not fill the position by using the EU, EEA, or Swiss workers.
The usual application time ranges from one to four months. The timing depends partly on where you are from, what your occupation is, and how busy the office is.
German Visa Application Check List
Generally, you must provide the following when applying for a work visa or residency permit:
Two completed application forms.
Two passport photos.
A valid passport.
Proof of current residence. Acceptable documentation includes a driver's license and utility bills.
Proof of health insurance. If applying for a residency permit, this proof generally comes from your German employer, whose responsibility it is to help you enroll in the public German healthcare system. Alternatively, you can use a European Health Insurance Card or simply carry your own global medical insurance that will cover you between your arrival and when employment begins.
An employment contract that details salary information and job description.
Your resume. This demonstrates your qualifications and that you're a good fit for the job description.
Proof of qualifications, as appropriate, including university degrees or other certificates.
Proof of a clean criminal record.
Receipts that prove you paid the visa fee.
A personal cover letter explaining the purpose and duration of your stay in Germany.
A signed declaration of Accuracy of Information.
Related: