Top Video Conferencing for Digital Nomads, Expats and Working Remotely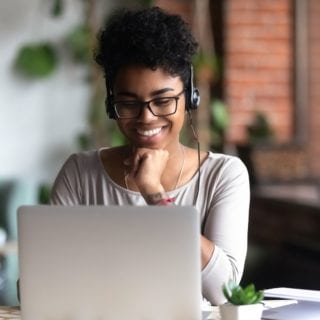 If there's one thing that expats excel at, it's keeping in touch. No matter where they are in the world, expats always seem able to rustle up a WiFi connection and find the bandwidth necessary to keep in touch with friends and family and maintain a close connection with colleagues and collaborators, from their apartment, a coffee shop or co-working space. Those video conferencing tools are now more important than ever before in the wake of the COVID-19 public health crisis. Suddenly millions of businesses are working remotely and foreigners living overseas desperately want to see their family members. These are five of the most popular video conferencing options, complete with pros and cons and favorite features, to consider when planning how to keep in touch.
Zoom
Designed for hosting webinars, teaching online courses, and conducting online training, the already-popular Zoom has gained even more fans and followers. During the COVID-19 public health crisis entrepreneurs are connecting to teach online seminars, art classes, and even exercise videos. Zoom is one of the best video conferencing tools as it offers easy online connections that integrate video conferencing, online meetings, group messages, and more. The program is built to host meetings that can have up to 100 interactive video participants and 10,000 view-only attendees. This is becoming a popular choice for online conferences, virtual classes, and volunteer organizations.
Adding to the functionality is the fact that Zoom offers features to share chats and screens so everyone in the group is on the same page, so to speak. With a mobile app for both Android and iOS users, it's a great choice for expats on the go who want to stay connected no matter where they are.
Some common complaints about Zoom is that customer service options can be slow and unresponsible. Another concern is that the number of integrated functions could be expanded. Finally, while there is a free version of Zoom, it's only for connections of 40 minutes or less, which really limits the user experience.
Read: Top Apps for Expats
Skype
Hugely popular and used throughout the world for everything from personal connections to corporate communications, Skype is a web-based communications tool that offers video chat, international calls, and texting via the web. It has a strong collaboration function which includes document and imaging sharing and is it compatible with landline usage. As the company is owned by Microsoft, it offers easy integration with all Microsoft MS Office products and apps, including Outlook, Word, and PowerPoint.
Skype is tremendously popular in part because it is available for free in its basic form and as a business model (with extra features and functions) for as little as $2 a month. As such, startups love it because it's so affordable and flexible.
Because it's so well known and such an established leader in the field of videoconferencing, Skype is easy to use and set up. However, it does have some drawbacks. Users complain about the fact that Skype's software is intrusive. Every time your computer powers on, the software launches. This is an ongoing annoyance and many users would prefer to launch it themselves when necessary. Another common complaint is that Skype seems to drop calls when connections are slow.
Google Hangouts
Google Hangouts allows up to 150 people to meet up virtually for a team chat. The program also allows for messaging and video calls. As a Google program, it integrates seamlessly with all other Google apps and programs and also comes as a Chrome extension. Users particularly love that it is integrated with Gmail, which allows for easy follow up with individual users once a video call concludes.
Overall, Google Hangouts is very easy to use and has easy options to share screens and collaborate on projects. However, users would love to see improvements when it comes to sharing different file types. Also, a longstanding complaint is that it's not easy to share multimedia documents.
While Google Hangouts has long been an industry leader in the field of video conferencing options, rumors have long held that a number of program features are on the verge of changing. The "new" Hangouts will be radically different from the old version.
GoTo Meeting
Simple, streamlined, and straightforward, GoTo Meeting is particularly strong on international features, making it a strong choice for digital nomads and businesses with locations all around the world.
With a user-friendly interface, GoTo Meeting can usually be set up and have a meeting underway in a matter of minutes. Even those who are new to video conferencing describe it as very easy to adapt to. It integrates well with everything from Slack, Zapier, and Microsoft Office and is often described as a more heavy-duty alternative to so-called "lightweights" like Skype.
One unique feature of GoTo meetings is that the platform maintains security through the use of PIN-based entries. Users must enter a code before they join a conversation, which adds to a sense of privacy and security for meeting participants. However, in fairness, some users complain that this system can be cumbersome and it doesn't allow people to quickly jump into ongoing meetings.
Another possible downside is that many users complain that the phone system for conference calls feels rather "clunky" and that GoTo Meetings feels slower compared to other similar programs.
Lifesize
For many expats who have long relied on video conferencing software, Lifesize is not only their go-to solution – it's the only solution they'd consider. Lifesize offers the first and only 4k video conferencing tool on the market. Their program offers an unparalleled high-quality resolution, so much so that it gives the illusion that all team members are collaborating in the same room.
Lifesize is set up to offer a scalable suite that can accommodate anything from one-on-one meetings to large forums and seminars. It's especially prized by people in creative and design-based fields, as the superior resolution makes it easier to see and thus discuss project progress. It's also a top choice of businesses that place a high value on communication and collaboration, as users really do feel like their connected more closely.
Lifesize users love that the program offers a lot of features designed with IT professionals and administrators in mind. For instance, they can check the quality of the call across devices, monitor meeting rooms, and configure home screen figures. Other pros include a dual display that includes the presenter as well as the document which is being worked on, and a wide-angle camera lens that adjusts automatically.
One of the drawbacks of Lifesize is that, in order to take advantage of all possible features, you have to subscribe both to their software and purchase hardware such as their microphones. And, of course, Lifesize's fantastic resolution depends in part on bandwidth and, depending on how many calls you need to make, this can be an important consideration.
Related: