With its strong economy and job market, it's no wonder that moving to Germany is a popular choice for expats looking for work overseas. According to the International Monetary Fund, Germany has the 4th largest economy in the world.
But with so many cities to choose from, it can be tough to decide where exactly in Germany you want to live.
To help you find the ideal job, we're taking a look at the 11 best cities in Germany for expatriates to work in.
1. Why Expats Love Berlin
As the capital and largest city in Germany, Berlin has a vibrant culture and a growing population of over 3.7 million people. It is home to the largest population of expatriates from a variety of different nations, including the U.S., Italy, and Turkey.
Berlin is the start-up capital of Europe, and global companies such as Volkswagen, Pfizer, and SAP have locations in the city. With opportunities such as this, Berlin is perfect for expats seeking jobs in science and technology.
2. Is Frankfurt A Good Home for Expats
As the 5th largest city in Germany, Frankfurt is an alpha world city—a global hub for commerce and education. In Frankfurt, you'll find HQs for the European Central Bank, German Federal Bank, Frankfurt Stock Exchange, and Deutsche Bank.
This economic center is the perfect option for expats seeking jobs in banking and finance. With about 735,000 residents, it's an ideal choice for those who prefer a smaller city.
Once you decide on a location, check out Housing Anywhere to find a place to rent in Frankfurt.
3. Munich for Expatriates
Munich is a cultural hub with a population of 1.5 million residents. It's the 3rd largest city in Germany, and it is home to major global corporations including BMS, Siemens, and MunichRE.
Other major corporations in the city include MAN, Linde, and Allianz. With more than 530,000 people of foreign backgrounds, about 37.7% of Munich's population consists of people from other nations.
Living in Munich, you'll also have a first-row seat to the city's famous Oktoberfest. Millions of visitors descend upon the city every year to partake in the festival and drink endless amounts of beer.
Related: Review travel insurance options for visitors to Germany, or, for more comprehensive global medical plans, read International Health Insurance in Germany for Foreigners.
4. Why Live in Leipzig
With its nickname "Hypezig," Leipzig is becoming one of the most popular places to live in Germany. Home of both BMW and Porsche auto plants, this city is undergoing a huge transformation in many ways. The European Energy Exchange is also centralized in this small city.
Leipzig also has a burgeoning art and cultural scene. Fans of classical music will appreciate the city's rich history of musicians such as Bach, Wagner, and Mendelssohn.
5. Stuttgart as Your New Home
With a young population of over 609,000 people, Stuttgart is full of high-tech industry jobs. It has the highest density of scientific, academic, and research organizations within all of Germany. No other region registers as many patents as Stuttgart does.
Six Other Great Cities to Live in Germany
6. Cologne
With a population of 1,075,935 people, Cologne is the 4th largest city in the nation and is the center of the media and creative industry. It is home to many of Germany's national TV stations. But you'll also find corporations, such as Ford Europe and Lufthansa, there as well.
Situated on the Rhine River, Cologne is full of stunning historic landmarks. Fans of Gothic and medieval architecture will love to visit the Cologne Cathedral and the twelve Romanesque churches.
7. Hamburg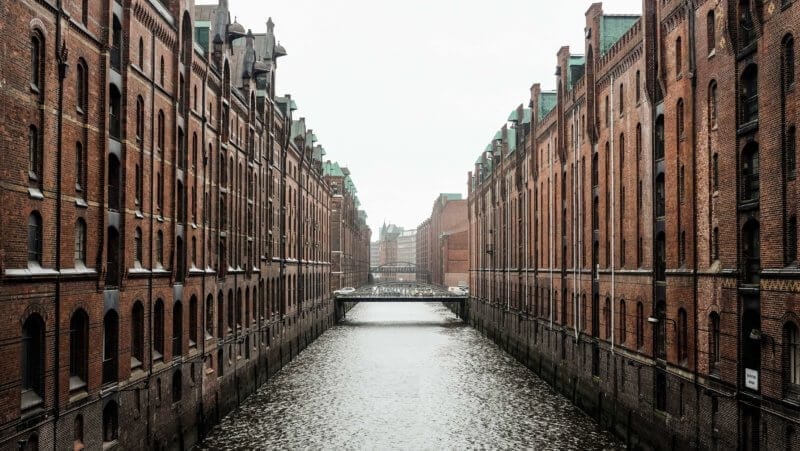 Hamburg is the 2nd largest city in Germany. With a population of approximately 1.8 million people, it is also a popular destination for tourists from around the world. Home to many professional sports teams, Hamburg is a large banking city, and it is a favorite among expats looking for jobs in finance.
In addition to its banking industry, Hamburg boasts the 3rd largest port in Europe, making it a source of many logistics jobs.
8. Bremen
With a population of about 557,000 people, Bremen is a small city that offers many engineering and labor jobs. It is home to Airbus and Mercedes factories, making it ideal for skilled laborers seeking overseas work.
Prefer to find work as a brewer instead? This beer town is home to the breweries that make Becks and St. Pauli Girl beers.
9. Dortmund
Dortmund was once the German hub for the steel and coal industries. With a population of approximately 586,000 people, it has shifted its focus to newer industries.
Expats can find jobs in biomedical technology, micro-systems technology, and robotics. It's an ideal choice for those seeking work in the engineering and technology fields. Many of these high-tech jobs are in Germany's first technology center, the "Technologiepark Dortmund."
10. Hannover
Hannover is a major transportation hub, making it a great place to be if your job requires a lot of travel. With a population of over 532,000 people, Hannover is home to many companies, including Continental AG and Sennheiser. In this small city, you'll also find the Volkswagen Commercial Vehicles Transporter (VWN) factory.
11. Dresden
Located in the Saxony region, the Dresden economy is dominated by the tech industry, giving it the nickname "Silicon Saxony." It is ranked the 4th best city for future growth by the Hamburg Institute of International Economics (HWWI) and the private bank Berenberg. Dresden offers superior levels of education, innovation, internationality, and accessibility.
Other German Cities for Expats to Work In
While these may be the 11 best cities to find employment in Germany, there are many other areas to consider. If the locales listed above aren't ideal for you, check out these other notable cities for expats in Germany:
Aachen
Nuremberg
Darmstadt
Bielefeld
Hagan
Heidelberg
Karlsruhe
Erlangen
Hof
Jena
With so many great places to choose from, it can be difficult to decide which city in Germany is right for you. It's a great place to live and work, and its strong economy makes it an attractive option for expatriates from around the world.
With industries ranging from technology to banking to manufacturing, there are many options for expats. Find a city that has the most job opportunities in your industry or decide if you want to live in a small city or a major metro area. Depending on the industry you work in and the type of city you want to live in, there are dozens of great options for expats in Germany.

Compare multiple quotes and coverage options
Work with an insurance expert at no additional cost
Find the best plan for your needs and budget
Related: