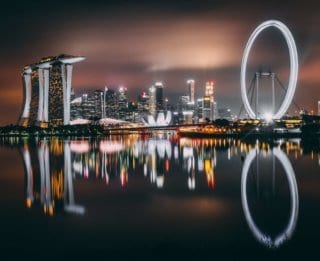 The economy is thriving, the culture is friendly, and the childcare and education systems are second to none. Singapore is a great place to work! Expats love Singapore.
Other benefits of moving to Singapore include low crime rates, low tax rates, and plenty of business opportunities.
Singapore has even more to offer, the median wage in Singapore is among the highest in the world, which means more disposable income to spend on you and your family.
It's important to note that Singapore is relatively expensive compared to many parts of Asia. So even if you're making a six-figure income, the cost of living is still quite high.
Before you pack up and move to Singapore to find a high-paying job, it's essential to understand the eligibility requirements and what jobs are in high demand. That's why we've pulled together the top jobs for expatriates in Singapore.
Make Sure That You Are Eligible to Work in Singapore
The first step in finding work in Singapore is making sure that you are eligible to work in the country.
According to the Ministry of Manpower, "All foreigners who intend to work in Singapore must have a valid pass (commonly known as a work visa) before they start work."
In general, this means that job seekers must have a full-time job offer in Singapore before applying for a work visa. It is possible to get a visa with a part-time job, but many permits have minimum earning requirements, which can be challenging to meet.
There are a variety of different visas and work permits in Singapore, so make sure that you apply for the right one. Here's a brief breakdown of some of the most common work visas in Singapore:
Professional Work Visas

Employment Pass – For foreign professionals earning at least S$3,600 a month.
EntrePass – For entrepreneurs wanting to start a new business.
Personalized Employment Pass (PEP)- For high-earning existing Employment Pass holders that want greater flexibility.

Skilled and Semi-Skilled Workers

S Pass – For mid-level skilled staff earning at least S$2,300 a month.
Work Permit for foreign workers – For semi-skilled foreign workers in the construction, manufacturing, marine shipyard, process, or services sector.
For a complete breakdown, visit the MOM's Work Passes and Permits page.
In addition to basic visa requirements, specific fields require professional registration, including medicine, accounting, and law.
Now that we've gone over the basic eligibility requirements, let's look at some of the thriving industries in Singapore to help you decide if seeking employment is realistic.
Engineering Jobs for Foreigners in Singapore
Engineers with experience as technical service managers can earn as much as S$9,500 per month. That equates to approximately €6,214 Euros or $7,022 USD.
Engineering directors can find work in a variety of industries, with the aerospace and chemical sectors being two of the most popular.
Even construction project managers and commercial property developers can earn between S$5,200 and S$13,000 per month.
Financial Jobs in Singapore for Expats
The regulatory system in Singapore is very business-friendly. And as businesses continue to grow and as new jobs are created, the need for financial professionals becomes stronger.
Experts with a background in finance can find high-paying jobs as financial advisers, directors, controllers, and officers. With several years of work experience, financial experts can earn S$15,000 to $S$5,000 per month.
Singapore Healthcare Jobs for International Citizens
Just like in the engineering field, healthcare professionals are in high demand in Singapore. And with high demand comes high-paying salaries.
The healthcare job market, in general, is hot – but if you have experience as a managing director or sales manager, you can earn an average of S$8,000 per month.
One of the fastest-growing sectors in healthcare is in the biomedical industry. In fact, the industry is expanding so fast that many Singaporean companies even hire less-experienced workers and train them to meet their specific needs.
Read: Health Insurance Advice for Foreigners Living in Singapore
Marketing Jobs for Nonnatives in Singapore
Regardless of the industry, every successful company needs a good marketing team.
If you have experience as a marketing director, you have a good chance of securing a high-paying job. In some cases, marketing directors for large companies can earn as much as S$18,000 per month.
IT Jobs for Expatriates in Singapore
Information technology is vital in every modern industry. And with the strength of the financial services sector in Singapore, it's no surprise that IT experts are in demand in the financial sector.
An IT director with 10 to 15 years of experience can earn up to S$15,000 per month. An IT security manager with 8 to 10 years of experience can earn up to S$12,000 per month. Even an app developer with as little as three years of experience can start out earning S$6,500 per month.
Other tech jobs that are in high demand are UI and UX designers, as well as e-commerce experts with retail expertise.
Singapore Jobs for People With Little Experience
Worried that you don't have enough experience to earn the big bucks needed to live comfortably in Singapore? Think again.
With just five years of experience, you can earn upwards of S$5,000 per month in a variety of fields, including human resources, banking, and logistics.
To embark on your journey as a nomad in Singapore:
Start by making sure that you're eligible to work there.
Once you've determined your eligibility, check out local job boards or connect with a talent acquisition leader (which is just a fancy term for a recruiter.
After you get an offer, apply for the proper visa or work permit.
Singapore is full of excellent job opportunities – even for expats. If you have a few years of work experience, you can make a lot of money working in Singapore.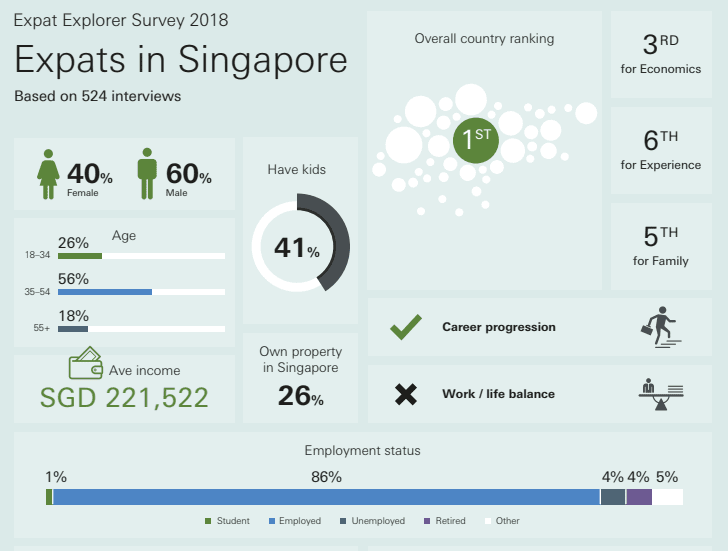 Credit: HSBC Expat Explorer Survey
Continue Reading: