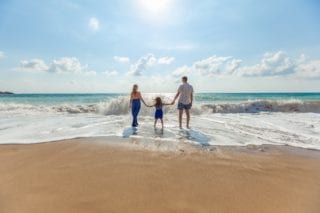 More than half of all expat parents in the UAE spend less than one hour each day with their children, according to TheNational. Fifty-nine percent of these parents say the lack of family time with children is due to long working hours and commutes but television and internet also play a part. Only 5 percent of these individuals claim that the lack of family time is due to their child being at an age they do not want to spend time with family.
Experts say that fifty minutes is not enough parental involvement time and parents should aim for at least two hours each day with their children. Sufficient family time can help a child with their self-esteem and lower their risk of developing a mental-health issue or dropping out of school.
Below are just a few ways that expats can easily spend more time with their children.
Homework
Sometimes spending more quality time with your child is as simple as creating a daily schedule. Instead of your child doing homework alone in their room have them finish it at the kitchen table while dinner is being prepared or you are finishing up your own work projects. Although this time spent together won't lead to a heavy conversation, your child will know that you are available to help them with their homework if needed.
Dinner
Everyone eats which means dinner is something we all must carve time out of our day for. One easy way how expats can spend more time with their children is by ensuring eating dinner together every night- this can add an additional 30-40 minutes onto quality time each day. Cook dinner together and you will get even more time, plus teach them necessary life skills along the way.
Replace a screen with a hobby
Even if dinner isn't a possibility, schedule a couple of hours before bed without screens- this includes TV's, tablets and cell phones. If you're wondering what you could possibly do with your child that doesn't involve a TV, develop a hobby together. This will give you something else to focus on and give the conversation a natural flow- something that isn't always easy to accomplish depending on your child's age. Not sure what hobby to start? Have your child make a list of hobbies they would like to have then pick your favorite or most feasible.
If interesting in finding other expat resources, you can visit here.