How To Cope When Moving to a New Country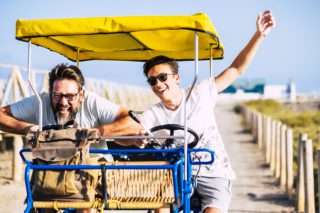 Culture shock is a familiar psychological phenomenon for anyone who has studied, volunteered, or worked abroad. It is the result of facing new cultures, languages, lifestyles, and mannerisms. Culture shock manifests as feelings of frustration, loneliness, disorientation, anger, fatigue, and detachment. It comes with physical, mental, and emotional side effects. While it is nearly impossible to avoid, it helps to understand what is happening. It also helps to be forearmed with coping techniques. If you are planning a move, this is what you should know about coping with culture shock when living abroad.
Phases of Culture Shock
There is much more to culture shock than simply getting used to a new language or way of life. It is a complex phenomenon with many ups and downs. The first phase is often referred to as the "honeymoon stage". That is when everything you see and do is exciting, positive, and fascinating. Even things that most people would objectively find annoying, like intermittent electricity, are viewed as a charming quirk of the destination. During this phase, you are more likely to focus on cultural similarities, not differences.
However, just like real honeymoons, this phase also ends before long. The middle phase is what most people commonly call "culture shock". It is a sense of dislocation, general unease, frustration, and unhappiness. You might feel angry, uncomfortable, confused, frustrated, and irritable.
Coping mechanisms that you used to rely on, like a sense of humor, suddenly disappear. You withdraw and spend a lot of time alone. Sometimes, you find yourself seeking out other expats or international citizens and avoiding local residents. You may develop negative feelings about your host country, its culture, and its people and even embrace stereotypes.
The final stage is the "adjustment" stage. This is when you start to accept your new surroundings. You find a balance between the "honeymoon" phase and the "culture shock" phase. Things are neither sunny and fascinating nor aggravating and depressing. You are able to relax, settling into your new routine, and appreciate your host country.
Remember your health is most important. Make sure you have an expatriate health insurance plan that covers seeing a specialist if this is necessary.

Compare multiple quotes and coverage options
Work with an insurance expert at no additional cost
Find the best plan for your needs and budget
The following tips will make the time you spend in the culture shock phase less intense and help you get to the adjustment phase quicker.
Learn More About Your New Country
When you move overseas, understanding the history, social development, and economic practices of your new country will help you understand why certain rules and customs exist. There could be a good reason for seemingly unusual practices and traditions. Knowing the history will not eliminate your frustration but you will gain valuable insights into why things are the way that they are. Attending lectures at galleries and museums, reading novels by local authors, and taking private city tours will all offer valuable insights into the local culture.
Many expats find it helpful and motivating to set specific goals when living abroad. They might promise themselves that they will master one dish that the local cuisine is famous for. Others vow to join a running group with the goal of running their first marathon there. Your goal will remind you of why you wanted to move overseas in the first place and let you learn more about your new country along the way.
Read: Tips for Moving Abroad
Lessen Culture Shock and Get Involved
When you only want to stay at home and avoid local people, getting involved feels easier said than done. A language class is a good place to start. You will be with other expatriates who share your concerns and frustrations. But the teachers will be local. And you will be improving your cross-cultural communication skills with every lesson.
Even if your time overseas will be relatively short, the benefits of language skills are tremendous. You do not have to gain fluency in order to greatly improve your communication skills. Just being able to improve your ability to read signs, menus, and instructions will go a long way in making your everyday life run more smoothly.
It is not just language classes that are beneficial. The challenge of learning a new instrument or craft is an excellent opportunity to focus on something positive where you can measure your progress, all while meeting new people.
Feeling like an outsider can be incredibly isolating. Finding a house of worship or a volunteer organization which aligns with your interest and beliefs helps to combat this isolation.
Find a Healthy Outlet
When the weather is dreary and you cannot get your bearings, the last thing you want to hear is to take up a healthy habit. Running in the rain is no fun. Trying to locate a yoga studio halfway across town is just misery. But finding a healthy outlet can make all the difference in combating your feelings – and it does not have to be something physical.
Journaling or blogging about your experiences – good and bad – is a healthy way to relieve stress and put things into perspective. A daily meditation practice can relieve stress and anxiety. Being invested in an event, from the outcome of a silly reality show to the finals of major sporting competition, is a fun, healthy, stress-free way to distract yourself from daily aggravations.
Visit a Doctor for Severe Symptoms
Your mental health is extremely important and when you suffer from severe culture shock there could be drastic consequences. If you are feeling down and cannot seem to get healthy again, visit a doctor.
Focus on Relationships
Maintain contact with friends and family back home. It is a crucial step in combating culture shock. Writing home about your experiences and problems can help you sort through them. You do not need to hide the fact that you are frustrated or lonely. In fact, disclosing your unhappiness might bring you closer to your loved ones. They may not want to share their own challenges with you, afraid to 'rain on your parade' if they are only hearing about positive experiences. Talking about the good, the bad, and the downright annoying will make you both feel better.
However, keeping a healthy balance is key. Long chat sessions over Skype is a great idea. But ditching plans with local acquaintances just to spend the evening hitting 'refresh' on your old friends' social media pages is not. There is a difference between keeping in touch and obsessing over what you are missing back home. Remember, the adventures you have with your new colleagues, neighbors, language school classmates, and fellow volunteers are all excellent material to entertain your friends and family back home!
Related: