Virtual Language Tutors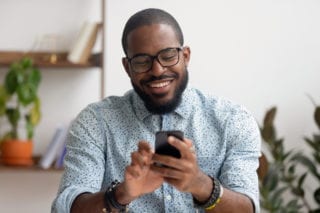 It's an adage but a good one: If you want to learn a language, you have to live in the country. Language immersion is effective, efficient, and fun. Is there any better way to master the different names for French pastries than to bumble your way through an order at a Parisian cafe? But immersion isn't for everyone, and for others, it isn't enough. There are many different styles of learning and many different methods to augment your studies.
These five language apps are perfect for picking up vocabulary, conjugation, and translation on the train, riding the bus, and waiting in lines. Before you know it, you'll be ordering your clafoutis and canelé with ease.
Swedish or Swahili? Hebrew or Hungarian? Duolingo offers short, game-like lessons that make learning feel more like a fun pastime. This is the perfect choice for anyone who wants their language education to feel as far away from traditional school as possible.
Do you need help with beginner Hindi? Or level 4 Norwegian? Maybe some Latin or Icelandic? How about Klingon? Alright, some of Memrise's courses aren't exactly immersion oriented (… or are they…..) but they offer a wide variety of languages from beginner to advanced, a nice change from many apps that just focus on Western European tongues. And it has an offline capability, a real bonus if you're still figuring out your international data plans.
Does your learning style lean towards old-school methods like flashcards, quizzes, and re-copying your notes? AccellaStudy is the perfect app for you. The app also offers great organization options to isolate certain sets of words (perfect if some vocabulary comes easy, but other words inexplicably trip you up).
The old kid on the block, Rosetta Stone's travel app doesn't exactly offer anything innovative to make it stand out among other language apps.  But their classic language learning system is familiar, making this app is intuitive for many Rosetta devotees and a user-friendly option for the tech-adverse.
Designed for the youngest of travelers, there's no shame if you're using Gus-On-The-Go so long as you're young at heart. Two parents are behind this app that teaches ten different languages. The animation and adventure help to foster fine motor skills as well as language basics and it's a great app for keeping little ones occupied on airplanes – as well as helping parents out of sticky translation troubles!
Your Best Trip Is Just A Language App Away
One of the best things about travel abroad, be it short vacations or ex-pat living, is the chance to embrace new cultures, traditions, and cuisines. Mastering the local language (or even just fumbling through the basics) will go a long way toward unlocking the key to your new country's heart.
Related: Must-Have Apps for Living Abroad